Joey Sumlin to follow father Kevin's footsteps as walk-on LB at Purdue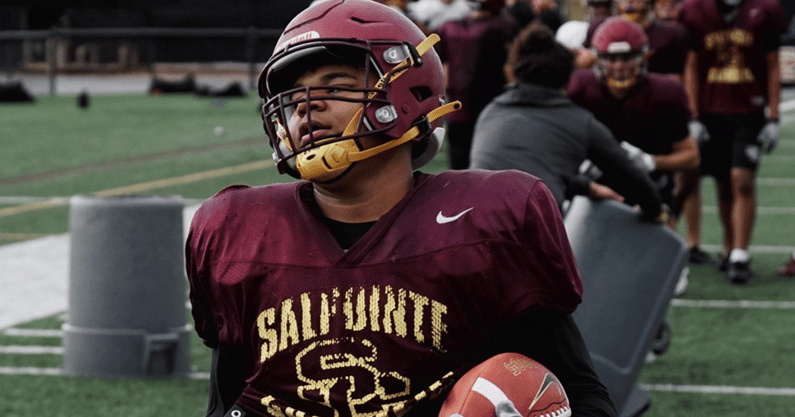 Back in the early 1980s, Kevin Sumlin walked-on at Purdue as a linebacker from Brebeuf High School in Indianapolis. Now, over 40 years later, son Joey Sumlin will follow in his footsteps.
Joey Sumlin announced on social media on Friday he is coming to West Lafayette as a walk-on linebacker in 2023. He will matriculate to Purdue from IMG Academy in Florida, where he spent a post-graduate season in 2022. Prior to that, the 6-1, 230-pound Sumlin was at Salpointe Catholic High in Tucson, Ariz.
"My dad was the most excited I had ever seen him when I decided to come to Purdue," said Sumlin. "He never pushed me to go there. I could tell when we visited, he wanted me to go there."
Sumlin had an offer from FCS Morgan State, while also being recruiting by many Power Five schools. He visited Purdue last fall with his father for the Northwestern game.
"I can read plays well, I take my time," said Sumlin. "It feels like slow-motion to me, but I play fast. I read offenses well and beat people to the ball."
Older brother Jackson Sumlin played tight end at Oklahoma for three seasons before transferring to Florida Atlantic in the offseason.
Kevin Sumlin was a four-year letterman at Purdue from 1983-86, finishing his career as one of the top tacklers in school annals. Sumlin earned honorable mention All-Big Ten honors as a senior in 1986 while ranking fifth in the league with 114 tackles.
Sumlin went on to be head coach at Houston, Texas A&M and Arizona. He is currently associate head coach/co-offensive coordinator/tight ends coach at Maryland. Sumlin also was head coach of the USFL's Houston Gamblers in 2022.
Now, Kevin Sumlin can watch his youngest son develop at the school he starred at–and they may face-off one day.
"It's gonna mean a lot to play at my father's school," said Sumlin. "But I don't want it to take away from me. I'll try to live up to the name that he built. I want to establish my name now."