SMU-Tulane game preview, predictions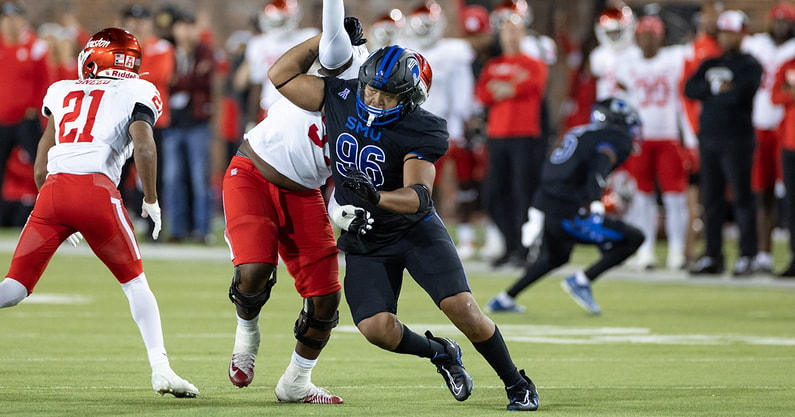 SMU Football is set for a Thursday night matchup with Tulane on ESPN, with dreams of an AAC Championship game appearance still alive. Kickoff is set for 6:30 p.m. CT with the Mustangs sitting as 3.5-point underdogs.
SMU's won seven straight over Tulane and three straight since the loss to Cincinnati. The Green Wave is coming off a 38-31 loss to UCF, its first loss in AAC play.
Now, onto the game preview of the Mustangs and Green Wave.
SMU trends…
The trends are positive for the Mustangs lately. Running backs Camar Wheaton and Tyler Lavine both rushed for over 100 yards and combined for three touchdowns against USF. A strong ground game accompanied the last three wins for SMU. That's helped Tanner Mordecai get even more space to hit his group of pass catchers that are clicking on all cylinders timing wise.
The only hold up for SMU's offense is untimely drops here and there. Aside from that, the team is moving the ball at will, playing clean and capitalizing on redzone opportunities. Jordan Kerley returning was huge and he had a career day against the Bulls, going for 156 yards and a touchdown last week. Rashee Rice continues to lead the nation in receiving yards (1,167) and receiving yards per game (116.7), while ranking fifth in receptions per game (7.7) and eighth in receiving touchdowns (9).
Defensively, SMU locked in for the 2nd half to shut out the Bulls starters. Jahari Rogers grabbed an interception for the second straight game and Nick Roberts forced a fumble. It wasn't perfect, but SMU contained Brian Battie fairly well, holding him below his average yards per carry going into the contest. This week, they'll have a tall task against running back Tyjae Spears. Limiting explosive plays will be a key once again while the Mustangs look to continue their opportunistic ways.
Tulane trends…
Tulane didn't get off the bus in time for kickoff against UCF, falling behind 24-7 in the biggest home game since the 1940s. The Green Wave couldn't overcome a slow start to come back in the 2nd half, falling 38-31. Still, Tulane is a tough foe. They usually play SMU tough, despite having dropped seven straight to the Mustangs.
The Green Wave have one of the best backs in the country in Tyjae Spears, who SMU will have to contain. Spears had eight carries for 130 yards against UCF, which is hard to do as SMU found out earlier this year. Getting him on the ground when SMU has opportunities to will be key. Quarterback Michael Pratt was off in the loss to UCF, missing open receivers and the receivers had some key drops as well. Tulane is one of the most disciplined teams in college football and SMU will have to avoid mistakes. Dorian Williams and Nick Anderson lead the Tulane defense with 85 and 76 tackles, respectively. Both are big-time playmakers that SMU will look to neutralize.
Quotable…
"They're the best against the pass in our league. I think the best thing they do, they don't give up explosive plays. They don't give up explosive plays in the pass or the run. They're good against the run, they're great against the pass and they just limit the explosives. They're not complicated on defense, they're just good and what they do, they do very, very well and they force you to beat them. They're not going to blow a coverage and turn a guy loose, they're not going to be in the wrong gap and all of a sudden you have a 70-yard touchdown run. They do a really good job of making you earn everything." -Rhett Lashlee on Tulane defense.
SMU must…
Once again, winning the turnover battle will be key. To do that, keeping the game plan simple on offense is important for the Mustangs. Rhett Lashlee's taken advantage of mismatches well lately and that's allowed Mordecai to thrive even more so since his return from injury. They've been committed to the run game all season, but as of late are bearing the fruit of that commitment. Defensively, limiting explosive plays will be key as well.
Predictions…
SMU is starting to hit its stride as a team, but runs into a real solid team in Tulane. Can the Mustangs keep it rolling? I'm betting they can, but this one will be a war. Both teams have tons to play for and the stakes are high for both teams' seasons. If SMU loses, an AAC title game appearance is off the table. If Tulane loses, it'd be staring three straight losses to end the regular season in the eyes, if the Green Wave fall to Cincinnati. I expect both teams to play a little tense with the cold weather, but loosen up as the game unfolds. SMU will have to weather the storm of a Senior Night and a Tulane team looking to bounce back. It won't be pretty, but I'll take SMU 31, Tulane 27.