Four downs with Josh Heupel: Pitt week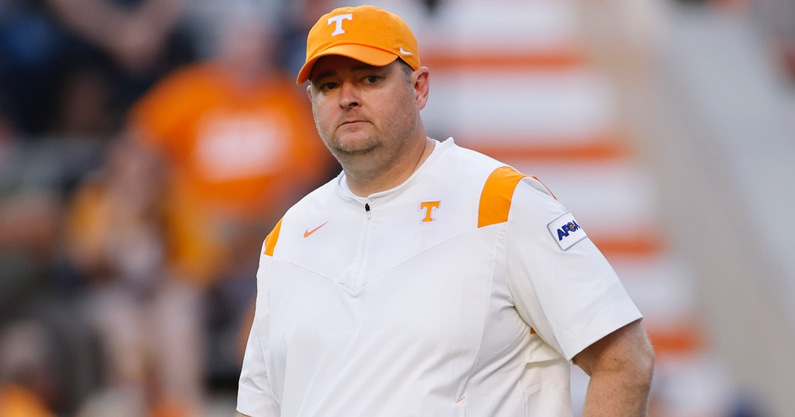 The gears shift in a big way for Tennessee this week after a tune up against Ball State in the opener. This weekend's chore is a road trip to face No. 16 Pittsburgh in what will be a much sterner test for Josh Heupel's squad.
The road trip will also be a chance for both Tennessee and Pittsburgh to honor legendary head coach Johnny Majors who led both programs during his storied career.
"It's an awesome opportunity to recognize coach (Johnny) Majors and what he did for both programs, but in particular here at Tennessee," Josh Heupel said. "His years here as a player, as a coach, the impact that he has had and legacy that he has left on our program, is something that we still see and feel today – so, a great opportunity there."
Tennessee came up just short a year ago against Pitt, falling 41-34 in a game that was full of 'what if?' moments for the Vols.
Pitt is a much different team than they were a year ago, especially on the offensive side of the ball. The Panthers are replacing first round draft pick Kenny Pickett at quarterback and Biletnikoff winner Jordan Addison at receiver.
The new look Panthers survived a scare against West Virginia in their opener, prevailing 38-31 thanks to a late 'pick six' that put them on top.
"The structure of what they do offensively is a little bit different. They played with an extra tackle at times last week, some 12-personnel as well, running the football and then their play-action shots come off of that," Heupel said.
"In recent years, with the quarterback that they had, they were a little bit more spread and were pitching it around a little bit more. The tempo of the ball game will be a bit different. Defensively, what we are going see from them will be a little bit different. We have to do a great job of being physical with the front seven in particular, but really your entire defensive unit."
RECEIVER ROTATION
It was just one game, so we'll get a better feel for things after this week, but early signs point to Tennessee being far deeper at receiver than they were a year ago.
The same team that largely survived with three wideouts last fall had seven different receivers haul in a pass last Thursday and three different players who caught touchdown passes. Surprisingly, none of the three scores went to returning standout Cedric Tillman.
"Overall, excited about what they put on video for the first week. The guys that had played were really consistent. Cedric Tillman mainly, and I thought Jalin Hyatt did a really nice job while he was in there. Obviously, first play of the football game he was able to get in the end zone," Heupel said.
"The young guys inside our program, from Bru McCoy to the guys who have been here for a year, I thought handled themselves in a better way than they had a year ago. You could see some of their growth. There are things within what we are doing that we will need to perform at a higher level and be more consistent, this week in particular. These guys are going to play a bunch of press-man on the outside, and you've got to win 1-on-1s here." 
Jimmy Holiday had by far the most productive day of his career with four catches for 62 yards including a 56 yard touchdown reception.
"He operated really efficient and got himself lined up, understood coverages on the back end," Heupel said.
"Obviously, the dig route that he was able to score a touchdown on was a big play for him and for us. He's somebody that just continues to get better inside of our system."
CORNER PLAY
Just what Tennessee's secondary would look like from a personnel standpoint was a mystery during the preseason and it's still a bit of a work in progress.
Veteran safeties Jaylen McCollough and Trevon Flowers seem abundantly secure in their starting spots. Tamarion McDonald had a great fall camp and started off hot at the STAR position.
Cornerback may be a spot where the competition for playing time continues.
Warren Burrell and Christian Charles started the opener and Kamal Hadden was in the game early on.
"Those guys got a bulk of the work out on the perimeter. I thought they did a really nice job with the mixture of our coverages and the 50-50 balls they played pretty well down the sideline," Heupel said of Burrell and Charles specifically.
"I liked what I saw from them, obviously this week, out on the perimeter, we will see some guys that will be a bigger test for us." 
Hadden made the most of his opportunity when he got on the field, snagging an interception and getting in on three tackles.
"I anticipate all those guys playing a lot of snaps," Heupel said of the corners. "Kamal did a really nice job. You mentioned him having a short amount of time in training camp. Since he's come back, he's handled himself and grown in a great way.
FRESHMEN GET THEIR CHANCES
With the game against Ball State well in hand early in the second half Tennessee had the opportunity to essentially empty the bench. Plenty of freshmen got their first college action and some of those could end up being regular contributors.
One of those youngsters who could carve out a regular role for himself is Joshua Josephs who was in the game early in the first half in the opener and quickly notched a pass deflection from his defensive end spot.
"He's fast, long and explosive on the edge," Heupel said of Joseph. "I thought he did a nice job in the reps he got. That's fitting the run and trying to apply some pressure to the quarterback. He's a young guy that's going to continue to grow inside of what we're doing. I expect him to have a big role throughout the course of the year." 
Another freshman who could find himself earning regular snaps is running back Dylan Sampson. He created a lot of buzz in camp with his speed and big play ability and was the third guy in the game at tailback against Ball State.
Sampson ended up with 10 carries for 32 yards and his first career rushing touchdown. He also caught one pass that he turned into a 19 yard gain.
"I thought he matched the things he had been doing in practice," Heupel said. "He was able to take that to the football game and translate it. The bright lights, the energy, all of it. The stage wasn't too big for him in any way."