For Josh Heupel's Tennessee Vols now things get serious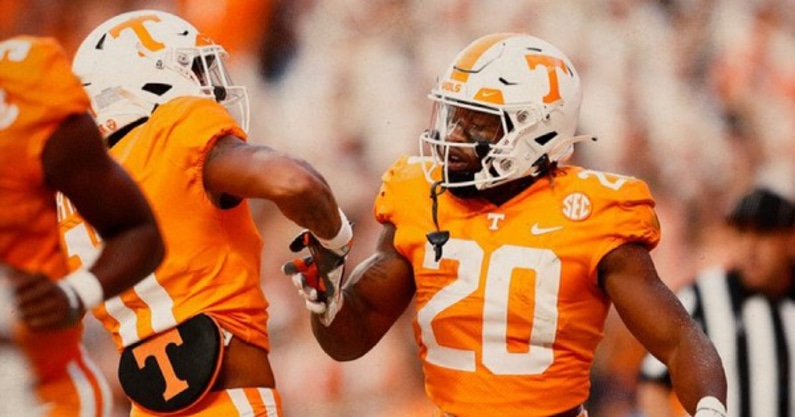 Tennessee has gotten its season off to a solid start, sandwiching a gritty road win at Pitt in between two blowouts at home over out-classed competition. Now play time is over.
The SEC grind starts next week with a visit from Florida, a program that the Vols have lost to 15 times in the last 16 meetings.
Josh Heupel and his team are heading into this rivalry week with some momentum. The Vols piled up 676 yards of total offense tonight, just the 17th time in program history they've topped 600 yards (three of those games have come under Heupel).
The gears will shift this week though.
Hammering Akron was expected. Taking care of business at home against Florida would be the kind of win that would help propel Tennessee back towards the top of the SEC.
Heupel has done a great job of generating good will with Tennessee's passionate fan base. That was in evidence tonight with a sell out crowd for a match-up with an Akron team that was a 50 point underdog.
He almost always goes out of his way to thank Vol fans for turning out, usually in the opening comments section of his postgame press conference.
He did that again tonight.
"Our fan base was absolutely electric. It was the best Vol Walk I've been a part of. Obviously it was a sellout crowd; the energy, the noise, it was all a huge part of the football game from the very beginning. It's a lot of fun to play in front of our fans for our staff and our players. We all appreciate what they did.
This fanbase could come unhinged if the Vols can get it done next Saturday against a team that has had their number for more than a decade now.
Vol fans are starving for a win over a rival like the Gators. And this one seems doable. Florida got a tremendous amount of pop from beating Utah in week one, but they've looked sketchy since then losing to Kentucky and barely scraping by South Florida.
Tennessee is coming in hot. The Vols got a scare at Pitt but the offense looks like it has some early season momentum.
Heupel gets this fanbase and he's put a team on the field that's fun to watch and easy to root for. Now he needs to start bringing home some rival scalps.
"College football is as good as it gets and this fanbase is as good as it gets. They care, they're passionate. You can feel their energy, you can feel their optimism, you can feel their belief. Our entire program can feel that. I've never been a part of anything like tonight," he said.
"You want to be somewhere where people care. Where they're passionate, where it matters. It matters here. Our fanbase is awesome."
You don't know to read too much into a game like this one tonight, but it looks like the Vols' offense is heading into Florida week with some momentum.
Tennessee scored touchdowns on six of seven possessions with Hendon Hooker at quarterback before he headed to the bench in the third quarter.
The Vols had 416 yards of total offense at halftime. The Vols didn't have a turnover. The offense seemed to find some things on the ground after struggling last week at Pitt, tonight they went for 238 yards on 45 carries (5.3 ypc).
"We put some things together," Hooker said of the offense. "I feel like we've hit the ground running these last two weeks. We're going to try and continue that this week and be efficient."
Hooker continued his ultra-efficient play, completing 14-of-18 passes for 298 yards and two touchdowns. He's now throwing 185 passes without an interception. He threw his 36th career touchdown as a Vol tonight, tying him for seventh place all time with Heath Shuler, Andy Kelly and Jonathan Cropmton. He has also now thrown a touchdown in 15 straight games, one off of Shuler's program record.
He's on a pretty good run. And so is this football team right now. No one is suggesting that the Vols are peaking, least of all their head coach, but they're rolling pretty good for week three. Now comes a huge test.
At times over the years Florida week has seemed to loom as something that some head coaches here and some teams just had a difficult time with from a mental standpoint. Heupel seems immune to that kind of tendency to make things more than they seem.
He's not the kind of coach that will minimize the importance of a match-up like the one his team is getting ready to face. It's only year two for him, but people will view next Saturday's contest as a measuring stick for the head coach and his program.
The guess here is that Heupel and this team will be ready.
"Enjoy this one tonight, it's important that our players and staff do that. Tomorrow you wake up and you're onto the next one. It's the same routine for us. Our preparation doesn't have to be different. It has to be consistent," Heupel said.
"The great thing is that there's going to be a bunch of noise around it. Our fanbase is excited about this football game. Our players should be too."