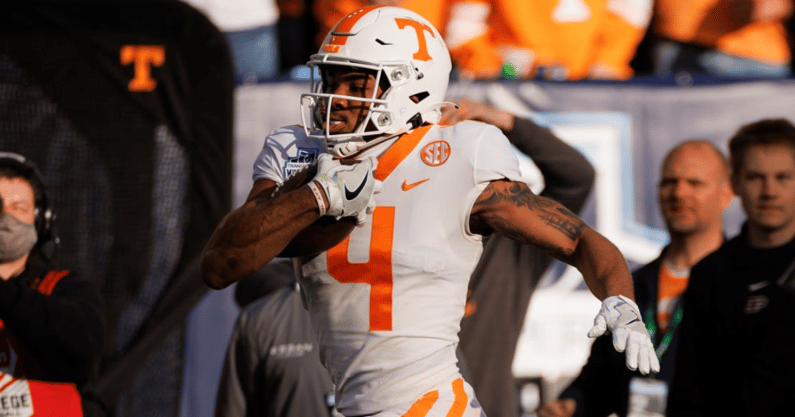 It's Monday, time for our first 3-2-1 of the season. Today we look back, and look ahead, with three observations, two questions and prediction concerning this football team.
THREE QUESTIONS
1 — Hooker looks the part — We weren't going to learn a ton about Tennessee from an opener against Ball State, a team that was outmatched. However, Tennessee's offense looked pretty much like you probably hoped it would.
The biggest strength of this unit is having a veteran quarterback coming off a huge year. Hendon Hooker looked the part in the opener.
All during camp we'd heard the coaches praise him for his leadership and command of the offense. Those attributes looked to be on display last Thursday.
Hooker ran Josh Heupel's fast paced offense with no issues whatsoever. He didn't force any balls and was on target and on time with just a couple of exceptions.
On first watch I thought Hooker was a little conservative and/or Heupel was reluctant to dial up many deep shots. In review though it looked like Ball State really sold out to take away the long ball, playing a lot of zone and selling out to keep everything in front of them.
In light of that I tip my cap to Hooker for staying patient and taking what the defense gave him on the way to completing 18-of-25 passes for 221 yards and two touchdowns. That was a game where if you wanted to try and generate a big play with a risky throw down the field, there really wasn't going to be any huge ramifications, but Hooker didn't gamble with the football.
It wasn't the huge night on the stat sheet that some might have expected, but Tennessee's senior quarterback was the picture of poise in the opener. Not that most expected anything less, but it was a solid start for what many expect to be a big year.
2 — Spread the wealth — What the receiving rotation would look like behind Cedric Tillman was one of the biggest questions in fall camp.
It's a small sample size and things will probably change, but I think as a fan you have to be pretty happy with what you saw from the wideouts.
Was Ramel Keyton's four catch night for 57 yards a fluke? Or is the senior about to pull a 'Tillman' of his own after sort of being a forgotten man? Too early to say but that was certainly a positive.
There's been plenty of talk over the past month about Jalin Hyatt's renewed focus and dedication after somewhat of a disappointing sophomore year. He started in the slot and scored the Vols' first touchdown of the season on a 23 yard completion on the Tennessee's first offensive snap of 2022.
Bru McCoy didn't disappoint, pulling in three catches for 42 yards and looking like the big, athletic target Vol fans had hoped they would see once he got eligible.
Walker Merrill, another guy who consistently drew praise from the staff in camp, caught his first career touchdown in the second quarter.
Jimmy Holiday shook loose for a 56 yard score from Joe Milton in the second half, perhaps signaling that he's finally going to put it together in his third year.
Freshman Squirrel White didn't get a chance to flash his open field ability, but he was in the game early and made a couple of catches, suggesting that the staff plans on him being a part of the rotation.
And then there was Tillman, who quietly had four catches for 68 yards to get his season off to a solid start.
It's just one game, but considering what we saw Heupel and his staff cobble together last fall from a group of wideouts who hadn't done a lot prior to 2021, I think the wideouts are going to be just fine.
3 — Jury still out on defense — I thought it was a decent night for the defense, but you just can't draw many conclusions considering the opponent.
The one obvious shortcoming was pass rush after the Vols didn't notch a sack in the game. But in their defense Ball State was ultra focused on getting the ball out in a hurry all night long and there was some pressure on the play that resulted in Tamarion McDonald's interception.
The defense did force three turnovers and they really throttled Ball State's running game (just 29 yards rushing in the first half before reserves took over).
We all had questions about the secondary coming into the season after the Vols gave up more passing yardage than any other SEC team last fall. Those questions didn't really get answered in the opener, though there were some nice moments.
Tennessee didn't have any obvious busts that I saw and didn't allow Ball State to get something cheap with a big play.
The Vols didn't look all that aggressive in the back end, especially at corner at times, but it's not clear if that was a game plan design to stay vanilla before going to Pitt.
I didn't see anything that was a glaring concern for the defense, but they also weren't really tested enough by the opponent to say that real improvement has been made. We'll find out a ton this week.
TWO QUESTIONS
WHO WAS YOUR BIGGEST SURPRISE ON DEFENSE?
I've got to go with Aaron Beasley.
I'll admit to being surprised that Beasley turned himself into a serviceable SEC linebacker last fall after bouncing all over the depth chart his first couple of years trying to find a home, but he did it.
Last Thursday he looked like a guy who took a step in his development last off-season.
Beasley was quick to the ball, he was a sure tackler when he got there and I thought his quickness and ability to cover ground really showed up.
Tennessee is still somewhat thin at linebacker, but I don't think Beasley isn't going to quietly step aside for Juwan Mitchell the way a lot of people thought.
SAME QUESTION ON OFFENSE?
Give me Joe Milton. Like everyone else I heard the talk in August about how happy Heupel and Alex Golesh where with the former starter.
Milton showed on Thursday that those weren't just empty compliments. He looked really steady on his way to completing 8-of-9 passes for 113 yards and a touchdown in roughly a quarter of work.
I thought Milton looked notably more polished than he did a year ago when he opened up as the Vols' starter. Admittedly, he couldn't have come into the game in a lower pressure situation, but he looked like a guy who has really benefitted from spending the last year with Heupel and this staff.
Given the physicality of the SEC and the nature of the quarterback position, there's a very decent chance that Tennessee may need Milton at some point this year. It's just one game, but it looks like the Vols might be in a pretty enviable spot as far as back-up quarterback goes.
ONE PREDICTION
This doesn't qualify as some crazy prediction but give me the Vols to win next week in Pittsburgh.
There are some obvious causes for concern. Will Tennessee be able to handle a Pitt front seven that has some proven performers and also has a reputation for getting pretty exotic with their looks.
Is the secondary legitimately better? And can that secondary be helped by a pass rush that was largely M.I.A. in week one? Those are big questions for the defense.
I do think that Tennessee will be really tested by Pitt's defensive front seven, but I also think Hooker is an equalizer.
It's obviously early. Teams are still finding things out about themselves. But Tennessee knows what it has at quarterback and I'm not sure that Pitt does yet.