Caleb Williams Emerges from UCLA Win as the Heisman Favorite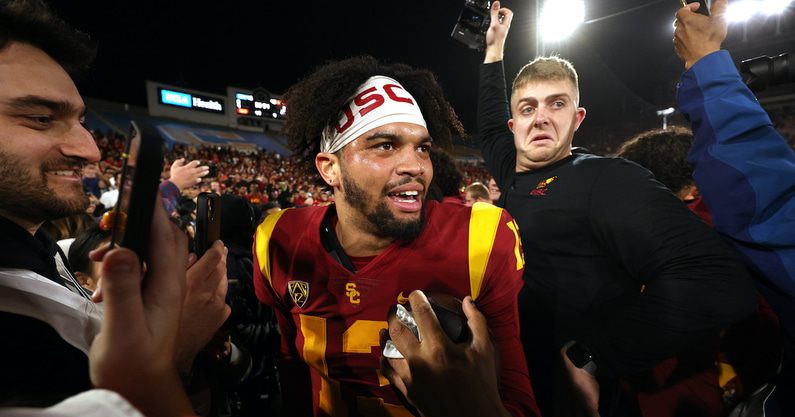 There is a new favorite for the Heisman Trophy, according to betting odds released Monday by BetOnline. USC quarterback Caleb Williams is one of just three players still on the board and is now the favorite at 10/11.
Ohio State quarterback C.J. Stroud is second, at 11/10. Michigan running back Blake Corum is third. But his odds have fallen each of the past two weeks and he now checks in at 17/2.
Williams began at 12/1, which were odds listed last December. He's hit those odds twice this season but never dipped below that.
The Trojans' quarterback has been exceptional this season in his first year at USC. Williams is completing 64.9% of his passes for 3,480 yards and 33 touchdowns against just three interceptions. Williams has also rushed for 316 yards and seven more scores.
Over the past five games, WIlliams has averaged 378 passing yards and 4.6 total touchdowns per game. He set career highs for passing yards twice during that run. That mark now stands at 470 yards, which he accomplished this past Saturday against UCLA.
USC fans are very familiar with quarterbacks locking up Heisman Trophies with back-to-back wins against UCLA and Notre Dame at the end of the season. Carson Palmer did it in 2002 and Matt Leinart replicated the feat in 2004. Williams will have an opportunity for a statement game against Notre Dame this weekend, as the No. 13 Fighting Irish come to the Coliseum on Saturday.
USC head coach Lincoln Riley said there hasn't been any focus on individual awards this season. He and the players are just trying to win each week. But he did acknowledge how well Williams has played for the Trojans this year.
"He's been one of the best players in the country this year," Riley said. "He's played really well."
USC Record Watch for Williams
Williams seems well on his way to setting several USC single-season records this year.
Williams already ranks No. 4 on USC's single-season list for total offense despite playing just 11 games to this point. He is just 429 total yards away from tying Sam Darnold's 2017 season for the most total yards in a single season in USC history.
Williams needs 65 pass completions to tie Cody Kessler for the most completions in a season in USC history. Williams has at least three more games to play this season and has completed 72 passes over his most recent three games.
He needs 663 passing yards to tie Sam Darnold for the most passing yards in a single season in USC history. He's 520 yards away from becoming just the second Trojans' quarterback to throw for 4,000 yards in a season.
And he needs six touchdown passes to become the first USC quarterback to throw for 40 touchdowns in a season. Matt Barkley in 2011 and Cody Kessler in 2014 both threw 39 touchdown passes.