Transfer portal breakdown: 10 more-important-than-you-think ACC transfers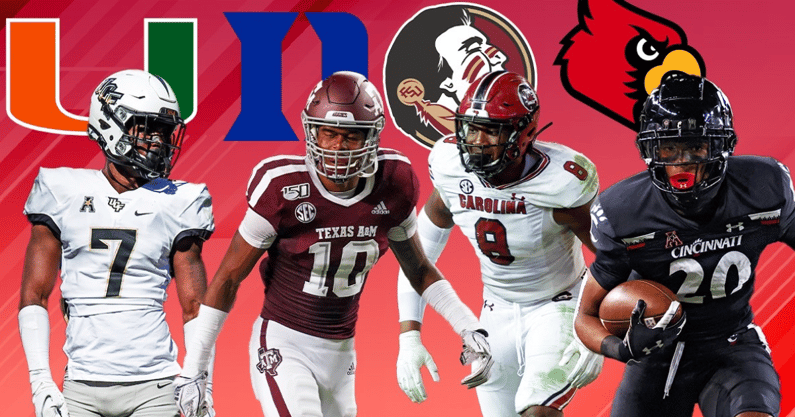 We're going to continue our dive into the transfer portal with a look at some underrated ACC transfers.
Everyone knows the big-name transfers in the ACC; just take a look at the specific position rankings of those who entered in the portal. Today, though, we're looking at some lower-ranked players who still will play important (and maybe even vital) roles for their new teams this fall.
The players are listed alphabetically.
North Carolina S Derrik Allen
Transfer from: Georgia Tech
The buzz: Derrik Allen (6 feet 2, 212 pounds) was an On3 Consensus four-star prospect and national top-100 recruit in the class of 2019, but has not lived up to the hype. He will have an opportunity to make an appreciable impact this fall with the Tar Heels. Allen signed with Notre Dame in 2019, then transferred to Georgia Tech after that season. In three seasons with the Yellow Jackets, he had 46 tackles and an interception. Allen started two games for the Yellow Jackets this past season and finished with 29 tackles, an interception and a pass breakup. UNC is revamping its secondary and there is playing time available. Antavious Lane (Georgia State) is another safety signed from the portal, and he and Allen figure to, at the least, be important rotation pieces. An aside: Allen's brother, Marcus, is a UNC cornerback.
Miami CB Davonte Brown
Transfer from: UCF
The buzz: Davonte Brown (6-2, 185) was a two-year starter for UCF and may have been the Knights' best defensive back in 2022. Brown had 30 tackles, two interceptions and four pass breakups in '22 and would've been a key figure in the secondary as UCF moves to the Big 12 in 2023. Instead, he'll be playing a big role for a Miami secondary that struggled for most of 2022. The Hurricanes lost both starting corners from 2022. That means there is ample opportunity for Brown, who played his high school ball at powerhouse Plantation (Fla.) America Heritage, about 35 miles north of UM's Coral Gables campus.
Florida State EDGE Gilber Edmond
Transfer from: South Carolina
The buzz: Florida State returns one of the best EDGE rushers in the nation in Jared Verse, but, hey, you never can have enough havoc-wreakers off the edge. After two seasons as a deep reserve, Gilber Edmond (6-5, 250) emerged as a starter for South Carolina this past season and led the Gamecocks with nine tackles for loss. He also had 39 tackles and nine quarterback hurries. FSU's defense struggled at times in 2022 and that side of the ball is the biggest question in 2023. But adding Edmond, CB Fentrell Cypress and DTs Braden Fiske and Darrell Jackson from the portal should erase some issues.
Virginia Tech WR Da'Quan Felton
Transfer from: Norfolk State
The buzz: Hmmm – how to describe Virginia Tech's pass offense in 2022? Let's be nice and go with "ineffective." The Hokies averaged 203.3 passing yards per game and had just nine TD passes (tied for third-fewest in Power 5). On top of that, leading receiver Kaleb Smith left via the transfer portal and ended up at Notre Dame. Only one wide receiver returns who had more than 10 catches in 2022, which helps explain why Tech signed three wide receivers out of the portal. Ali Jennings (Old Dominion) is the headliner and Jaylin Lane (Middle Tennessee State) is a deep threat. But Da'Quan Felton (6-3, 205) has impressive size and was a two-year starter for Norfolk State. He led the Spartans in receptions in 2022 with 39, with seven going for TDs. The Hokies actually could have a productive receiving trio in 2023 – if a consistent quarterback emerges.
Duke CB Myles Jones
Transfer from: Texas A&M
The buzz: Myles Jones (6-4, 190) will play his seventh year of college football for the guy who coached him in four of his previous seasons – Mike Elko, who was A&M's defensive coordinator before becoming Duke's coach after the 2021 season. Jones was a two-year starter for the Aggies who played in just three games in the past two seasons because of injuries. If he can regain his form from 2019, when he had 33 tackles, two picks and six pass breakups, he could help solidify Duke's secondary. Jones, who had 33 career pass breakups with the Aggies, is not a star but he can be a steady presence.
Syracuse OT Joe More
Transfer from: Richmond
The buzz: Syracuse is losing both starting offensive tackles, including star Matthew Bergeron. Enter Joe More (6-5, 302), who was a four-year starter at right tackle for Richmond and a second-team All-Colonial selection in 2022. More's experience figures to give him a great shot at the right tackle vacancy. The Orange return all three starting interior linemen. If More can nail down the right tackle job and Enrique Cruz can do the same at left tackle, the Orange will be in solid shape. Richmond transfer DT Kobie Turner made an instant impact for Wake Forest in 2022. Syracuse obviously is hoping More can do the same.
Virginia QB Tony Muskett
Transfer from: Monmouth
The buzz: Tony Muskett (6-2, 210) was a three-season starter for FCS Monmouth and earned some All-America notice in 2021, when he threw for 2,651 yards and 25 TDs in 11 games. He started the first eight games this past season before being injured. Muskett, a Virginia native, was a two-time first-team All-Big South Conference selection; the program moved into the Colonial Athletic Association in 2022. He will vie with holdover Jay Woolfolk, who has attempted 43 passes in his two seasons with the Cavs, to replace starting QB Brennan Armstrong, who left for NC State via the transfer portal. Muskett has some dual-threat ability that wasn't used at Monmouth, so that's something to watch in spring practice.
Georgia Tech LB Braelen Oliver
Transfer from: Minnesota
The buzz: Georgia Tech's two best defensive players in 2022 were LBs Ayinde Eley and Charlie Thomas – and both have graduated. Braelen Oliver (6-0, 230), who is from the Atlanta area, figures to have an inside track on a starting job. He was a two-year starter (2021 and '22) for a stout Minnesota defense. He had a combined 57 tackles in the two seasons after missing all of 2020 with a severe knee injury that included torn ligaments (plural), nerve damage and a dislocated kneecap. Oliver isn't a splash-play guy, but he is steady and physical against the run.
Louisville WR Jadon Thompson
Transfer from: Cincinnati
The buzz: Jadon Thompson (6-2, 187) would've been Cincinnati's leading returning receiver in 2023. Instead, he'll be playing for pass-oriented coach Jeff Brohm at Louisville. Thompson was the Bearcats' No. 3 receiver this past season, finishing with 26 receptions for 383 yards and a TD. He will be in the mix to be the Cardinals' No. 1 receiver after Tyler Hudson decided to turn pro. Worth noting: Brohm's offense at Purdue got a bunch of receivers involved. Throw out the truncated 2020 season, and the Boilermakers had a total of 19 players catch at least 20 passes in the past three full seasons.
Boston College CB Alex Washington
Transfer from: Harvard
The buzz: Alex Washington (6-2, 192) is making the 5-mile move from Harvard to Boston College. Washington was a two-year starter for the Crimson and earned first-team All-Ivy League mention in 2021; he was an honorable mention all-league pick in 2022. He had 51 tackles, six interceptions and 11 pass breakups in his two seasons as a starter. BC lost four starters in the secondary, and Washington figures to nab one of the starting spots; he also could play safety.