Report: Oregon transfer Eric Williams to visit USC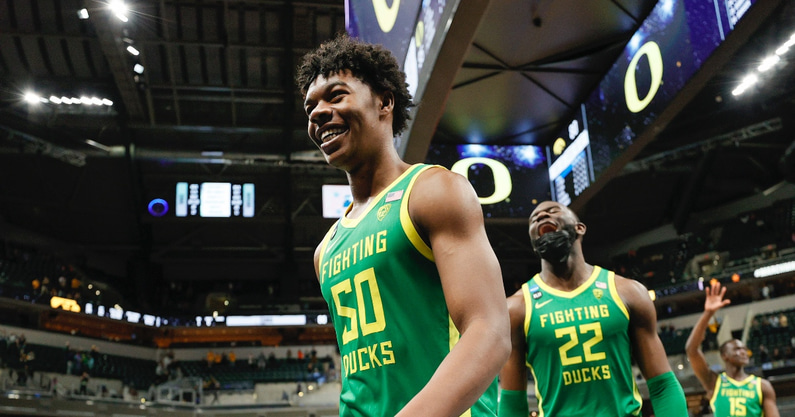 Eric Williams is starting to narrow down his options in the transfer portal.
Williams is visiting San Diego and is preparing to take an unofficial visit to USC later this week, according to CBS Sports' Jon Rothstein. He's also thinking about a professional career overseas, but still has the option to go back to college since he didn't hire an agent.
Get the latest updates on the transfer portal via the On3 Transfer Portal Wire.
Williams entered the transfer portal last month and has one more year of eligibility remaining thanks to the blanked COVID-19 waiver from the 2020-21 season. He played in 33 games last season — including 11 starts — and averaged 8.4 points and 4.6 rebonds per game during that time.
Williams started his career at Duquesne before transferring to Oregon prior to the 2020-21 season.
Check out the full On3 Transfer Portal Rankings.
More on Eric Williams
This isn't the first time Williams is testing the NBA Draft waters. He did so last year before returning to Oregon for his senior season.
The 6-foot-7, 200-pound senior shot 37.6% from the field (35.1 percent, 3-point) and 67.9% from the free throw line during his final campaign. Compare that to high slightly higher overall stats from his first season in Eugene, when he averaged 10.0 points and 6.0 rebounds while shooting 39.3% from the field, 34.8% from three, and 73% from the line while appearing in 24 games with 21 starts.
Oregon went from a potential Pac-12 championship contender to losing seven of its last 10 games. In mid-February, the Ducks were taking No. 1 seed Arizona to the limit — exactly one month later, their season comes to an end in the second round of the NIT by Texas A&M, which calls for change within the Oregon program.
On3's Barkley Truax contributed to this report.