Brian Branch discusses what running back transfer Jahmyr Gibbs brings to the table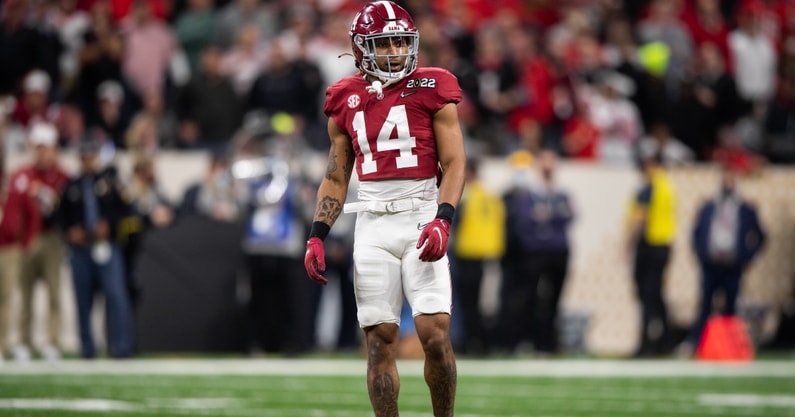 Alabama hit the transfer portal during the offseason, and the Crimson Tide's best pickup might very well end up being former Georgia Tech running back Jahmyr Gibbs. Gibbs has already made a strong impression since arriving in Tuscaloosa.
The impact of Gibbs has already been felt through Alabama's defense, as the Crimson Tide have been tasked with trying to stop the talented backfield threat during spring practice and summer workouts. Alabama safety Brian Branch has seen Gibbs' skillset firsthand, and he has been incredibly impressed with what he's seen thus far.
"His instincts I feel like are huge," Branch said. "The way he gets in and out of cuts and finds little holes – just once he finds them he go like burst through them. I feel like that's gonna help our running back room a lot. We already got a lot of good backs. So I'm just very excited to see how it pans out."
Branch has played a big role through two seasons in Alabama's secondary, and he had 55 tackles with five tackles for loss and nine passes defended last season. Last year, Branch was tasked with facing Brian Robinson every day, who ultimately had a career year with 1,343 yards and 14 touchdowns.
Now, Gibbs is looking to have a similar performance. Last season at Georgia Tech, Gibbs rushed for 746 yards and four touchdowns, adding 35 receptions for 465 yards and two scores. He is rated as the third-best player to enter the transfer portal during this cycle.
Expectations are high for Gibbs at Alabama
While Alabama has to offset some major losses form last year's offense, Gibbs could be exactly what the Crimson Tide need to remain as one of the top teams in all of college football. On3's J.D. PicKell recently broke down the addition of Gibbs, and believes he is going to play a pivotal role right away.
"But enter in Jahmyr Gibbs to this offense. They're going to make, for certain, that he touches the football early and often," said PicKell. "I would be wildly surprised if we don't see this number much, much higher. I would say north of 50 percent this time next year when we're talking about Alabama and their performance in 2022. Jahmyr Gibbs, of course the transfer running back from Georgia Tech to Alabama.
"For a lot of people's money, the best player in the ACC a year ago. He's gonna get the football a whole lot and he's gonna be comin' downhill at you. So, Alabama, much more effective in running the football I would imagine this year, with the addition of Jahmyr Gibbs."