LOOK: Eric Musselman, Arkansas players pose with student section after LSU win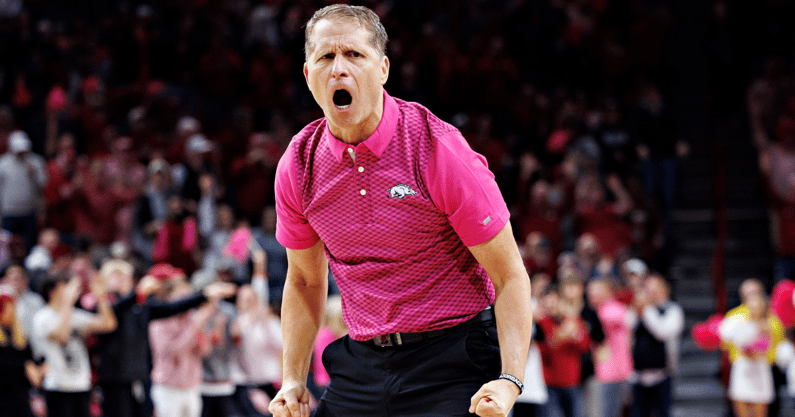 Arkansas coach Eric Musselman made sure to let the students know they were appreciated following a dominant 60-40 win against LSU on Tuesday. Despite snowy weather that caused the university to close early, several students showed out to support the Razorbacks at Bud Walton Arena.
Musselman, along with several Arkansas players, then took the opportunity to pose for a photo with the student section following the victory. The coach can be seen right in the middle of a crowd of students, alongside freshman forward Jordan Walsh.
The victory offered revenge for the Razorbacks, who lost to LSU 60-57 in their SEC opener last month. The team wore pink jerseys on Tuesday to raise awareness for breast cancer. The win also marked their second straight, improving them to 3-5 in conference play following a disappointing 1-5 start.
Four different Razorbacks scored in double figures, led by guard Davonte Davis with 16 points. It was the defensive performance from Arkansas that was most impressive, however, as it held the Tigers to 14-of-54 (25.9%) shooting and forced 15 turnovers. LSU made only three field goals the entire first half as the Razorbacks took a 38-14 advantage into halftime.
The game was fairly competitive to start, and Arkansas led just 15-11 with 10:47 remaining in the first half. However, the Razorbacks went on a 15-0 run over the next five minutes to pull away for good. The Tigers were held without a field goal for the final 5:38 of the first half.
Arkansas still has a long way to go, as it sits in just ninth place in the SEC following the win. However, these past two performances have been an encouraging sight, and they'll look to continue their impressive play.
That begins with a nonconference matchup against No. 17 Baylor on Saturday in Waco. After that, Eric Musselman and the Razorbacks will once again call on the students for support when they host Texas A&M on Jan. 31.