Dabo Swinney gushes about defensive end group, jokingly warns them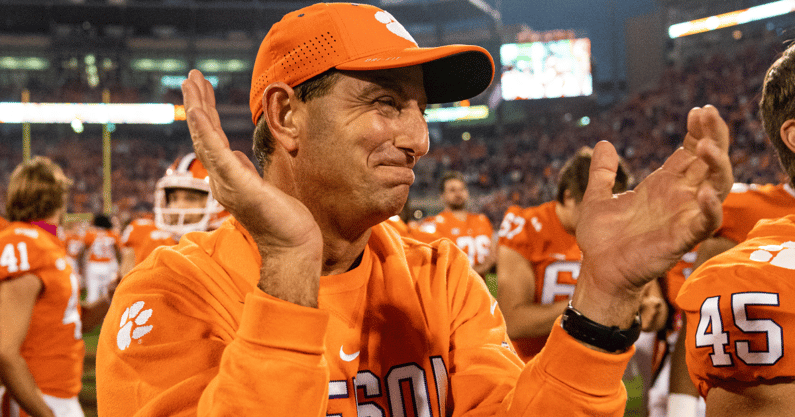 Under Dabo Swinney, Clemson consistently produces monstrous defensive line units. 2022 is shaping up to be no different. After returning several starters off the 2021 team, this year's group of Tiger D-linemen is ready to wreak havoc now.
During Clemson's spring game, the coaches could barely keep these guys from mauling the quarterback's — a huge NO NO in football practices. Following the game, Coach Swinney was asked about that position group in particular and where they stand heading into the summer.
This is what he had to say:
"I told them 'y'all better make your reps count because there are not gonna be many.' They did a great job. There some guys a little overmatched, but they did a good job. They were all begging for sacks and all that stuff. I'm gonna remind them when we miss a couple of those sacks this fall, you know, don't be beggin' next spring."
"But they're great. Really good group. I'm proud of all four of those guys. Very mature. They really like each other. There's a lot of competition there, but it's a healthy competition. Good leadership. Just proud of all of them. KJ [Henry] has been great — this has been his best spring. Myles [Murphy] has had his best spring."
Then Swinney singled out veteran stud Xavier Thomas.
"Xavier Thomas, man, you saw him out there today. A lot of people would lose money if you said Xavier Thomas would be back here for a fifth year coming out of high school. I'd have been one of 'em because I didn't know if he'd have that type of maturity. He certainly could've left, but he really wants to be the best version of himself. If he stays committed to that, he's gonna have a great year. All those guys, it's gonna be a fun group to coach."
Coming out of high school, Thomas was a five-star recruit and the No. 4 overall player in the 2018 recruiting class, per the On3 Consensus. KJ Henry was also a blue chip grab for Swinney in the '18 class. He ranked a measly eighth overall that year, four whole spots behind Thomas, while earning consensus five-star status. At the end of this season, the Tigers will have gotten 10 combined years out of two top-10 players in their class. No wonder Dabo Swinney always has dominant defenses.
Oh, and add a possible breakout for Myles Murphy to the list. He's an edge rusher that many NFL Draft pundits believe could be picked in the first round. Absolutely stacked group.