Tom Izzo demands more of his inside defense, suggests potential second-half adjustment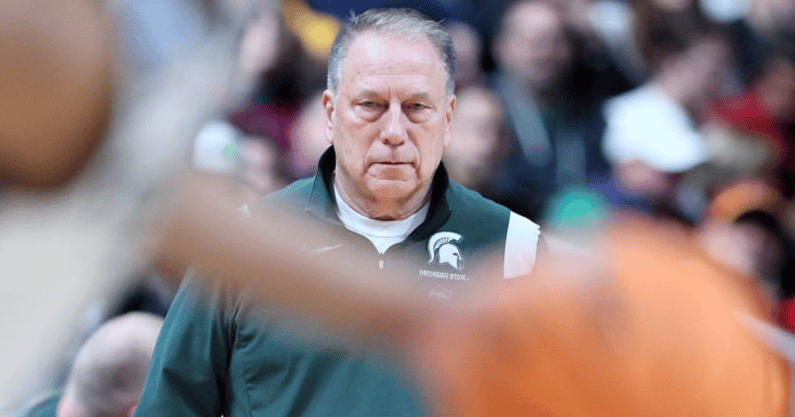 Games can sometimes be a tale of two halves. For Michigan State, it was a tale of halves when it came to the first half alone considering how their defense played, specifically their centers. The Spartans locked in well on that end to start but, over the final 10 minutes, USC was able to score enough to get their NCAA Tournament game to a 34-34 tie at the break.
Heading into the half, Tom Izzo's said that the conditioning of his big men was a big reason why he thinks their defensive intensity fell off. He felt that led to worse defense in ball-screen coverage as well as more easy looks in transition for their opponent. Now, with that in mind, he says he may look to use some smaller lineups in the second half or will at least rotate Mady Sissoko, Jaxon Kohler, and Carson Cooper in and out better.
"We did a good job. My centers got tired. We started going up to far into those ball screens. Their center, who hasn't scored that many points in a week, scored three times in a row. That was the difference. I thought we did a very poor job on our ball screen defense and when getting back. We look tired at that position. I guess that's my fault."
"You might (see more small-ball lineups). But we've got to just rotate them a little bit better…They'll do a better job."
Over the first 20 minutes, that trio of bigs combined for eight points, five rebounds, and a block. However, it felt as though Izzo was constantly rotating bigs to give each one a rest at different points. Those changes could be felt, especially on defense. USC found another gear in the last eight and a half minutes as they scored 21 of their 34 points. That included a 13-6 run to close.
In March Madness, it's now or never as every player has to empty their tank. Izzo will need that effort again, if not better, from Sissoko, Kohler, and Cooper in the final half. If not, he may have to get creative with his lineups on the fly in order to get Michigan State out of the first round and on to the next.
Izzo praises Michigan State's defense early vs. USC
Michigan State locked down on the defensive end to tip off their NCAA Tournament game against USC. They were able to open up an 11-point lead by forcing a 4/13 start by the Spartans from the field. However, Tom Izzo knows it might not last if they don't keep the same energy throughout.
In a media timeout interview, Izzo said his defense looked much better to start out than it had when we last saw them in the Big Ten Tournament. Even so, USC guard Boogie Ellis had taken just two shots and scored 0 points to that point. If Izzo knows anything, it's that that specific trend won't last throughout the game.
"(It's been better) in the start. But, unfortunately, we're only 10 minutes into the game," Izzo admitted. "We have done a better job defensively. We're getting better weak side help, I think we've done a decent job with the ball screens."
"But Ellis hasn't lit up yet. And he will light up," said Izzo.