Greg McElroy ties Devin Leary to Bryce Young, CJ Stroud with impressive stat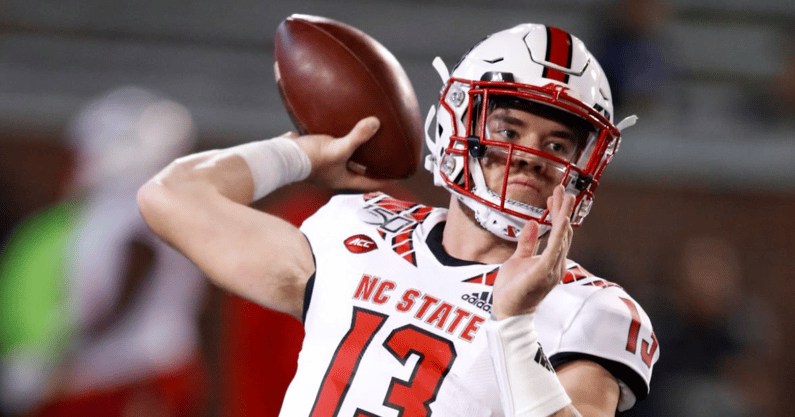 NC State quarterback Devin Leary has a lot to do with the Wolfpack's expectations this season. The redshirt junior is back for another round in Raleigh where he's expected to be one of the best in the ACC if not in all of college football. ESPN's Greg McElroy has those expectations with Leary in his top tier of college QBs. He even has the stats to prove he is amongst the best in the nation.
McElroy broke down quarterbacks from across the NCAA in a recent episode of 'Always College Football'. He says that while injuries have held him back in past seasons, his numbers tell the tale of what kind of player that he is.
"(It) speaks for itself. 35 touchdowns to five interceptions, a seven to one ratio. Rock solid," said McElroy. "It is really the first time (Leary) has had the chance to be the full-time guy from start to finish. He has had some injuries and has been a little banged up. There have been bright spots in the past but to see it now over the course of an entire regular season was really gratifying. (He) threw multiple touchdowns in almost every game (with) only one in which he didn't."
Leary totaled 3,433 yards on a 65.7% completion percentage to go with that ratio. His production helped take NC State to a 9-3 record and a Top 20 finish in the AP poll. Leary may not be the player you think of when talking the overall best at the position in college football. However, Greg McElroy shared a stat that put Leary in the same company as a Heisman finalist and last season's Heisman winner.
"He finished with a ridiculous stretch in the last five games with 18 touchdowns against just three interceptions. If you look at what Bryce Young did and what CJ Stroud did, you know who's the only other returning FBS quarterback (with that stretch)? Devin Leary. That's pretty dang impressive," said McElroy.
If NC State is to meet their preseason expectations, Leary may have to play even better than before. He is more than prepared for the challenge, though. Based on how McElroy thinks the conference will eventually play out, he says Leary will be key in how the ACC shakes out this fall.
"Ultimately in that league, the ACC could all come down to quarterback play. That's why I think NC State is extremely well positioned."