WATCH: Marcus Freeman brings kids to announce Notre Dame baseball game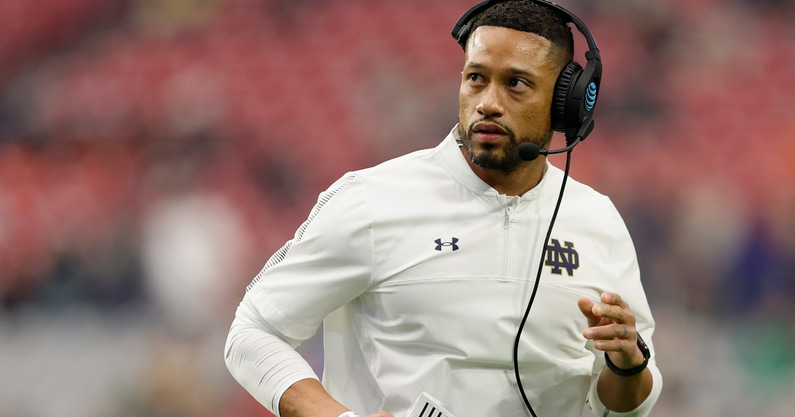 Thursday night, Marcus Freeman was in Las Vegas for the 2022 NFL Draft. By Friday, he was back in South Bend to throw out the first pitch at the Notre Dame baseball game — and he brought his kids, who made their way to the announcer's booth.
What happened next was absolutely adorable.
Notre Dame's public address announcer let Freeman's kids announce some players coming to the plate. It was a wholesome moment as the Fighting Irish took on Boston College at Frank Eck Baseball Stadium.
It's part of a whirlwind weekend for Freeman and Notre Dame, who saw one of their own go in the first round of the NFL Draft on Thursday. Kyle Hamilton went to the Baltimore Ravens as the No. 14 overall pick after a standout career with the Fighting Irish under Brian Kelly. Freeman was the defensive coordinator last year — Hamilton's last in South Bend — and knows Hamilton will be a great pro.
"You got an unbelievable football player," Freeman said on The Rich Eisen Show. "He's a guy that can do it all; that can run. He can hit. He can tackle. He's really intelligent. He takes care of his body. He loves the game of football. And, he's an extremely great young man. And so, it's the entire package in him."
Baltimore Ravens select Notre Dame safety Kyle Hamilton in 2022 NFL Draft
The Baltimore Ravens selected Notre Dame safety Kyle Hamilton, who ranks as the best player at his position, with the No. 14 overall pick in the first round of the 2022 NFL Draft. After establishing himself as one of the best defensive backs in the country, his testing numbers led to a late slide which could made him a steal.
Kyle Hamilton, at 6-foot-4 with great length, finished his college career with 138 tackles, eight interceptions and 16 pass deflections. He also added 7.5 tackles for loss in 31 games.