Why Ohio State's talent translating determines success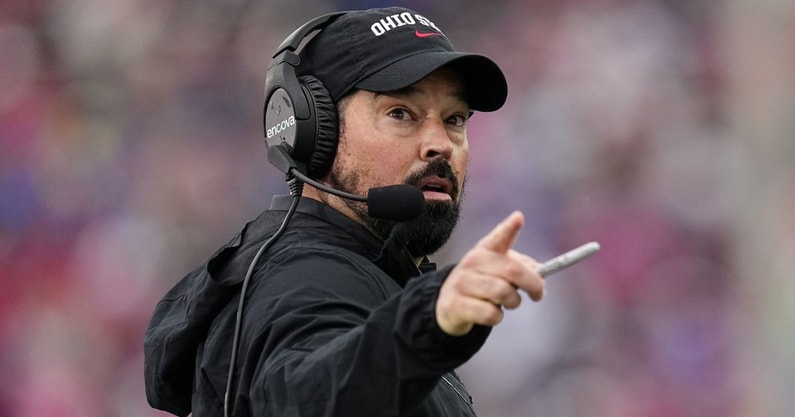 Ohio State is gearing up for Ryan Day's fifth full season with all kinds of revenge on their mind. Still, no matter what else goes right for them in 2023, On3's JD PicKell says one thing is going to separate the Buckeyes from who they are and what they truly want, especially in the Big Ten: talent.
PicKell spoke highly of Ohio State's talent in a recent episode of 'The Hard Count' where he asked some big questions from around the Big Ten. When it came to the Buckeyes, he, much like everyone else, recognizes what kind of players they have in Columbus.
The question for him now is when does all that success on the recruiting trail eventually get them back to winning the biggest games on their schedule?
"My question for Ohio State, as it pertains to the Big Ten conference race, (is) when does the talent at Ohio State translate to the top of the podium? I didn't just say when does the talent at Ohio State translate period because we've seen it translate now with the way that they have played on the field the last couple of years and been in that top tier of college football," PicKell said. "When does it translate to the top of the podium in the Big Ten?"
"They have the best roster," continued PicKell. "Genuinely, from a talent perspective since 2020? Ohio State has recruited the best class in the Big Ten every single year. They also have had a top-five class. So it's not a matter of firepower, not a matter of pieces, not a matter of talent. My question is the translating of that to then beating teams that aren't recruiting as well as you."
The last cycle with any team in the Big Ten finishing with a better class than Ohio State was in 2019 per On3's Industry Ranking. Michigan finished at No. 7, Penn State finished at No. 10, and then came the Buckeyes at No. 15.
Since then, the Buckeyes have recruited at a pace that's comparable to the rest of the best nationally. However, the success on the field, especially in the biggest moments, hasn't met the pace of those same teams.
That's why PicKell is focused on Ohio State's talent level in 2023. We all know that, as far as recruits, they have the cream of the crop in the Big Ten. The task at hand now is to make something out of all the pieces that they have that can go out and reach the standard that the Buckeyes have fallen short of in 2021 and 2022.
"The roster, I think, has to eventually translate to what you want to accomplish. And the standard is the standard at Ohio State," said PicKell. "The standard is beat Michigan. Haven't done it in two years. The standard is win the Big Ten. Haven't done it in two years. And then go and win a national title."
"The question around Ohio State starts with the talent," PicKell stated. "You've got all the ingredients in the world. When and how are you able to get that to the top of the podium?"