2023 Big Ten win totals: Analyzing schedule projections from the reigning champs Michigan to the cellar-dwellers Northwestern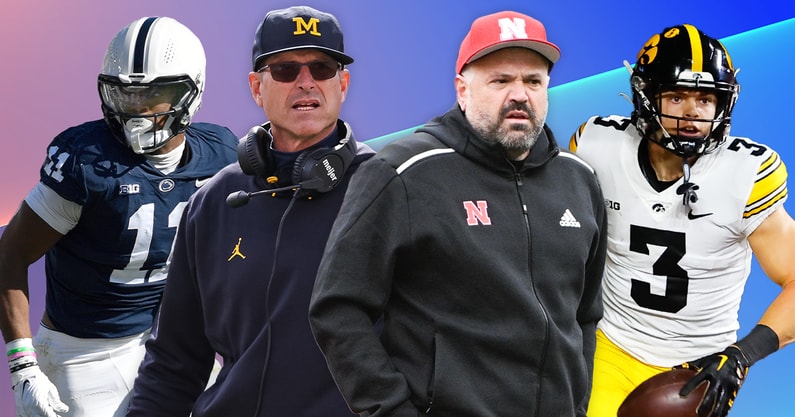 The 2023 college football season is still several months away, but sports books everywhere have begun to release over/under win total projections for the fall. 
After Power Ranking each P5 conference last week, this week we'll look at the win total numbers released by DraftKings Sportsbook. We debuted the series analyzing projections for all 14 SEC teams. 
Today, we look at the Big Ten, where Michigan and Ohio State have the same win total, while the Big Ten West stands to be a highly competitive division again in 2023, too. 
So with the latest information, here's a little Post-Spring Too High? Too Low? Just Right? with the Big Ten win total projections. 
This number feels short by at least half a win. Maybe a whole one. The Wolverines are 23-1 in their last two regular seasons and should be favored to win the conference for the third year in a row. They have another joke of a non-conference slate, and while November road games at Penn State and Maryland are potential landmines, Michigan does not have a foreboding schedule. 
Ohio State comes to the Big House in 2023, and Michigan stands to be favored in at least 11 of 12 games this fall. 
Ryan Day faces pressure to snap a two-game skid against Ohio State's bitter rival the Team Up North, but the rest of the Buckeyes' schedule is tougher than Michigan's, too. 
Outside of Georgia, Ohio State arguably has the deepest roster in the country, and that talent will be put to the test in road games at Notre Dame and Wisconsin, in addition to the regular-season finale against Michigan. 
The Buckeyes are absolutely capable of flying past this number and going 12-0 this season, but with an unsettled QB competition and ongoing concerns at OL, 10-2 is very possible, too. 
Yes, the Nittany Lions are one of the offseason's hype teams in 2023, but with good reason, they returned a stacked group of young studs looking at a bright two-year window. 
We don't know for certain what to expect from former 5-star quarterback Drew Allar, but this is not a schedule that should produce three losses. 
Outside of a late October trip to Ohio State, Penn State plays all its toughest games in Happy Valley (Iowa and Michigan come to Beaver Stadium). Its non-conference schedule replaces a road game at Auburn with a home opener at night against a sub-par West Virginia team. 
I'm optimistic about Wisconsin's future under Luke Fickell, but the Badgers shouldn't have a win total more than a game higher than division rival Iowa in 2023. 
Wisconsin has cleaned up in the transfer portal, but it remains to be seen how good prolific quarterback Tanner Mordecai will be in the jump to Power 5. Or how long Phil Longo's drastic offensive identity change needs time to gel. 
Although the Badgers do get Ohio State and Iowa at home, they have an early road trip at Washington State and end the season at Minnesota, a team that's taken home the Paul Bunyan's Axe the last two years in a row. 
The Hawkeyes had the worst offense in the Big Ten in 25 years last season and still won seven games, and they have upgraded at quarterback, receiver and offensive line this offseason. 
Kirk Ferentz has also won at least eight regular-season games in six of the last nine full seasons, so this number seems slightly too low. Notably, Iowa doesn't draw Michigan or Ohio State and one of its road games is a trip to Northwestern. 
Mike Locksley has slowly but surely established Maryland as the fourth-best program in the Big Ten East. The Terps' situation in the conference should only improve once divisions are scrapped when USC and UCLA join, but for now, it faces the unfortunate scenario of playing Ohio State, Michigan and Penn State every season. 
Still, with Taulia Tagoviola back at QB and four transfer reinforcements for an OL in need of bodies, Maryland has the making of a solid team again in 2023. Solid. 
Win a couple of toss-up road games (at Michigan State or Nebraska), and Maryland could give Locksley his first eight-win regular season, but that would also mean the Terps must avoid a random letdown loss — something the program hasn't done the last two years.
On the surface, it might look like Vegas is shortchanging the Fighting Illini a year after Bret Bielema nearly took them to the Big Ten Championship, but Illinois must replace some key defensive pieces of its 2022 team and it plays a more difficult schedule, as well.
The Illini open with the 2022 MAC Champion Toledo Rockets, which is among the Top 15 teams nationally in returning production. Then they travel to Kansas the never next week and then host a Top 10 Penn State and FAU, No. 3 nationally in returning production. That's a challenging September. 
They're going to need to win their share of toss-up games to go over 6.5, which makes the current number feel just right. 
Like Illinois, Minnesota's win total projection looked off by at least half a win … and then you dive deep in its schedule and see why the number is what it is. 
PJ Fleck has gone 11-2, 9-4 and 9-4 in his last three full regular seasons, but this is by far the hardest schedule he's faced in seven years with the Gophers — one in which ESPN ranks No. 2 nationally. For the first time in Fleck's tenure, they draw both Michigan and Ohio State in the same season. 
They open with a who-knows-what-to-expect game vs. Nebraska and then travel to face Drake Maye and North Carolina on the road. They also play at Iowa. 
Seven or eight wins are certainly on the table, but it's not hard to see a 6-6 season, either. 
The Cornhuskers haven't gone bowling in seven years, so while optimism is abound in Lincoln, even being a .500 team in Matt Rhule's first season seems a tad ambitious as a baseline projection. 
Can Nebraska get six wins in 2023? Absolutely. Jeff Sims looked great at quarterback in the spring and the roster has been significantly turned over with upgrades at linebacker and defensive line. 
But the Cornhuskers' schedule includes two road games to start the season — at Minnesota and at Colorado. They could be 2-0, 1-1 or 0-2 in that stretch. They then must also play Michigan, at Illinois, Maryland, at Wisconsin and Iowa — five teams with higher win total projections in 2023 — plus the rest of its slate. 
The Spartans probably need to be a bowl team to ensure Mel Tucker isn't a hot-seat candidate by the end of the 2023 season, but their schedule — coupled with an offseason chalked with transfer portal departures — doesn't exactly scream a major bounce-back year, so a 5.5 win total looks right entering the summer.
Michigan State will play four preseason Top 10 teams — Washington, Michigan, Ohio State and Penn State, and while three of the four are at home, the Spartans will still be touchdown underdogs or more in every game. They also have road games at Iowa and Minnesota, giving MSU a Top 10 hardest schedule nationally. 
Ryan Walters was a shrewd higher by the Boilermakers' brass this offseason, but the former Illinois defensive coordinator is staring at a challenging Year 1 in West Lafayette.
Hudson Card replaces Aidan O'Connell at quarterback, which was a good portal addition but is still a downgrade. Purdue also added a bunch of other pieces from the portal (lots of OL, DL and CBs), but it lost its best receiver Charlie Jones and several notable defensive starters. 
The Boilermakers have a first-year coach who must navigate a schedule that includes non-conference games against Fresno State, Va. Tech and Syracuse — all winnable but none that are gimmies — plus showdowns with Michigan and Ohio State. 
(***DraftKings did not release a win total projection for Rutgers. This number is from Caesars.) 
The Scarlet Knights return a ton of production — second-most in the Big Ten behind Michigan — but how much of that is quality production from a 4-8 team?
While Greg Schiano upgraded the OC position with Kirk Ciarrocca, this is still an offense with major question marks at QB and offensive line. There are a couple early winnable games on the schedule in September (Northwestern, Temple, Va. Tech and Wagner), but the Knights might have to sweep that slate just to even repeat four wins considering the rest of the schedule includes road games at Michigan, Wisconsin, Iowa and Penn State, plus home dates with Ohio State, Maryland and Michigan State. 
Maybe Rutgers finds its way to five wins, but even an over/under of four seems more appropriate. 
This number has actually dropped from an opening flat-4, so the Hoosiers' win total has seemed to settle on a more correct preseason figure. 
Tom Allen's team plays a Top 10 schedule, per ESPN, with road games at Michigan, Penn State and Maryland. Indiana opens with Ohio State and also plays a non-conference neutral site game against Louisville in Indianapolis. 
While Akron and Indiana State are auto-wins, outside of a home date with Rutgers, Indiana will be underdogs in every other game in 2023. 
Coming off a 1-11 season, a three-win jump for the Wildcats might seem outlandish, but the schedule is much more forgiving in 2023. 
Pat Fitzgerald has revamped his coaching staff and brought in Cincy transfer Ben Bryant to play quarterback. Northwestern gets to avoid Michigan and Ohio State this season, and has a pair of must-wins versus Howard and UTEP.
A road game at Duke is tough, but the Wildcats do open with Rutgers and draw Purdue at home. Four wins is a real possibility.