Lane Kiffin weighs in on performance of Michael Trigg in Grove Bowl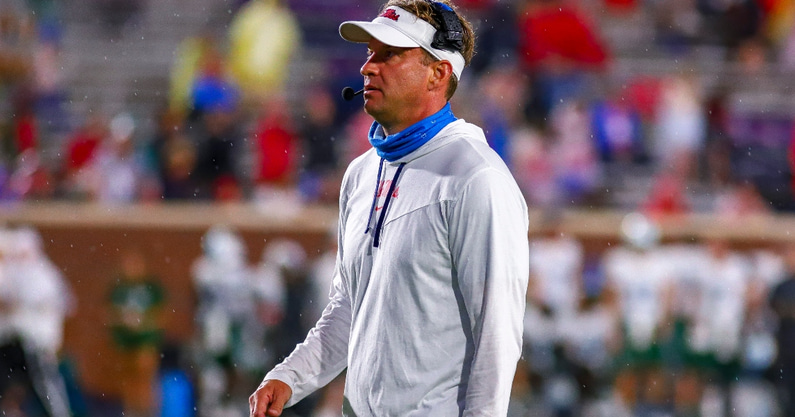 Ole Miss was already excited to see Michael Trigg catching passes for the Rebels, but his performance in the Grove Bowl on Saturday heightened expectations even higher. The former USC tight end who joined Ole Miss via the transfer portal this off-season caught two touchdowns, lending credence to the idea that he could break out in a big way for the Rebels.
Afterwards, Lane Kiffin weighed in on the performance of Trigg in his first Grove Bowl.
"He's kind of done that all camp," Kiffin stated, assessing Trigg's impressive performance. "He's just very unique. Ball skills, catching range. Basically, what you saw today, he's done whenever he's been healthy."
The tight end was ranked as the No. 38 overall prospect in the portal, per On3's transfer portal rankings. He was also the second-ranked tight end available.
The 6-foot-3, 230-pound freshman played in just four games last season with the Trojans, totaling seven catches for 109 yards and a touchdown in 2021. He originally committed to USC as a four-star recruit, and the No. 4 tight end according to On3 Consensus, a complete and equally weighted industry-generated average that utilizes all four major recruiting media companies. Other than USC, he held offers from several big-time programs, including Alabama, Georgia and Ohio State.
It's easy to see why Ole Miss believes they have a star on their hands in Michael Trigg. Saturday was the first step in a breakout season for the tight end.
Lane Kiffin gives blunt assessment of Jaxson Dart performance following Grove Bowl
Furthermore, Jaxson Dart was one of the more intriguing names to find a new home this offseason, courtesy of the transfer portal. Dart left the West Coast lifestyle at USC for life in the South with the Ole Miss Rebels. After going through the Rebels spring ball program with head coach Lane Kiffin, fans got to finally see him in action at his new home.
Afterwards, Kiffin gave a brutally honest assessment of Dart's performance in the first and second half of the Ole Miss spring game Saturday night.
"Yeah, not a very good first half," said Kiffin on Dart's play to open the spring game. "Thought he was trying to win the job instead of just playing quarterback and forcing balls and not being very consistent. So just talk to him before the half. You know, about calming down and taking one play at a time. And I thought he did some better things in the second half."
In his first outing for Ole Miss, Dart struggled to find any consistency. The former USC Trojans quarterback completed 11 of his 30 passing attempts for 166 yards with one touchdown and two interceptions. The only good news or silver lining for Dart is his direct competition for the starting quarterback spot, Luke Altmyer, did not look much better. In fact, the lone bright spot for the Rebels' quarterback room was Kinkead Dent, who went 11 or 12 for 140 yards and two touchdowns in the spring game.