WATCH: Ole Miss, Lane Kiffin release hype video ahead of next wave of transfer portal activity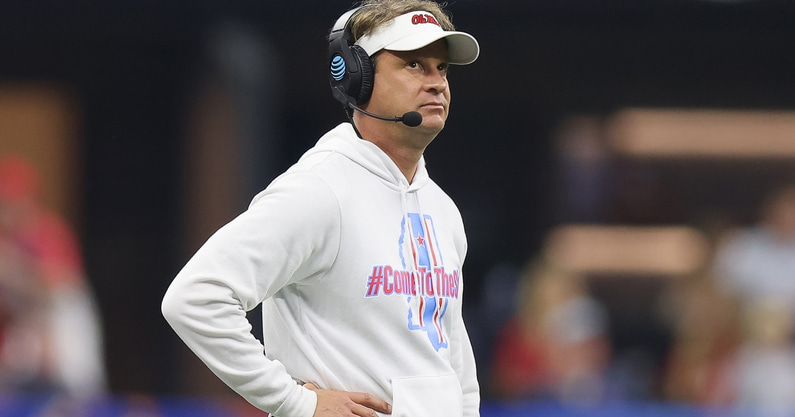 The Ole Miss Rebels have been heavily involved in the NCAA Transfer Portal over the past few months. But it doesn't appear that they are done adding quite yet.
On Monday afternoon, Ole Miss released a hype video ahead of the next incoming wave in the transfer portal.
"Who's next? #TransferToTheSip," the tweet said.
Ole Miss had added a number of high-profile players from the transfer portal, none more notable than former USC quarterback Jaxson Dart, who was the No. 2 available player during this transfer cycle. The Rebels also added former TCU running back Zach Evans (On3's No. 7 transfer), in addition to Ladarius Tennison (No. 22) and Dart's former USC teammate and roommate, Michael Trigg (No. 38).
After having such a successful stretch in the transfer portal, Ole Miss head football coach Lane Kiffin dubbed himself as the "Portal King." The Rebels also debuted custom transfer portal hoodies, with "Transfer To The Sip" on the front.
Kiffin on using the transfer portal to fill out Ole Miss' roster
The portal has really changed things in college football, with a lot of quality players hitting the market seemingly every single day. Teams are able to look to the portal to find immediate and short-term fixes, although roster management can become tricky with the portal in play.
In the midst of the Rebels success through the transfer portal, Kiffin elaborated on what goes into managing the roster with that in mind earlier in the offseason. Kiffin called the process "unique and challenging."
"There's specific needs that you're trying to do and then there's also best available," Kiffin told reporters. "The thing about it that's strange, it's not like grad transfers where those are positions of need immediately that you take. It may be a grad transfer, it may be someone that has four years to play. It's very unique and challenging to figure that out.
"There's no evidence of how to do it and what's worked, so we're just trying to be cutting edge in how we're doing that and putting together our roster."