James Franklin describes why there are so many emotions with this senior class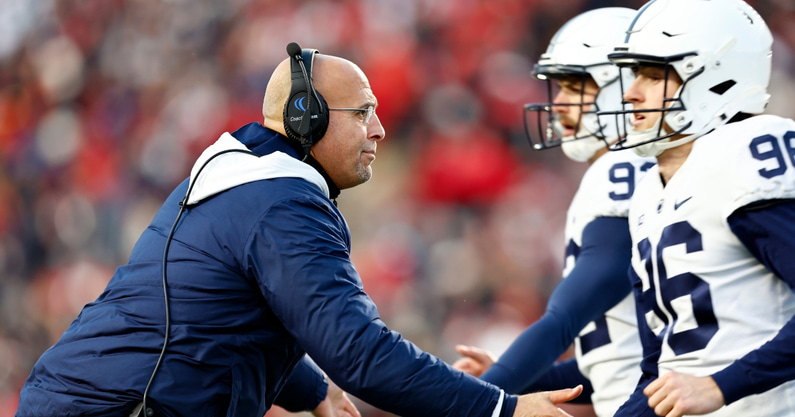 Penn State's matchup on Saturday against Michigan State will be their senior's final home game of their collegiate careers. Head coach James Franklin recently took some time to describe why there are so many emotions with this senior class.
"Yeah, it's funny; Tig (Ji'Ayir Brown) did his share the other night, and he just talked about his first season was the pandemic," said Franklin. "Just talked about how bad it was. And then I remember the next year, we were able to kind of get back to our normal routine. And I remember Tig specifically saying, 'So this is how it is.'
"They've kind of been through a bunch. And obviously, everyone in the country went through this to a degree. As we know, different athletic departments and different states handle things differently. But they've seen it all; they really have. And specifically, the guys that have been here six years. That's a lot of time to spend together. It's somewhat unusual, I've been doing this for a long time, but I still struggle with that. The guys moving on have been fortunate; when you're able to stay at the same school for a long time, that helps because the guys come back. I still have people that come and visit that I coached at Vanderbilt, Maryland, and other places."
CLICK HERE to subscribe for FREE to the On3 YouTube channel
To say that dealing with the COVID year was hell on college athletes and the rest of the world is a drastic understatement. Still, those players that stayed the course would Franklin at Penn State have numerous fond memories that they can look back on when they remember their time as a Penn State Nittany Lion.
Penn State receiver Parker Washington will miss the remainder of the 2022 season, Franklin says
Piscataway, N.J. — Penn State receiver Parker Washington did not travel with the Lions to Rutgers on Saturday. Now, we know why that was the case.
Head coach James Franklin confirmed on Tuesday that an Washington's season is over. He will miss both this week's regular-season finale against Michigan State and also the Lions' to-be-determined bowl game opponent. Franklin did not say it. But, it's believed an injury is the reason why.
"Parker Washington will be done for the season," Franklin said. "I did have that conversation with him and his mom. I wanted to make sure I covered it with them first and make sure everyone was comfortable with it."
Washington finishes his third season at Penn State with 46 catches for 611 yards and two touchdowns. The Sugar Land, Tex., native also returned 18 punts for 99 yards in 2022. He is the team's leading receiver with two games to go but will likely be passed by the time the season ends.