Report: Penn State 'prepared to make significant, long-term financial commitment' to Micah Shrewsberry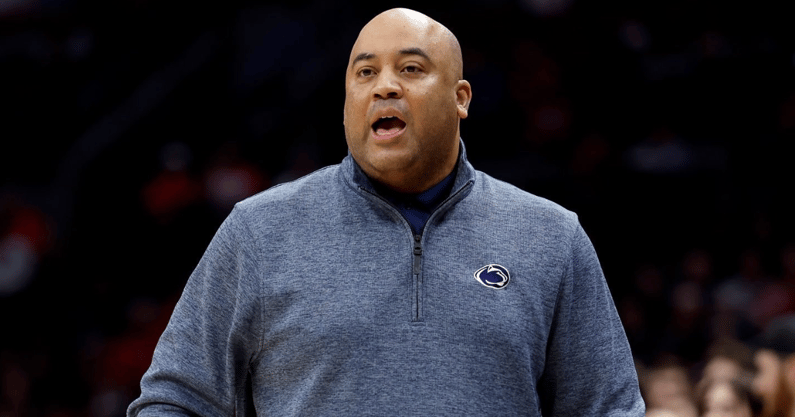 Penn State is gearing up to take a major step toward keeping Micah Shrewsberry in charge. CBS Sports' Jon Rothstein reported the Nittany Lions are prepared to off a "long-term financial commitment" to Shrewsberry as soon as their season ends.
Shrewsberry's name has come up in connection with multiple jobs this cycle, notably at Notre Dame and Georgetown. However, it appears Penn State wants him to stay beyond this season, his second with the program after taking over ahead of the 2021-22 season.
The noise has gotten louder during the NCAA Tournament, as well, as programs who missed out on the Field of 68 entered the offseason. Before his first tournament game as a head coach Shrewsberry was asked whether he'll still be Penn State's head coach next year, and he gave an interesting answer.
When pressed on whether it was a "yes, no or I don't know" question, he chose the third option.
"That's a great question," Shrewsberry said, via statecollege.com's Ben Jones. "There has been a lot of those. I got that question last week at the Big Ten Tournament. I told our guys after the Rutgers game that I felt like I let them down as a coach. I didn't feel like I did my best. So, I told them that will never happen again. That's all I'm focused on is being that person for them. Right?
"We've just played four games in four days. We have had our backs against the wall for three weeks and now, I'm getting ready to coach my first opportunity as a head coach to be in an NCAA Tournament game. I don't have time to focus on anything else but just being the best version for these guys and that's all I'm focused on. When the offseason comes, then I can focus on other things. But I'm tunnel-vision on playing this game for our guys tomorrow."
Penn State went 19-12 in the regular season to seal the No. 10 seed in the Big Ten Tournament. The Nittany Lions won its first three games of the tournament to advance to the title game, where they fell to Purdue — where Shrewsberry coached from 2011-13 and 2019-21.
Despite the title game defeat, Penn State entered the NCAA Tournament as a No. 10 seed and knocked off Texas A&M in the first round to set up a Round of 32 matchup against No. 2 seed Texas Saturday at 7:45 p.m. ET on CBS.