4-star QB Gavin Wimsatt to enroll at Rutgers early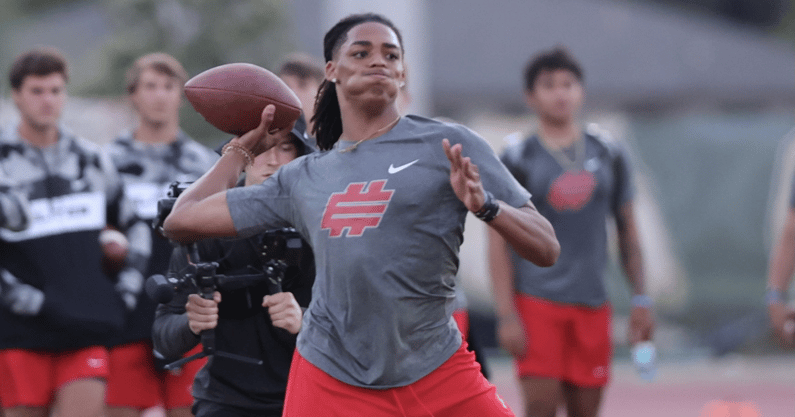 Owensboro (Ky.) four-star 2022 quarterback Gavin Wimsatt, who committed to Rutgers back in April, played his third game of his senior season on Thursday night.
After the 6-foot-3, 200-pound Wimsatt led his team to a 49-42 win over crosstown rival Owensboro (Ky.) Daviess County, news broke the talented signal caller was skipping the remainder of his high school career to enroll at Rutgers in the coming days.
"Source tells KSR that Owensboro HS QB Gavin Wimsatt is leaving Owensboro enroll early at Rutgers," stated Matt Jones of Kentucky Sports Radio on his personal Twitter account. "He is expected to sign a 6 figure NIL deal."
This means Wimsatt would reclassify to the class of 2021 as he enrolls at Rutgers this semester.
Gavin Wimsatt's performance at Elite 11 Finals
Wimsatt took part in the prestigious Elite 11 Finals this past summer. On3 Director of Scouting Charles Power wrote the following of Wimsatt's performance at the camp:
"Wimsatt's physical tools and upside were on display on Day 1 of the Elite 11 Finals. He has a clean, natural throwing motion and the highlight throws were among the best we saw on the day. Wimsatt was not among the more consistent passers on a throw-by-throw basis and had a few errant passes. That trend continued a bit over the course of the weekend. The 6-foot-2, 205 pounder struggled a bit when live defenses were added to the mix during 7-on-7 play. The speed of the game was moving a bit fast for Wimsatt. It was apparent he'll need some continued development and exposure to live in-game situations to approach his physical ceiling."
Wimsatt is not the only 2022 quarterback to skip his final season of high school and start his college career. Last month, five-star quarterback Quinn Ewers left Southlake (Texas) Caroll to enroll at Ohio State to cash in on a huge NIL deal. Ewers recently inked a three year NIL deal with GT Sports Marking worth $1.4 million in exchange for autographs.
On3 ranked Wimsatt as the nation's No. 277 overall prospect in the 2022 class prior to his reclassification.