Spencer Rattler opens up on his final season at Oklahoma, what led to his departure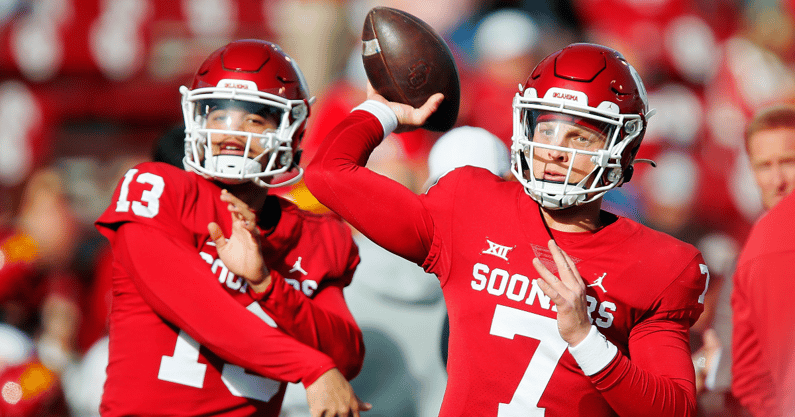 Things didn't go the way Spencer Rattler planned this past season at Oklahoma. Despite entering the year as an early favorite to take home the Heisman Trophy, the quarterback struggled early on and was eventually benched in favor of Caleb Williams.
That led to Rattler's decision to transfer to South Carolina this offseason, where he will reunite with former Sooners associate head coach Shane Beamer. Rattler joined the Zach Gelb Show on CBS Sports Radio on Monday where he opened up about his mindset upon finding out he was being replaced as the starter last year.
"I was good," he said. "I probably knew my time was up there at that school, but I had great times there. Great memories. It was just time to move on."
Spencer Rattler started the first five games of the season for the Oklahoma, leading them to a 5-0 record. However, four of those five games were decided by a touchdown or less as the offense struggled to get going. After Oklahoma found itself trailing 38-20 at halftime against Texas in Week 6, coach Lincoln Riley opted to go with Williams for the remainder of the second half.
Williams led OU back to a 55-48 victory for the largest comeback in Red River Rivalry history. Rattler finished the game 8-of-15 passing for 111 yards and an interception. Riley opted to start Williams the following week against TCU, and Rattler would never reclaim the job.
"It was just a different vibe up there after being up there three years," Rattler said. "Last year, we were winning games and the Texas game didn't go well. Obviously I got pulled and we just went with the hot hand at the time. But I'm past that situation and excited to be a Gamecock."
A former five-star prospect, Rattler still brings plenty of potential with him to Columbia. As the Sooners start during the 2020 season, he finished with 3,031 yards passing, 28 touchdowns and seven interceptions while also delivering a Big 12 Championship and Cotton Bowl victory. As he prepares to take on a new challenge with the Gamecocks, he will try to block out the doubters and regain the magic he had that year.
"You can't really get bought into what people say," Rattler said. "That's something I've learned in my college career so far and my career overall. So I really don't focus on that. Definitely getting older and being able to go through adversity helps you with that. It doesn't faze me."
Rattler's first chance to make an impact in South Carolina will come during the season opener on Sept. 3 against Georgia State.