Spencer Rattler opens up on transition to South Carolina, decision to join Gamecocks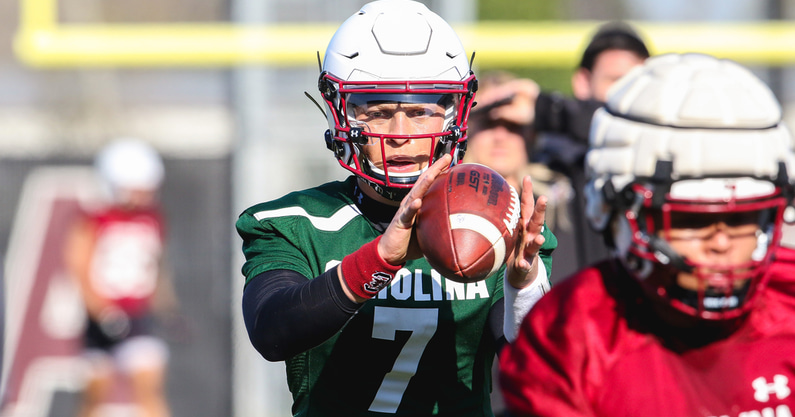 South Carolina quarterback Spencer Rattler is preparing for his first season in the SEC. After three seasons at Oklahoma, he entered the transfer portal and committed to Shane Beamer's Gamecocks in December.
Regardless of how great a player you are, an adjustment like a transfer is a difficult transition for anyone to manage. On Monday, though, Rattler appeared on The Zach Gelb Show and said it's been easy transition for him since he arrived on campus.
"It's been a great adjustment. I think just having something new overall is great. Just getting in a system and a place where I know that if we do it right, people succeed," said Rattler. "We got great coaches, a great scheme, great players, and overall just a great tradition. The transfer was smooth and we're just enjoying the grind this summer."
As a former top prospect and Heisman-favorite, a lot went into his second college recruitment. With how things ended with the Sooners, all Rattler was looking for was a program where he could feel loose. Between the conversations he had with Coach Beamer as well as OC and QB coach Marcus Satterfield, South Carolina gave him exactly that.
"I think just getting to know Coach Beamer a little bit at Oklahoma definitely helped. When I was in the portal, coming with (Austin Stogner) was definitely comfortable at the time. Then, just overall looking at the scheme, talking to Coach Satterfield and really trying to understand what our goals would be. They aligned and I liked how they worked up here. It's just been a great environment."
In the end, the goals South Carolina has in Beamer's second season is what sealed the deal for Rattler. During his recruitment, he saw a team that was determined to compete now in the SEC. If he can add anything to the foundation they built in 2021, he thinks big things could be coming to Columbia.
"I think I had a good understanding of what (their) goals were before I even committed. Nothing really surprised me. These are guys that want to work hard, want to succeed at a different level. Last year was a great build up. I think just having a lot of guys with the same mindset and working with that could be something special."