Quarterback recruiting at Tennessee is 'different,' Josh Heupel says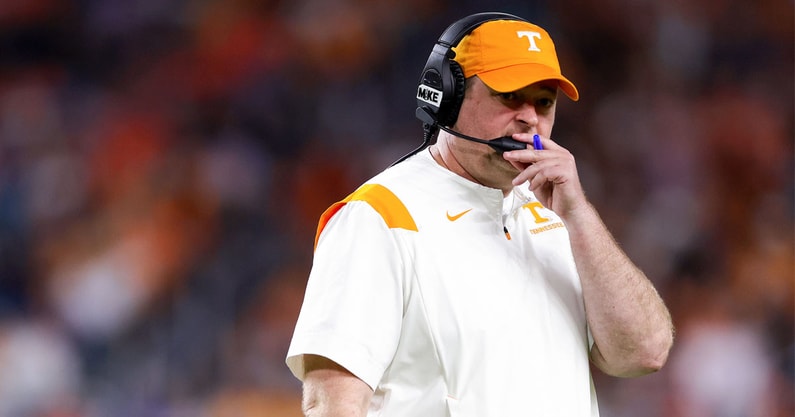 The Tennessee program is coming off one of its best seasons in quite some time, in more ways than one. One of the real upshots of the overwhelmingly positive season was what it will do for quarterback recruiting.
Hendon Hooker was a Heisman Trophy candidate for most of the season and the Volunteers often marched up and down the field uncontested.
Throw in the fact that Tennessee head coach Josh Heupel was once a Heisman Trophy runner-up quarterback himself and has years of experience coaching the position and it isn't a very hard sell.
"Well, I do think it's different for us," Heupel said on The Hard Count with JD PicKell. "You know, me having played the position at a relatively high level, having success, understanding what it looks and feels like, the process that you gotta go through to give that guy the tools to play at a really high level, but also what it feels like during the course of the game and how you handle him during the course of the game and give him an opportunity to be successful."
Heupel hit on that success and the relative comfort he has working with his offensive staff, which includes Joey Halzle, the program's offensive coordinator and quarterbacks coach.
Halzle also has a hand in the offensive proceedings.
"Coach Halzle, he does a great job with those guys as well," Heupel said. "You know, what we've done, the success that we've had offensively and at the quarterback position, you put all those things together it gives us an opportunity to recruit at a really high level."
If quarterback recruiting wasn't already pretty good at Tennessee — spoiler, it is, see five-star signee Nico Iamaleava — it is probably about to hit another gear now that Heupel has once again shown some proof of concept, this time at Tennessee.
He'll be relying on his quarterbacks on the roster to continue refining the pitch going forward.
"I love that they're very competitive," Heupel explained. "In the meeting room, out on the practice field, they drive each other in a really positive way, they celebrate the great plays from the other guy as much as they do their own plays. You can build that inside of a quarterback room.
"You saw the relationship that Hendon and Joe Milton had, you know, the past couple of years as they were entrenched in the quarterback battle at different points in that relationship, but they handled it in a really positive way. We expect that room to continue to behave that way."