Texas gets chance to regain recruiting momentum with monster visit weekend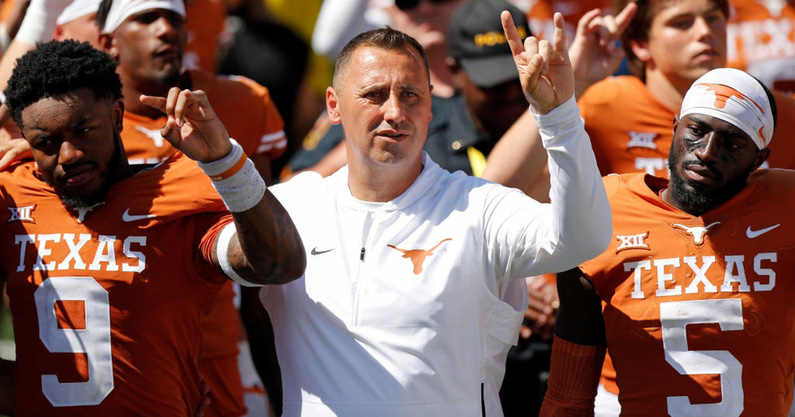 If Texas coach Steve Sarkisian wants to turn around the recruiting momentum that was lost after last week's gut-wrenching loss to rival Oklahoma and Texas A&M's upset over No. 1 Alabama, this is the weekend to do it.
Texas is hosting a massive recruiting weekend. Some of the nation's top seniors and top juniors are heading to the Forty Acres to watch the Longhorns battle Oklahoma State.
"After what happened last weekend, this is the perfect opportunity to erase some of the bad thoughts and get things turned back around for Texas," On3 National Analyst Gerry Hamilton said. "A lot of how Texas finishes with the Class of 2022 and starts with this talented junior class will be determined this weekend."
This is the weekend that has been in the plans for weeks, and it includes hosting the most important recruit on the board: No. 1 junior and five-star quarterback Arch Manning.
Manning is the son of Cooper Manning, the nephew of Petyon and Eli, and the grandson of Archie. Peyton, Eli and Archie were All-SEC stars who reached the NFL. Eli won two Super Bowl MVPs, while Peyton landed in the Pro Football Hall of Fame.
Manning has already been to Alabama and Georgia this season for visits, and Texas now gets its chance to impress. While the confidence level is low from most, there is a current consensus on the program most likely to land his pledge.
Texas hosting key official visitors
The Longhorns are also hosting an elite crew of visitors, featuring five-star tight end Jaleel Skinner, safety Jacoby Mathews, defensive lineman Quency Wiggins, offensive lineman Earnest Greene, offensive lineman Malik Agbo and safety Larry Turner-Gooden.
Inside Texas confirmed the unofficial visit with Skinner's mom Thursday morning. The five-star tight end and Alabama commit visiting is somewhat of a surprise. 
Mathews, the No. 42 player in the On300 from Ponchatoula (La.) High, is still listed as a tentative official visitor. But all the others have been confirmed as heading into town for official visits.
Wiggins, the No. 55 player in the country out of  Baton Rouge (La.) Madison Prep, is fresh off an official visit to Florida. He also has trips to Alabama and LSU coming up.
Greene – one of the most heavily recruited offensive line targets in the country – has only taken one official visit so far. That visit was an impressive trip to Georgia. It was a visit that set the bar high for other schools.
An official cut is likely coming later this fall. Georgia is expected to be on Greene's list until the end. But the visit to Texas this weekend could also greatly shape what happens with the 6-foot-5, 330-pounder from Bellflower (Calif.) St. John Bosco.
Texas is fighting Miami, Oklahoma, Auburn, Florida and Arizona State for Agbo, a consensus four-star out of Federal Way (Wash.) Todd Beamer. Turner-Gooden out of Mission Hills (Calif.) Bishop Alemany is a former Arizona State commit that is also looking at Penn State and USC.
5-stars coming for unofficial visits
There is also a handful of top uncommitted seniors coming in for unofficial visits. The biggest names in the bunch are five-star receiver Evan Stewart of Liberty (Texas) Frisco and five-star cornerback Denver Harris.
The Horns are in the thick of it for both players. Having a large contingent of UT commits on campus could be a good opportunity for Texas to make a move with the coveted targets.
Texas also will have many On3 Top 100 juniors visiting for the game. The headliners are WR Johntay Cook of Desoto (Texas) High, WR Jalen Hale of Longview (Texas) High, and IOL Harris Sewell of Odessa (Texas) Permian.
For a more complete list of visitors heading to Austin, check out Inside Texas' coverage of the big recruiting weekend.