Texas Tech NIL collective to pay 100 football players $25,000 annually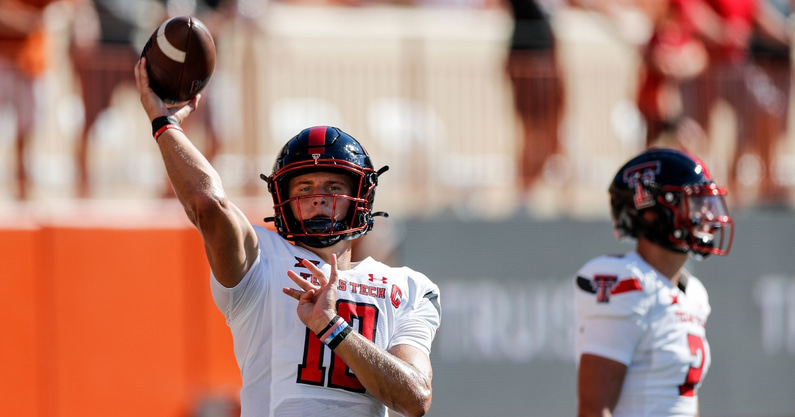 A Texas Tech-based collective is set to sign 100 Red Raider football players to a one-year $25,000 NIL contract.
According to a report from Don Williams of the Lubbock Avalanche-Journal, the players have agreed to a NIL deal with The Matador Club, a non-profit collective organized in February 2022 by Texas Tech alums Cody Campbell, Tim Culp, Terry Fuller, Marc McDougal, Gary Petersen and John Sellers.
Players signed by the collective, which has non-profit 501(c)3 status, will take part in community service activities and help raise awareness for local charities in Lubbock and possibly throughout West Texas. Campbell told the Avalanche-Journal payments to players will be made monthly beginning the first week of August. The community service endeavors will continue throughout the next year.
Campbell said The Matador Club will offer each player the same $25,000 contract – an annual deal that will be renewable. He also said the contract is the same for stars like quarterback Tyler Shough and walk-ons on the team. The deal reportedly will go to 85 players on scholarship and 15 walk-ons most likely to contribute to the team.
"Collectives have done things a number of different ways," Campbell told the Avalanche-Journal. "You see some of them paying large amounts to individual players. You see others doing different things. But what we want to do, really, is support the entire program. This is kind of a base salary for the guys. They're not going to be restricted from doing any other NIL stuff with anybody else. In fact, we're going to encourage and help them to do that."
Campbell also told the Avalanche-Journal it's important to make sure players on the team are "supported by the Texas Tech community."
NIL investment racks up to $2.5 million
The Matador Club has not publicly released its annual goal or how much money it's raised so far – which is common among collectives that view fundraising as proprietary information. However, the $25,000 investment in the 100 players adds up to $2.5 million. Campbell told the newspaper that around 1,000 donors have contributed to the collective so far.
The Matador Club encourages fans to contribute monthly. Plus, the collective also will host events for members, working toward better connecting players with fans.
"This is money that will go to every player in the locker room," McDougal said after the collective was launched earlier this year. "So, it's not one that will go to one player over another. It's great for non-profits. It's a great way for our student-athletes to get into the community, folks to get to know them. So, we're excited about it."
Additionally, Texas state NIL law requires athletes to disclose to their school any proposed offer related to NIL. One of the most restrictive state laws in the nation, Texas included provisions within their act to prevent student-athletes from using school logos, among others. There's been plenty of frustrations shared, and the Texas legislative cycle inhibits any major amendment activity unless a special session were to be called.
Texas Tech QB already racking up NIL deals
The new Texas Tech NIL deal is sure to boost Tyler Shough's NIL value. He currently has an On3 NIL Valuation of $56,000.
The On3 NIL Valuation is an index that looks to set the standard market value for both high school and college-level athletes. The NIL valuation does not act as a tracker of the value of NIL deals an athlete has completed to date. It rather signifies an athlete's value at a certain moment in time. Shough has already racked up a number of individual NIL deals, including most recently with Thacker Jewelry. He used that NIL deal in his wedding proposal to former Oregon women's soccer player Jordan Wormdahl.