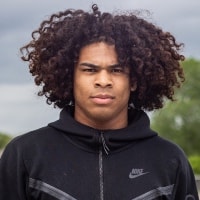 As a Recruit
Committed
9/06/22
H.S. Scouting Summary
Developmental corner prospect with tremendous athletic ability that can run with almost any player in the state of Texas. Two-way player for La Grange at corner and wide receiver. Doubles as a top athlete in track and field. Posted a 6'07" high jump as well as a 21'06" long jump in 2022 and ran 10.67 in the 100m in 2021. Has the long speed and hip fluidity to stay in phase as well as the ball skills to win at the catch point. Lacks ideal height and length. Needs to clean up his footwork and hand placement in press, but is easily fixable with collegiate coaching. High upside prospect due to his lack of development in positional traits along with his high level movement skills. Older for the class, turning 18 years old as a junior.
Reminds Us Of
Ronald Darby
2015 Draft: Rnd 2 Pick 18
Bravion Rogers is a top notch athlete at the cornerback position with size, athleticism and two-way playmaking ability that is similar to Ronald Darby at the same stage.
Up Next
Sophomore Year
Highlights
Bravion Rogers - Sophomore Year
Bravion Rogers - La Grange - 2021 Junior Season...
Bravion Rogers - La Grange - 2021 Junior Season Highlights