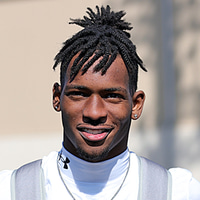 On3 Scouting Data coming soon
H.S. Scouting Summary
Combine standout who registers as one of the better athletes among wide receivers in the 2023 cycle. Has good size at around 6-foot-2 and over 180 pounds with a 6-foot-5 wing-span in the spring prior to his senior season. Ran an electronically-timed 4.47 40-yard dash and has turned in impressive agility times. Shows his speed as a deep threat on the field. Capable of running past defensive backs on vertical routes. Has the bounce to out-jump defensive backs in contested catch situations. Adds value as a potential kick returner. Used his speed to take back a few kickoffs for touchdowns as a junior. Needs to continue improving his overall coordination and technical skills as a route-runner and catcher of the football. Can also stand to increase his production and efficiency relative to other highly-touted wide receivers.
Up Next
Junior Season
Highlights
Braylon James Reg Szn
Sophomore Season
Highlights
Braylon James Sophomore Highlights
Freshman Season
Highlights
Braylon James 2023 WR
Braylon James: Top wide receiver target trains ...
Camp
Four-star wide receiver Braylon James, a former teammate of Buckeyes receiver commit Caleb Burton...
Braylon James: 2023 wide receiver offer has tie...
Conversations
Braylon James, a big and talented 2023 receiver prospect, has an Ohio State offer and a date set ...