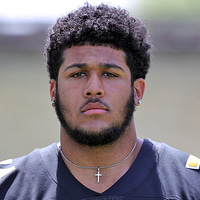 High School
Southeast Polk
As a Recruit
Committed
6/30/22
High School
Southeast Polk
H.S. Scouting Summary
Wide, physically-developed offensive tackle who excels as a mauling run blocker. Dominant at the point of attack, using strong and quick hands to neutralize opposing defensive linemen. Plays with a nasty mentality as a block finisher, planting defensive linemen in the ground with regularity. Moves well and shows his athleticism as a defensive lineman. Does not appear to have high-end length for an offensive tackle and tends to lunge at times in his pass set.
Reminds Us Of

Jedrick Wills
2020 Draft: Rnd 1 Pick 10
Kadyn Proctor is a physically-developed strong, dominant blocker at the point of attack similar to Jedrick Wills at the same stage. Both served up some crushing blocks at the prep level while checking in in the 315-325 pound range. Wills' verified athleticism in the combine setting was slightly better while Proctor has a more diverse multi-sport profile.
Up Next
Sophomore Year
Highlights
Sophomore Season Highlights (10-1)
Freshman Year
Highlights
Whole Season Highlights
Kadyn Proctor: Five-star 2023 offensive lineman...
Conversations
Five-star 2023 offensive tackle Kadyn Proctor is focused on improving his game and his relationsh...