2022 basketball recruiting class rankings: Duke on top, Houston rises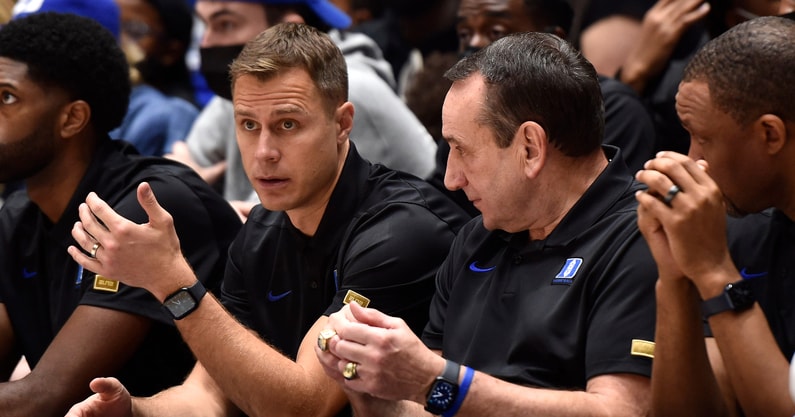 With the majority of the 2022 class committed or signed, class rankings have started to solidify, with only minor movement due to a shift in player rankings.
The blue-bloods of Duke, Kentucky, and Kansas round out the top-three, while Houston made a significant jump.
[Full 2022 Recruiting Class Rankings]
Any doubt regarding Jon Scheyer's ability to recruit without Mike Krzyzewski as head man has been completely wiped. The Blue Devils are bringing in the No. 1 recruiting class, featuring four of the top-10 prospects: Kyle Filipowski (No. 1), Dereck Lively II (No. 3), Dariq Whitehead (No. 4), and Mark Mitchell (No. 10). Also headed to Durham is four-star sharpshooter Jaden Schutt and three-star seven-footer Christian Reeves.
The Blue Devils have the clear-cut No. 1 class.
Despite Shaedon Sharpe, enrolling early at Kentucky, the Wildcats still hold the No. 2 overall class. Sharpe was formerly the No. 1 prospect in the class.
Kentucky has signed a three-man class, highlighted by Consensus five-stars Cason Wallace and Chris Livingston, followed by four-star Skyy Clark.
Previously at the No. 5 spot, Kansas now boasts the No. 3 overall class. McDonald's All-Americans Gradey Dick (No. 16) and MJ Rice (No. 20) both rose in the rankings, and the pair earned their fifth star. The Jayhawks also signed fellow McDonalds' All-American big man, Ernest Udeh Jr., and four-star power forward Zuby Ejiofor.
Oregon might only be bringing in a two-man class, but it's strong enough to be the 4th best class nationally. Highlighted by McDonald's All-American big man Kel'el Ware and Consensus four-star Dior Johnson, Dana Altman grabbed two of the most unique players in the class.
Mick Cronin and UCLA finish with a strong, top-five recruiting class, spearheaded by five-star recruits Amari Bailey and Adem Bona. The three-man class also features four-star point guard Dylan Andrews.
Bailey has sat out most of his senior season with an injury, but he's now back fully healthy and he's got things rocking and rolling at Sierra Canyon (Calif.) again. Bona, the Prolific Prep (Calif.) big man, runs the floor like a gazelle, is a monster rebounder, and gives maximum effort the entirety of his time on the court. Andrews, who plays at yet another powerhouse at AZ Compass Prep, also suffered an injury earlier this season. The 6-foot-5 guard is now also back fully healthy and will be another solid addition next year for the Bruins, as he brings facilitating and scoring ability.
Despite the up-and-down season Alabama has faced this year, Nate Oats has made a name for himself down in Tuscaloosa. The Crimson Tide finished with a back-to-back top-10 recruiting class, highlighted by five-star wing Brandon Miller, whose father played football for the Tide. Their class doesn't have much of a drop-off at all frankly, with further additions from Consensus four-stars Jaden Bradley, Rylan Griffen, and Noah Clowney. You also can't forget about an underrated piece to the puzzle, Nick Pringle, a 6-foot-9 JUCO transfer.
Kelvin Sampson is making big moves on the court, and the recruiting trail. The Cougars welcome in Consensus top-10 recruit Jarace Walker, the program's highest-ranked recruit in school history. Houston beat out the likes of Alabama, Auburn, LSU, Texas, and the NBA G-League for Walker's services. The Cougs' also welcome in Consensus top-50 recruit and Texas native, Terrance Arceneaux.
Houston jumped six spots in the updated class rankings after Walker was bumped up 25 spots.
The Arkansas Razorbacks are bringing in their second top-ten recruiting class in the last three years. Eric Musselman's five-man squad is highlighted by Consensus five-stars Jordan Walsh and Nick Smith. A pair of Arkansas natives, Derrian Ford and Joseph Pinion are also both aboard the 'Muss Bus.' Last but not least is Barry Dunning, the No. 1 ranked player in the state of Alabama.
USC has seen success, particularly with their big men, with recent guys like Onyeka Okongwu and Evan Mobley being drafted in the lottery. To no surprise, this has started to catch the eye of high school recruits, and the Trojans landed two of the best big men in the class – Vince Iwuchukwu and McDonald's All-American, Kijani Wright. USC is also bringing in Tre White, who just rose 47 spots in the updated On3 rankings. Not to mention, Oziyah Sellers, a SoCal native.
Chris Beard might be only in his first year as head coach at Texas, but he's already made a stamp on the recruiting trail. A three-man class is headed to Austin, featuring a pair of McDonald's All-Americans in Dillon Mitchell and Arterio Morris. Rowan Brumbaugh, a top-100 prospect who was originally committed to Northwestern, recently made the change to Texas.