2022 NCAA Tournament bracketology: Wednesday projection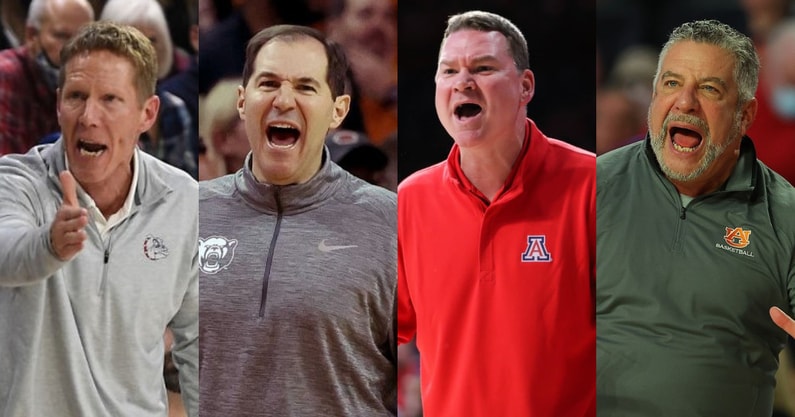 Tuesday was an interesting day in the run-up to the NCAA tournament.
There was drama: Trey Calvin's jumper from just inside the free-throw line with 10.5 seconds to go proved to be the game-winner as Wright State secured a 16-point come-from-behind victory over Northern Kentucky in the Horizon League championship.
Then there was the unusual: Bryant's victory over Wagner in the Northeast championship was delayed for about 30 minutes after an ugly fight among fans in the stands. But that's just honorable mention in that category.
The winner in the most unusual category goes to Jacksonville State, which earned the Atlantic Sun's automatic berth even though it didn't even play in the final. Because Bellarmine is in the transition process to Division I, it is ineligible to play in the NCAA tournament. But the Knights won the Atlantic Sun tournament. (Why it was permitted to play in the A-Sun tournament is another question.) Thus, regular-season champion Jacksonville State earns the automatic berth even though it lost in the semifinals to Jacksonville — the team Bellarmine beat in the title game. Strange but true.
Elsewhere, Gonzaga avenged its regular-season loss to Saint Mary's in the WCC final. Delaware won the Colonial. And South Dakota State, the nation's best three-point shooting team, won the Summit tournament title.
The ACC tournament began Tuesday, and the rest of the high-major tournaments start to rev up today.
Teams listed with a conference are the projected league tourney winner, while asterisked teams must win their conference titles to receive an NCAA bid. Teams in bold type have earned automatic bids. And you can keep up to date on all the March Madness goings-on with our daily NCAA tournament tracker/bubble watch.
No. 1 seeds
1. Gonzaga (West Coast)
2. Baylor (Big 12)
3. Arizona (Pac-12)
4. Auburn (SEC)
Buzz: There's still plenty to shake out among No. 1 seeds. Gonzaga may have locked up the top overall seed with the victory over rival Saint Mary's in the WCC final. Baylor will open Big 12 tournament play against Oklahoma on Thursday, and a victory probably ensures Scott Drew's team of a No. 1 seed. Arizona will have a stiff challenge from UCLA to win the Pac-12 tournament, but a berth in the conference championship game should cement a No. 1 seed. Auburn may be the most precarious of these four in terms of securing a No. 1 seed. The Tigers may need to win the SEC conference title, which won't be easy. 
No. 2 seeds
5. Kansas
6. Kentucky
7. Duke
8. Villanova (Big East)
Buzz: Kansas and Kentucky still harbor hopes of reaching the top seed line. If the Jayhawks beat Baylor in the Big 12 final, they could join the Bears on the one line. Duke is looking for a reset in the ACC tournament after the disheartening effort Saturday against North Carolina. A potential Villanova-UConn matchup looms in the semifinals of the Big East tournament, perhaps with a No. 2 seed on the line for the Wildcats. 
No. 3 seeds
9. Wisconsin (Big Ten)
10. Tennessee
11. Purdue
12. Texas Tech
Buzz: Is it possible that a conference as top-heavy as the Big Ten could wind up without a top-two seed? If so, Wisconsin's home loss to Nebraska will be one of the reasons. Tennessee, a dangerous Final Four contender, may be playing for a No. 2 seed in a potential SEC semifinal matchup with Kentucky. Purdue has all the offensive ingredients to make a deep run; questions persist about that defense, which ranks 101st nationally in kenpom.com's efficiency ratings. Did Texas Tech peak too early? The Big 12 tournament will provide an answer.
No. 4 seeds
13. UCLA
14. Arkansas
15. Illinois
16. Providence
Buzz: Do you have the feeling that UCLA, which returned much of its firepower from last season's Final Four team, has been laying in the weeds all season? The Bruins' peak may be a No. 3 seed. The Razorbacks may be the most formidable team in this bunch. Don't be surprised if they knock off Auburn in the SEC semifinals. Providence coach Ed Cooley, underrated nationally, could be on the brink of a breakout deep NCAA tournament run. Let's see if the Friars can finally earn a win over Villanova in the Big East tournament. Illinois could get to the three line by winning the Big Ten tourney title.
No. 5 seeds
17. UConn
18. Texas
19. Ohio State
20. Houston (American)
Buzz: Kelvin Sampson has deftly stewarded his Houston team through an injury-riddled season, and the Cougars remain the team to beat in the AAC tournament. If UConn gets by the Seton Hall-Georgetown winner, the Huskies are looking at what promises to be a compelling matchup against Villanova in the Big East semifinals. If Texas knocks off TCU in the Big 12 quarterfinals, the Longhorns draw Kansas in Kansas City, never an easy task. After ending the regular season losing three of four, Ohio State's hold on a No. 5 seed is not secure. 
No. 6 seeds
21. Saint Mary's
22. Alabama
23. LSU
24. Iowa
Buzz: This is one of Randy Bennett's best Saint Mary's teams; good news is it probably won't have to play Gonzaga again this season. LSU should advance in the SEC tournament to play Arkansas in the quarterfinals. Alabama, one of the nation's most unpredictable teams, could get a matchup with Kentucky in the SEC quarterfinals. If Iowa wins its first Big Ten tournament game, it draws No. 4 seed Rutgers, meaning that the Hawkeyes have a more-than-realistic path to the semifinals. 
No. 7 seeds
25. USC
26. Colorado State (Mountain West)
27. Boise State
28. Murray State (Ohio Valley)
Buzz: Murray State was a lock to receive an at-large bid even if it had lost in the Ohio Valley title game. There is little separation between Mountain West foes Colorado State and Boise State; the MWC tournament should determine if one can climb up to a No. 6 seed. If USC can upset UCLA and Arizona in the Pac-12 tournament — a tough task — look for the Trojans to climb to at least a No. 6 seed. 
No. 8 seeds
29. Michigan State
30. Seton Hall
31. Marquette
32. San Diego State
Buzz: This is Tom Izzo's best month of the year, but does he have the team to make one of his patented postseason runs? If Michigan State beats Maryland, then Wisconsin is on tap. Marquette's opening Big East game against Creighton will impact NCAA tournament seeding for both teams. Seton Hall could be a Big East sleeper; look out, UConn, in the quarterfinals. San Diego State has locked up an at-large berth.
No. 9 seeds
33. TCU
34. Iowa State
35. Creighton
36. North Carolina
Buzz: Iowa State likely will earn an at-large berth even if it loses to Texas Tech in the Big 12 tournament, but the Cyclones will be going in the wrong direction. TCU does not need to beat Texas in Thursday's Big 12 quarterfinals; the recent win over Kansas was enough to get the Horned Frogs into the NCAAs. North Carolina is now playing for seeding after the shocking victory in Mike Krzyzewski's Cameron Indoor Stadium finale, a win that will resonate for years on Tobacco Road. Creighton is an NCAA lock and playing for seeding in the Big East tournament.
No. 10 seeds
37. San Francisco
38. Davidson (Atlantic 10)
39. Michigan
40. Miami
Buzz: San Francisco's WCC tournament win over BYU secured USF an at-large berth; it was playing with house money in Las Vegas on Monday in a WCC semifinal against Gonzaga. Davidson may need to win the Atlantic 10 tournament title to reach the NCAAs. The good news is it wouldn't play Dayton or VCU until the final. Michigan could cement its at-large hopes and also vanquish the hopes of Indiana if it beats the Hoosiers in a Big Ten second-round game. Miami could be headed to the First Four if it loses to Wake Forest in the ACC quarterfinals. The ACC is not what it once was.
No. 11 seeds
41. Memphis
42. Wake Forest
43. Loyola-Chicago (Missouri Valley)
44. Wyoming
Buzz: Memphis probably is in the field now; a potential win over SMU in an AAC semifinal would help seeding. Loyola would have been a borderline at-large contender had it lost in the Missouri Valley title game. By claiming the automatic berth, it doesn't have to sweat it. Wyoming can't afford to lose to UNLV, which will be playing on its home court, in the quarterfinals of the Mountain West. If it does, it will have an anxious late afternoon on Selection Sunday and may be out. If Wake Forest loses to Miami in the ACC quarterfinals, Steve Forbes' team could be headed to Dayton for the First Four.
No. 12 seeds
45/46. Xavier/Notre Dame
47/48. Rutgers/SMU
49. North Texas* (Conference USA)
50. South Dakota State (Summit)
Buzz: As the No. 4 seed in the Big Ten tournament, Rutgers is in an interesting situation. If the Scarlet Knights beat Iowa in the quarterfinals, they should lock up an at-large bid. A loss could put Rutgers on shaky ground. SMU may need to beat Memphis in an AAC tournament semifinal to feel relatively confident about a bid. Notre Dame, seeded second in the ACC tournament, will be backing into the NCAAs if it suffers an upset in the quarterfinals. North Texas, one of the best teams in the nation on the road, is the class of Conference USA but must win the automatic berth to reach the NCAAs. South Dakota State's offensive numbers are eye-popping; they will be an entertaining team to watch in the NCAAs. Xavier needs to stop the late-season bleeding. 
No. 13 seeds
51. Iona* (Metro Atlantic)
52. Vermont* (America East)
53. Chattanooga (Southern)
54. Toledo* (MAC)
Buzz: Chattanooga authored the first "One Shining Moment" of March with a contested three-pointer in OT to beat Furman by a point in the Southern Conference title game Monday night. Vermont, one of the nation's most experienced teams, would be a tough out as a No. 13 seed; the top-seeded Catamounts host Binghamton in the America East semifinals Wednesday. Rick Pitino's Iona team opens MAAC tournament play Wednesday against Rider. Top-seeded Toledo opens MAC tournament play Thursday against eighth-seeded Central Michigan. 
No. 14 seeds
55. New Mexico State* (WAC)
56. Princeton* (Ivy)
57. Delaware (Colonial)
58. Montana State* (Big Sky)
Buzz: Delaware beat UNC Wilmington to earn the CAA's automatic berth; the Blue Hens had been seeded fifth and beat the No. 1 and 2 seeds on back-to-back nights to win the tourney.The WAC tournament began Tuesday and runs through Saturday, yet top-seeded New Mexico State got a bye to the semifinals and needs to win just two games to capture the crown. Princeton, the top seed in the Ivy, will play fourth-seeded Cornell in Boston on Saturday in the semifinals. The Big Sky's top seed, Montana State, will play the Sacramento State-Idaho winner in Thursday's quarterfinals. 
No. 15 seeds
59. Colgate* (Patriot)
60. Long Beach State* (Big West)
61. Georgia State (Sun Belt)
62. Longwood (Big South)
Buzz: Georgia State earned the Sun Belt's automatic berth, winning its 10th consecutive game Monday night. Longwood beat Winthrop to earn the Big South's automatic bid. Top-seeded Long Beach State opens the Big West tournament Thursday against ninth-seeded Cal State-Bakersfield. Colgate, which earned the top seed in the Patriot League for the third time in four seasons, plays host to Navy in the championship Wednesday. 
No. 16 seeds
63. Wright State (Horizon)
64. Norfolk State* (MEAC)
65/66. Alcorn State* (SWAC)/Nicholls State* (Southland)
67/68. Jacksonville State (Atlantic Sun)/Bryant (Northeast)
Buzz:  Bellarmine won the Atlantic Sun tournament but is ineligible for the NCAA's because it still is transitioning to Division I. As a result, Jacksonville State, the regular-season champion, earns the automatic berth. Wright State roared back from a 16-point deficit to knock off Northern Kentucky in the Horizon final. Bryant routed Wagner to win the Northeast crown, earning its first NCAA tournament bid. Norfolk State, the top seed in the MEAC, will play No. 8 seed Delaware State in Wednesday's quarterfinals. Top-seeded Alcorn State will play No. 8 seed Prairie View A&M in the quarterfinals of the SWAC tournament on Wednesday. Top-seeded Nicholls State could play No. 4 seed Texas A&M-Corpus Christi in Friday's semifinals in the Southland.