2022 Polynesian Bowl roster breakdown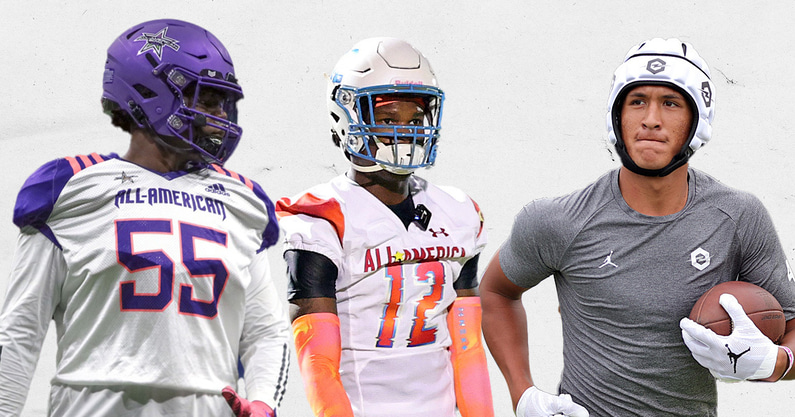 The Polynesian Bowl is set to be played Saturday in Honolulu at Kūnuiākea Stadium at 6:30 p.m. Hawaii Time.
The event organizers have not announced the teams for the event, which will be broadcast on the CBS Sports Network. Below are the players who committed to playing in the event. There will be changes in the days leading up to the game Saturday.
When the official roster is posted, the story will be updated to show who is playing for which team.
Quarterbacks
Jacurri Brown
Valdosta (Ga.) Lowndes
On3 Consensus: No. 257
Status: Signed with Miami
Noah Fifita
Anaheim (Calif.) Servite
On3 Consensus: No. 560
Status: Signed with Arizona
Katin Houser
Bellflower (Calif.) St. John Bosco
On3 Consensus: No. 178
Status: Signed with Michigan State
Tayven Jackson
Greenwood (Ind.) Center Grove
On3 Consensus: No. 205
Status: Signed with Tennessee
Jayden Maiava
Honolulu (Hawaii) Kaimuki
On3 Consensus: No. 959
Status: Signed with UNLV
Justyn Martin
Inglewood (Calif.)
On3 Consensus: No. 218
Status: Signed with UCLA
Maalik Murphy
Gardena (Calif.) Junipero Serra
On3 Consensus: No. 192
Status: Signed with Texas
Running Back
Brody Bantolina
Honolulu (Hawaii) Iolani School
On3 Consensus: Unranked
Status: Uncommitted
Noah Bartley
Honolulu (Hawaii) Kamehameha
On3 Consensus: Unranked
Status: Uncommitted
Tavorus Jones
El Paso (Texas) Burges
On3 Consensus: No. 166
Status: Signed with Missouri
Le'Veon Moss
Baton Rouge (La.) Istrouma Senior
On3 Consensus: No. 84
Status: Signed with Texas A&M
Branson Robinson
Madison (Miss.) Germantown
On3 Consensus: No. 48
Status: Signed with Georgia
Gavin Sawchuk
Littleton (Colo.) Valor Christian
On3 Consensus: No. 80
Status: Signed with Oklahoma
Wide Receivers
Barion Brown
Nashville (Tenn.) Pearl-Cohn 
On3 Consensus: No. 79
Status: Signed with Kentucky
Kevin Coleman
St. Louis (Mo.) St. Mary's
On3 Consensus: No. 71
Status: Committed to Jackson State
Andre Greene Jr.
Richmond (Va.) St. Christopher's School 
On3 Consensus: No. 89
Status: Signed with North Carolina
Anthony Ivey
Lancaster (Pa.) Manheim Township
On3 Consensus: No. 215
Status: Signed with Penn State
Kealoha Kaio
Kahuku (Hawaii)
On3 Consensus: Unranked
Status: Uncommitted
Jarinn Kalama
Heber City (Utah) Wasatch
On3 Consensus: No. 1250
Status: Signed with BYU
Justius Lowe
Portland (Ore.) Lake Oswego
On3 Consensus: No. 626
Status: Uncommitted
Kamakana Mahiko
Honolulu (Hawaii) Kaiser
On3 Consensus: Unranked
Status: Uncommitted
Jadyn Marshall
Stockton (Calif.) St. Mary's
On3 Consensus: No. 217
Status: Signed with UCLA
Keenan McCaddy
Honolulu (Hawaii) Moanalua
On3 Consensus: No. 1623
Status: Signed with Boise State
Tetairoa McMillan
Anaheim (Calif.) Servite
On3 Consensus: No. 47
Status: Signed with Arizona
Tobias Merriweather
Camas (Wash.) Union
On3 Consensus: No. 121
Status: Signed with Notre Dame
Isaiah Sategna
Fayetteville (Ark.)
On3 Consensus: No. 124
Status: Signed with Arkansas
Devon Tauaefa
Honolulu (Hawaii) St. Louis
On3 Consensus: Unranked
Status: Uncommitted
C.J. Williams
Santa Ana (Calif.) Mater Dei
On3 Consensus: No. 117
Status: Committed to USC
Tight Ends
Keyan Burnett
Anaheim (Calif.) Servite
On3 Consensus: No. 169
Status: Signed with Arizona
Jacob Newell
Springfield (Ore.) Thurston
On3 Consensus: No. 1204
Status: Signed with Arizona State
Jack Pedersen
Bradenton (Fla.) IMG Academy
On3 Consensus: No. 283
Status: Signed with UCLA
Jaleel Skinner
Greer (S.C.) IMG Academy
On3 Consensus: No. 66
Status: Signed with Miami
Holden Staes
Atlanta Westminster School
On3 Consensus: No. 272
Status: Signed with Notre Dame
Offensive Linemen
Malik Agbo
Federal Way (Wash.) Todd Beamer
On3 Consensus: No. 355
Status: Signed with Texas
Tapuvae Amaama
Lehi (Utah) Skyridge
On3 Consensus: Unranked
Status: Uncommitted
Josh Conerly Jr.
Seattle Rainier Beach
On3 Consensus: No. 22
Status: Uncommitted
Jaedon Garcia
Kapolei (Hawaii)
On3 Consensus: Unranked
Status: Uncommitted
Earnest Greene
Bellflower (Calif.) St. John Bosco
On3 Consensus: No. 60
Status: Committed to Georgia
Marques Hickson
Honolulu (Hawaii) Kamehameha
On3 Consensus: Unranked
Status: Uncommitted
Carson Hinzman
Hammond (Wisc.) Saint Croix Central
On3 Consensus: No. 120
Status: Committed to Ohio State
Vega Ioane
Graham (Wash.) Graham-Kapowsin
On3 Consensus: No. 525
Status: Uncommitted
Dave Iuli
Puyallup (Wash.)
On3 Consensus: No. 324
Status: Uncommitted
George Maile
South Jordan (Utah) Bingham
On3 Consensus: No. 381
Status: Signed with Baylor
Maika Matelau
Upland (Calif.)
On3 Consensus: No. 966
Status: Uncommitted
Ashton Montgomery
Cleveland St. Ignatius
On3 Consensus: Unranked
Status: Uncommitted
Tavo Motuapuaka
Mililani (Hawaii)
On3 Consensus: No. 1206
Status: Signed with Utah State
Mark Nabou
Seattle O'Dea
On3 Consensus: No. 434
Status: Signed with Texas A&M
Jonah Savaiinaea
Honolulu (Hawaii) St. Louis
On3 Consensus: No. 1317
Status: Signed with Arizona
Drew Shelton
Downingtown (Pa.) Downingtown West
On3 Consensus: No. 128
Status: Signed with Penn State
Vae Soifua
Orem (Utah)
On3 Consensus: No. 1387
Status: Signed with BYU
Ethan Spencer
Honolulu (Hawaii) St. Louis
On3 Consensus: No. 1838
Status: Signed with Hawaii
Loni Tafea
Kapaa (Hawaii)
On3 Consensus: Unranked
Status: Uncommitted
Mosula Tapusoa
Santa Ana (Calif.) Mater Dei
On3 Consensus: Unranked
Status: Committed to Morgan State
Jake Taylor
Las Vegas Bishop Gorman
On3 Consensus: No. 95
Status: Signed with Oklahoma
Aamil Wagner
Dayton (Ohio) Wayne
On3 Consensus: No. 139
Status: Signed with Notre Dame
Defensive Linemen
Mikey Agasiva
Mililani (Hawaii)
On3 Consensus: Unranked
Status: Uncommitted
Dani Dennis-Sutton
Owings Mills (Md.) McDonogh School
On3 Consensus: No. 44
Status: Signed with Penn State
Mason Graham
Anaheim (Calif.) Servite
On3 Consensus: No. 396
Status: Signed with Michigan
Tysen Kaniaupio
Kealakekua (Hawaii) Konawaena
On3 Consensus: Unranked
Status: Uncommitted
William Kulihaapai-Alovao
Kapolei (Hawaii)
On3 Consensus: Unranked
Status: Uncommitted
Walter Nolen
Powell (Tenn.)
Five-Star Plus+
On3 Consensus: No. 2
Status: Signed with Texas A&M
Khurtiss Perry
Montgomery (Ala.) Pike Road
On3 Consensus: No. 75
Status: Signed with Alabama
Brodie Tagaloa
San Francisco De La Salle
On3 Consensus: No. 1100
Status: Signed with Nebraska
Zion To'oto'o
Kapolei (Hawaii)
On3 Consensus: Unranked
Status: Uncommitted
Talin Togiai
Rigby (Idaho)
On3 Consensus: No. 1536
Status: Signed with BYU
Ta'ita'i Uiagalelei
Santa Ana (Calif.) Mater Dei
On3 Consensus: No. 1630
Status: Signed with Arizona
Laakea Umiamaka
Wahiawa (Hawaii) Leilehua
On3 Consensus: Unranked
Status: Uncommitted
Dallas Vakalahi
Salt Lake City West
On3 Consensus: No. 963
Status: Signed with Utah
EDGEs
Kevonte Henry
Los Angeles Leuzinger
On3 Consensus: No. 236
Status: Committed to Michigan
Mathias Malaki-Donaldson
Westlake Village (Calif.) Oaks Christian
On3 Consensus: No. 512
Status: Signed with Oregon State
Aisea Moa
Ogden (Utah) Weber
On3 Consensus: No. 351
Status: Signed with BYU
Jaxson Moi
San Diego Cathedral Catholic
On3 Consensus: No. 483
Status: Signed with Stanford
Cyrus Moss
Las Vegas (Nev.) Bishop Gorman
On3 Consensus: No. 83
Status: Committed to Miami
Andrew Savaiinaea
The Dalles (Ore.)
On3 Consensus: Unranked
Status: Uncommitted
Linebackers
Kaeo Akana
Honolulu (Hawaii) President Theodore Roosevelt
On3 Consensus: No. 686
Status: Signed with Utah
Jaishawn Barham
District Heights (Md.) St. Frances Academy
On3 Consensus: No. 160
Status: Signed with Maryland
Sione Hala
Bellflower (Calif.) St. John Bosco
On3 Consensus: No. 436
Status: Signed with Boston College
James Kreutz
Wilmette (Ill.) Loyola Academy
On3 Consensus: No. 1550
Status: Signed with Illinois
Kruze Keanu
Kahuku (Hawaii)
On3 Consensus: Unranked
Status: Uncommitted
Jacob Manu
Anaheim (Calif.) Servite
On3 Consensus: No. 827
Status: Signed with Arizona
Dishawn Misa
Sammamish (Wash.) Eastside Catholic
On3 Consensus: No. 480
Status: Signed with Boise State
Harold Perkins
Cypress (Texas) Cy Park
Five-Star Plus+
On3 Consensus: No. 3
Status: Committed to Texas A&M
Ben Roberts
Salt Lake City East
On3 Consensus: No. 353
Status: Signed with Oregon
Tevarua Tafiti
Honolulu (Hawaii) Punahou
On3 Consensus: No. 267
Status: Signed with Stanford
Malaki Te'o
Santa Ana (Calif.) Mater Dei
On3 Consensus: No. 1393
Status: Uncommitted
Niuafe Tuihalamaka
Mission Hills (Calif.) Bishop Alemany
On3 Consensus: No. 184
Status: Enrolled at Notre Dame
Cornerbacks
Taariq Al-Uqdah
Inglewood (Calif.)
On3 Consensus: No. 631
Status: Signed with Washington State
Travis Hunter
Suwanee (Ga.) Collins Hill
Five-Star Plus+
On3 Consensus: No. 1
Status: Signed with Jackson State
Domani Jackson
Santa Ana (Calif.) Mater Dei
Five-Star Plus+
On3 Consensus: No. 5
Status: Signed with USC
Makanale'a Meyer
Honolulu (Hawaii) Damien Memorial School
On3 Consensus: Unranked
Status: Uncommitted
Cam Miller
Jacksonville Trinity Christian Academy
On3 Consensus: No. 211
Status: Signed with Penn State
Fabian Ross
Las Vegas Bishop Gorman
On3 Consensus: No. 293
Status: Signed with USC
Jacolby Spells
Fort Lauderdale (Fla.) American Heritage
On3 Consensus: No. 314
Status: Signed with West Virginia
Clint Stephens
Inglewood (Calif.)
On3 Consensus: No. 391
Status: Signed with UCLA
Laterrance Welch
Lafayette (La.) Acadiana
On3 Consensus: No. 148
Status: Signed with LSU
Terian Williams II
Alpharetta (Ga.) Johns Creek
On3 Consensus: No. 817
Status: Signed with Stanford
Safeties
Zeke Berry
Concord (Calif.) De La Salle
On3 Consensus: No. 132
Status: Signed with Michigan
Deyon Bouie
Bainbridge (Ga.)
On3 Consensus: No. 82
Status: Signed with Texas A&M
Zion Branch
Las Vegas Bishop Gorman
On3 Consensus: No. 50
Status: Signed with USC
Kona Moore
Honolulu (Hawaii) St. Louis
On3 Consensus: No. 1787
Status: Signed with Hawaii
Kamari Ramsey
Chatsworth (Calif.) Sierra Canyon
On3 Consensus: No. 194
Status: Signed with UCLA
Oakie Salave'a
Pago Pago (American Samoa) Tafuna
On3 Consensus: No. 1608
Status: Signed with Colorado
Larry Turner-Gooden
Playa Del Rey (Calif.) St. Bernard 
On3 Consensus: No. 245
Status: Committed to Texas
Trejon Williams
Portland (Ore.) Jefferson
On3 Consensus: No. 246
Status: Committed to Oregon
Specialists
Jayden Fielding
Bradenton (Fla.) IMG Academy
Kicker
Status: PWO Commit to Ohio State
Rino Monteforte
Uniondale (N.Y.) Kellenberg Memorial
Long Snapper
Status: Committed to Buffalo
Jackson Plieth
Camas (Wash.) Union
Long Snapper
Status: Uncommitted
Ethan Sanchez
Dallas (Ga.) North Paulding
Kicker
Status: Signed with Old Dominion