2023 prospects on the cusp of adding a 4th star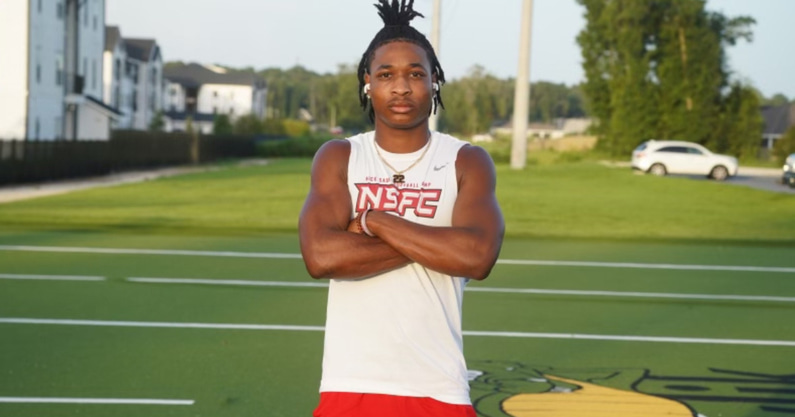 On3 released an update of the 2023 On300 last month. The updated ranking saw a number of prospects add their fourth star as a result of strong off-season showings and new verified data. We're now entering the stretch of the cycle that typically proves to be the most telling and important relative to the final rankings for most prospects – the senior season. High school football kicks off in earnest this weekend, with action in most states getting underway.
Dozens of prospects currently rate as high three-star prospects who are on the fringe of adding a fourth star. With that in mind, here are some 2023 prospects who could make the jump to four-star status for On3 with a strong senior season.
QB Lincoln Kienholz – Washington
You'd be hard-pressed to find a 2023 quarterback with a stronger profile as a high school athlete than Lincoln Kienholz. The Washington pledge led his Pierre (S.D.) T.F. Riggs team to a state title as a junior, passing for 3,359 yards (10.2 yards per attempt) and 37 touchdowns against six interceptions. He also ran for 1,175 yard and 12 more scores. Kienholz is a top basketball player with above-the-rim bounce and was third in the state in scoring, averaging 19.9 points per game. He also plays travel baseball.
Kienholz's athleticism shows up on the football field. He plays a lower level of competition relative to many other quarterbacks, but is truly dominant. The functional mobility shows up in spades on Friday nights. Kienholz is a light-footed, bouncy mover with a natural feel for handling the pass rush. He makes a number of big-time throws on video and looks to be a fairly natural passer. We also see him play some defense, which doesn't hurt (several current NFL starting quarterbacks moonlighted on defense in high school). Kienholz was a hot name on the quarterback market in late spring as a top target for Washington, Wisconsin and North Dakota State. He'll be in the mix for adding a fourth star with another strong season.
QB LaNorris Sellers – Syracuse
LaNorris Sellers has been one of the more underrated quarterbacks nationally for the majority of the cycle, in our opinion. The Florence (S.C.) South Florence signal caller was off to a hot start as a junior, accounting for 16 total touchdowns (including a 10-1 TD:INT ratio) in just four games. Sellers missed the majority of the season due to a fluke injury to his left arm.
The 6-foot-2.5, 215 pounder is back to full speed and is back to another hot start to his senior season, accounting for six total touchdowns (four passing, two rushing) in one half of play in the season opener. Sellers has shown a strong arm and ability to drive the football downfield both in the camp and high school 7-on-7 settings. He's a plus athlete for the position with good combine numbers and doubles as a standout soccer player (averaged 1.5 goals per game as a junior). Sellers is also one of the younger quarterbacks in the cycle, having turned 17 years-old in late June and a top student.
WR Jaren Hamilton
Jaren Hamilton was a spring and summer riser, seeing his recruitment take off once college coaches got the opportunity for in-person evaluations. Hamilton is a fluid, coordinated mover with a natural, long stride. Hamilton pairs the play speed and ability to separate vertically with 6-foot, 190-pound size. We also see him flash good ball skills and the ability to finish catches through contact. He was a big play threat as a junior, scoring on 10 of his 30 receptions, while averaging 22.4 yards per catch. The speed also checks out on the track, where Hamilton finished fourth in the state finals with a 21.56 second mark in the 200 meters.
The Gainesville (Fla.) Buchholz pass-catcher holds offers from the likes of Alabama, Florida, Michigan, Tennessee and USC. The Crimson Tide hold the edge in his On3 Recruiting Prediction Machine.
WR Nate Branch
Nate Branch is among On3's higher-rated three-star wide receivers nationally entering the season. The Hopkins (S.C.) Lower Richland product has a well-rounded skill set as a pass catcher. He was dynamic on Friday nights as a junior, scoring 10 touchdowns on just 31 catches, while averaging 27.5 yards per reception. Branch is a big-play threat with vertical speed and the ability to pick up chunks of yards after the catch. He has plus ball skills and plays bigger than his 5-foot-10 size and shows the ability to change direction within his routes in compressed areas. We've also seen Branch's top-end speed show up in track and field, where he posted a 10.70 second 100 meter time in the state finals.
The one-time Coastal Carolina commit holds offers from the likes of Kentucky, Virginia Tech and East Carolina, among others.
TE Zack Marshall – Michigan
Zack Marshall looks to be among the more refined pass catchers among 2023 tight ends. The 6-foot-4, 220-pounder has spent much of his high school career to date split out as a wide receiver. Marshall is advanced with his route-running and ability to win of the line and create separation with change of direction. He's coordinated and is a ball-winner in contested catch situations. The Michigan commit was productive as a junior at Solana Beach (Calif.) Santa Fe Christian School, catching 44 passes for 1,012 yards and nine touchdowns. We've seen Marshall make steady progress physically, adding good mass as he continues to fill out. He's younger for the class, turning 17 years-old in July. Marshall was also a standout at the Elite 11 Finals, catching a number of touchdowns in 7-on-7 play. He could be primed for a big senior year – he transferred to Carlsbad (Calif.) High where he'll team up with touted 2024 quarterback, Julian Sayin.
OT Trevor Goosby – Texas
Trevor Goosby is among the higher-rated three-star offensive linemen for On3 entering the fall. The Melissa (Texas) High product has continued to progress physically and is filling out his frame while maintaining athleticism. Goosby checked in at 6-foot-6, and 275 to 280 pounds in the spring and posted a good 4.74 second short shuttle time. He's adding functional strength with the mass and should see a jump in his pop and power as a senior. Goosby is a bit of a late-bloomer relative to some blue-chip offensive linemen, but he's showing signs of steady progression entering his senior season.
DL Tyree Weathersby – Tennessee
Tyree Weathersby is a big-framed, athletic presence along the defensive line. The 6-foot-4, 250-pounder possesses plus length with 34-inch arms. We see Weathersby put his physical traits to use on Friday nights at Douglasville (Ga.) New Manchester, where he's active both as a pass rusher and run defender. The Tennessee commit is a fluid, twitchy mover and shows strong play speed, particularly in pursuit. He's a bit undeveloped technically, but Weathersby's athleticism and physical profile – along with the flashes on Friday nights – point to a high ceiling.
LB Jonathan Bax – TCU
We had the opportunity to watch New Orleans Edna Karr defender Jonathan Bax up close at LSU's Elite Camp back in June. Bax worked out as a linebacker and impressed with his ability to move around in space, particularly for a prospect who spends much of his time as a pass rusher at the high school level. Bax, who has since committed to TCU, is a versatile defender capable of playing multiple spots within a defensive front. The 6-foot-2, 225-pounder has a developed build, strong base and plus length, particularly for a linebacker with 33.25-inch arms. He also tests well in the combine setting, clocking in the 4.7 second range. Bax is a highly physical, active defender at Edna Karr. He seeks out contact and looks to bury ball carriers. His physical dimensions and on-field skill set both as a pass rusher and linebacker make him one of the more intriguing front seven defenders among the three-star ranks, in our opinion.
CB Zion Tracy
Zion Tracy was initially a 2022 prospect and a one-time Temple pledge. He has since reclassified to 2023 and will play a prep year at Oakdale (Conn.) St. Thomas More. The Long Island native has spend much of his high school career as a wide receiver, but likely projects as a corner long-term. Tracy was a summer riser, posting sub 4.4 second 40-yard dash times at college camps. He also has outstanding length as a cornerback prospect with arms over 32.5 inches at 5'11.5 and around 170 pounds. Tracy's athleticism, length and ball skills with his receiver background result in a high upside cornerback prospect. We'll be watching his progress, particularly on defense, this fall.
Penn State, Syracuse and Rutgers are in the mix according to Tracy's On3 Recruiting Prediction Machine.
CB Zaquan Bryan – Minnesota
Zaquan Bryan is a dominant two-way player for defending state champion Savannah (Ga.) Benedictine Military Academy. The Minnesota commit stars at both receiver and cornerback and was the primary target for Auburn quarterback signee Holden Geriner last fall. Bryan is a playmaker at receiver and was highly productive, accounting for 1,376 yards and 15 touchdowns on 95 receptions. We see him come down with acrobatic contested catches and rip off long runs after the catch. The playmaking ability transfers over to defense, where he tallied 52 tackles and two picks as a junior. Bryan is also physical as a run and cover down defender, showing strong open field tackling and striking ability. He also checks the boxes athletically, with a sub 11.0 second mark in the 100 meters in addition to a basketball backgound.
S Jalon Kilgore – South Carolina
Safety may be the deepest position when it comes to potential four-star talents. Jalon Kilgore is near the top of that list and has been a high three-star for the majority of the process. Simply put, the Eatonton (Ga.) Putnam County standout is one of the better two-way players in the state of Georgia. He's a bigger safety at around 6-foot-2, 195 pounds with a wing-span over 6-foot-5. We see Kilgore line up at both receiver and safety on Friday nights. He's an instinctive, physical defender who hits like a truck. Kilgore identifies plays and triggers quickly. He isn't afraid to throw his body around and often dishes out punishment to receivers and ball carriers. The coordination and ball skills check out on both sides, as well. Kilgore accounted for 921 yards and 11 touchdowns on 37 catches in addition to eight pass breakups as a junior.