2024 5-star Tre Johnson talks Kentucky, Duke offers + pro options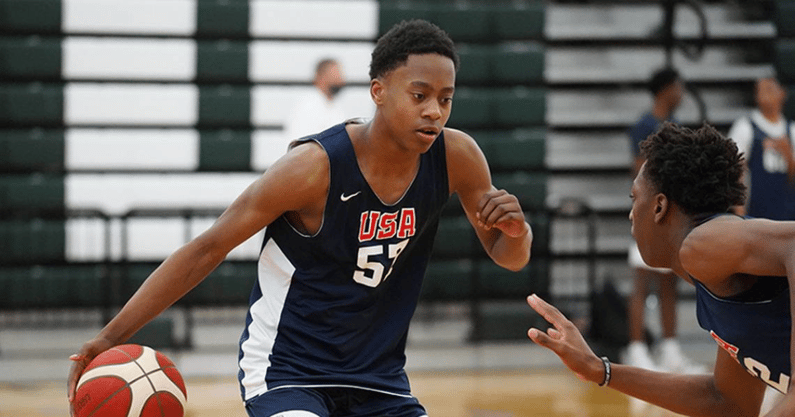 Colorado Springs, Colorado – On3 is in Colorado Springs at the USA Basketball U17 tryouts this week and Sunday was the first day media was allowed. 
Tre Johnson, a 6-foot-5 shooting guard out of Dallas (Texas) Lake Highlands was easily one of the best players on day one. He's currently ranked as the No. 2 overall prospect in the 2024 class, according to the On3 Consensus. Surprisingly, Johnson did not make the first roster cut.
Beginning on June 15th, college coaches were able to make direct contact for the first time with their class of 2024 recruits. Unsurprisingly, Tre Johnson's phone did not stop ringing. 
"It was a very busy day," said Johnson. "My phone had to stay on the charger, so I could be available to answer calls from college coaches."
The following schools contacted Johnson: Texas, Miami, Kentucky, Missouri, UNC, Arizona State, Gonzaga, Baylor, LSU, SMU, Kansas State, Arkansas, and Duke.
Johnson talks Duke and Kentucky offers, plus Baylor & Texas
Two very prestigious blue blood programs extended offers to Johnson on the 15th – Duke and Kentucky. He breaks down each of the programs with On3. 
Duke: "It felt amazing when they offered. Duke is a program I've always liked. Coach (Jon) Scheyer and Coach (Jai) Lucas were both on the Facetime call when they offered. They said they enjoyed watching me play. (Scheyer) came to my first game at the first EYBL session and I didn't have a good game. I struggled a lot during that game. But he liked how I play up on 17s. The following session, I had a great session and averaged like 20. He said it was good that I stayed with it, and stayed the course. 
"I know they are a program about winning and the drive is to win. I want to be in a place where they're working to win and that's the main goal."
Kentucky: "It was amazing when they offered because I guy I look up to, Tyrese Maxey, went to Kentucky. I talked to him about it and he had some good things to say. I know Tyrese well. After I got the offer, I worked out with him the next day. He just said congrats and told me some good things about Kentucky. 
"Kentucky is another program about winning and he gives his guards freedom."
Johnson mentioned in a previous interview with Pro Insight that Kentucky was his dream school growing up.
Another program heavily in the mix for Johnson is Baylor, his father's alumni. 
Baylor: "They're showing me different players, like Keyonte George, that came from Dallas. Just showing me different players, different guards, that have been able to succeed in their program."
Another in-state program, the Texas Longhorns have been recruiting Johnson the longest.
Texas: "They helped Kevin Durant become the player he is today. I obviously watch a lot of him, and to know Texas developed him. It was a good game that Texas ended up winning against Tennessee. It was an intense game." – Quote from Jamie Shaw
The professional route is a real option
Tre Johnson says he's open to both the college and professional route.
"I'm open to anything," Johnson says. "I actually went on a visit to OTE a couple of weeks ago. It's actually a pro place. They have a good system. Like it can monitor your shots, like if you short them short or whatever, so it's going to help you improve. And also they have a good strength and conditioning guy."
The Overtime Elite league (OTE) is now offering two different options for their players. The first option is a pro contract, and a guaranteed contract of at least $100,000, but you surrender your college eligibility. But now, OTE is offering a scholarship option, allowing players to keep their college eligibility intact. These players will not take on a salary from Overtime but instead profit off of their name, image, and likeness. 
"If I did it, I would probably take the scholarship option," said Johnson. 
Fellow five-star Naas Cunningham was the first prospect to accept this scholarship option that OTE is now offering, and he's recruiting Johnson to join him in Atlanta, the home of the Overtime Elite league. 
"Yeah, he wants me to come (smiles)," Johnson said of Cunningham. 
The G-League Ignite has also joined the chase for Johnson's talent, already making contact with arguably the top prospect in 2024. 
"Yeah, they reached out a little bit after the last EYBL session. That's something I would consider as well. I'm open to anything. It's still early talks."
While the G-League could definitely be an option for Tre Johnson down the road, it's likely not right at this exact moment. He's a pro; no doubt about it. It might be far-fetched, but the G-League could sign him tomorrow if that's what both parties felt was best. However, it's extremely unlikely as he's only 16-years of age and needs to continue to develop his body before playing against 30-year-olds trying to provide for their family. The G-League Ignite did sign Scoot Henderson to a two-year deal, with one year overlapping his senior year of high school. We could see something similar with Johnson, if he decided to make the move and also forgo his senior year of high school. Obviously, if Johnson did take this option, he would surrender his college eligibility. 
Read more on Tre Johnson from On3's Jamie Shaw here.