2024 QB Cedrick Bailey commits to NC State: 'NC State loves me'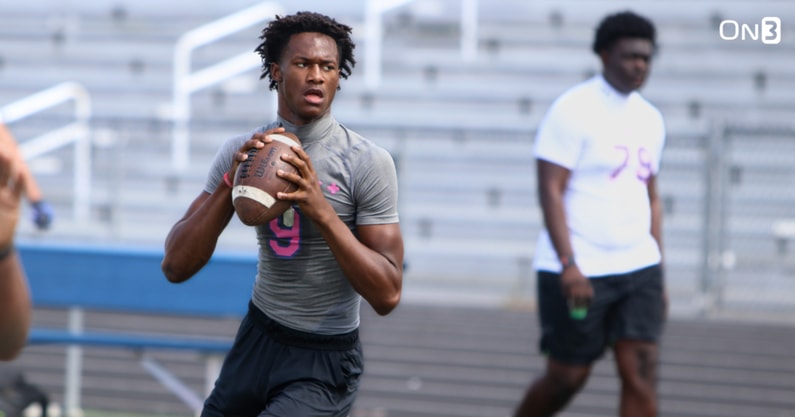 Hollywood (Fla.) Chaminade-Madonna 2024 quarterback Cedrick Bailey didn't see any reason to continue to wait. He's committed to North Carolina State. Bailey made his way to Raleigh on March 9. His mind was made up afterwards.
"I already know how NC State operates and I know how they are," Bailey said.
The Wolfpack jumped on him in January. Bailey picked up the offer from the Wolfpack and in the month since they've not only made him a priority but they've shown him that they love what he can do for the program.
"NC State loves me," Bailey told On3. "I love who loves me. NC State is a big one."
Bailey chose the Wolfpack over offers from Florida State, Georgia Tech, Louisville, Pittsburgh and others. The 6-foot-6 signal-caller is intrigued by the Wolfpack's system. Bailey also visited Florida State on March 4. Even then he had eyes on NC State.
"My main focus is NC State," Bailey said.
North Carolina State saw Devin Leary develop over three years in Raleigh. Leary went from four-star recruit to redshirt before turning into a school record holder for passing touchdowns.
The Wolfpack's next quarterback up could be MJ Morris, a quarterback Bailey sees a lot of similarities with.
"They do a good job preparing quarterbacks for the next level and putting them in the league," Bailey said. "Guys like me, tall guy, black quarterback they do well getting them to the league. That's what I like about NC State. They also have a connection. The coaches reach out to me a lot. That's what I like in a college. Getting to talk to the coaches a lot."
Bailey put up big numbers in 2022 throwing to five-star wide receivers Jeremiah Smith and Joshisa Trader. He threw for 3,355 yards and 45 touchdowns.