'23 Layden Blocker talks Arkansas visit; has top 7, but still open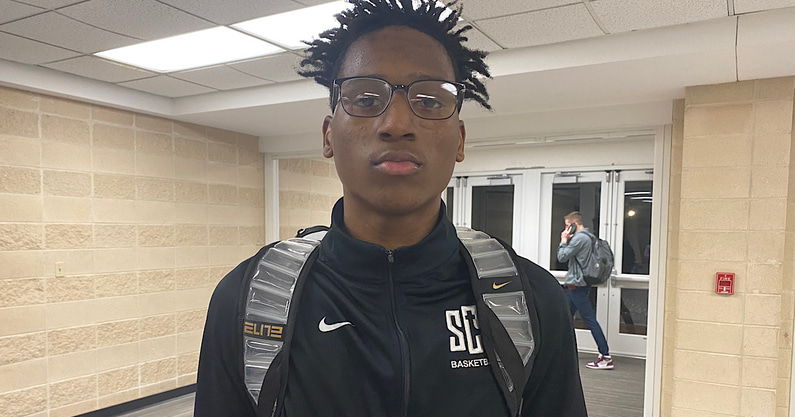 Layden Blocker is the 2023 On3 Consensus No. 49 player. The 6-foot-2 junior is the starting point guard for the No. 1 ranked Bel Aire (KS) Sunrise Christian.
"I'm really good in transition, getting downhill and creating for my team," Blocker recently told On3. "I am getting better at shooting the catch and shoot three. I was a low-30s three-point shooter last year; this year, I am in the 40s. I like watching Ja Morant and Stephen Curry. Ja's finishing and his ability to get downhill and Steph's shooting and shot creation."
He played this summer with Brad Beal Elite on the 16u EYBL circuit, where coaches started making him a priority. In November, Blocker put out his top seven schools with On3's Joe Tipton. On3 caught up with Layden Blocker after a recent performance in the Dr. Pepper Classic to see where his recruitment is currently.
"This is my top seven of the schools who have offered me and are recruiting me," Blocker said. "My recruitment is still open, so this is not my final seven. I have not taken any visits yet. I am taking an unofficial visit to Arkansas on Feb. 28."
Blocker talks recruitment
Arkansas: "They play an NBA-like system, and coach (Eric) Musselman brings an NBA-like coaching style."
Baylor: "They play a lot through their guards, with a lot of -iso and ball screens."
Auburn: "They use a lot of -iso with their guards as well. They let their guards play freely and create."
Memphis: "They like to get in transition and play at a high pace. And Penny (Hardaway) is the coach there."
Kansas: "They have a Hall of Fame coach, and they play with discipline and togetherness."
Oklahoma State: "They let their guards play freely. Coach (Mike) Boynton lets them rock out like Cade Cunningham."
Gonzaga: "They play with a lot of two-way guards, like Jalen Suggs. They do a lot of ball screen stuff with their guards, and they play fast."
Blocker's take
"I am just looking for a program that will let me play my game, play free," Blocker said. "I want to play for a coach that is going to coach me hard and teach me the game, develop me for the next level."
On3's take
Layden Blocker plays fast and with a lot of confidence. He is best in transition, attacking the rim with a purpose. Blocker needs to continue working on his reads and creativity in the half-court. He is improving as a three-point shooter off the catch, and he would benefit from developing a pull-up. The athleticism is natural, and the speed puts the defense in their heels.