4-star Cameron Christie has already started taking officials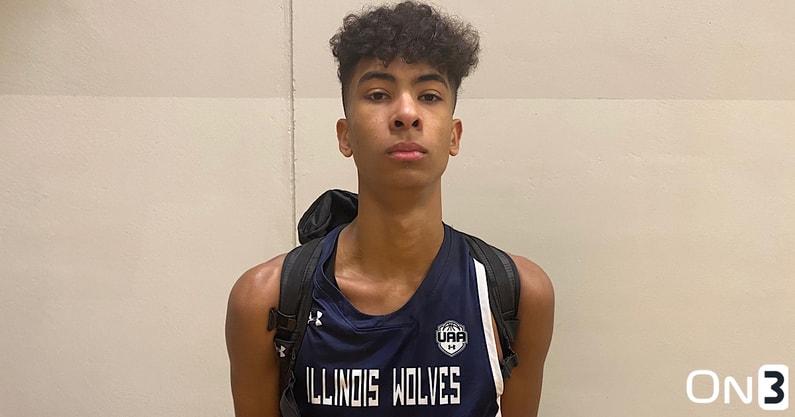 Cameron Christie is the 2023 On3 Consensus No. 85 ranked player. The 6-foot-5 guard from Rolling Meadows (IL) High averaged 22 points and three assists while shooting 42-percent from three this season.
"I am a really good shooter, Christie told On3. "I've been working in rebounding, with my size, from the wing. I get my teammates involved throughout the game and keep the ball moving. I have been working hard in the weight room, helping me finish off two and through contact better."
The four-star junior is playing with the Illinois Wolves this summer. He has already started taking his junior year official visits. On3 caught up with Cameron Christie during session 1 of the UAA Circuit to talk about his latest offers and visits.
"I have visited Minnesota, Iowa State, and Michigan State," Christie said. "Illinois is my latest offer. Cal-Berkley and Santa Clara are two schools who have not been offered by, I hear from a good bit."
Christie talks recruitment
Illinois: "I was excited to get that offer. It was cool; Illinois is right next to my house. It is my home state. Coach (Brad) Underwood is a great coach and a great guy too. They like how I can shoot and my all-around game; I'm not just a shooter. Super excited to get to learn more about them."
Minnesota: "I love coach (Ben) Johnson and have developed a good relationship with their staff. I saw their great facilities when I visited. I like what they're building and what they have going on."
Iowa State: "They had a great season this year, played well under new coach (TJ) Oltzenberger. Looks like their coaches are bringing Iowa State basketball back. I am excited to see what they can accomplish this year."
Christie's take
"My brother (Max) chose Michigan State because that was the best fit for him," Christie said. "He will have nothing to do with my choice, and I will choose where best fits me.
"I want to play for a coach who has confidence that I can make plays and a place where I will have confidence in my teammates."
Christie's lineage
Christie's older brother, Max Christie, is a freshman guard at Michigan State. His mom, Katrina Hannaford, played at Northwestern. His dad, Max Christie, Sr., played at Wisconsin-Superior.
On3's take
Cameron Christie has a basketball frame with long arms. He is a smooth spot shooter. What stands out when watching him play is his vision. At times, he can be a bit unselfish, but his head is up, and he moves the ball. He will need to continue adding strength; he is currently very thin. The younger brother of Michigan State's Max Christie. Both parents played in college. Like to see him continue to tighten the handle, but he makes good decisions in the half-court. Despite his size, he finished well through contact in the AAU setting. Has the tools, and he is a productive player; you would like to see the alpha continue to grow.