5-star forward Omaha Biliew sets commitment date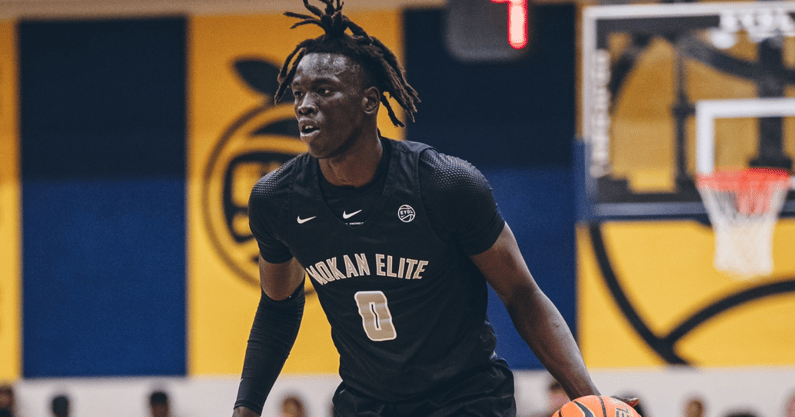 Class of 2023 five-star prospect Omaha Biliew tells On3 he will announce his college decision on Tuesday, July 26th at halftime of the 7pm EST game on ESPN.
The 6-foot-8 power forward out of Waukee (Iowa) Senior is choosing between Kansas, Oregon, Iowa State, and the G-League Ignite.
Biliew is ranked as the No. 5 overall prospect in the 2023 class, according to the On3 Consensus. He's made visits to Kansas and Iowa State.
Biliew talks finalists
In a previous interview with On3, Biliew discussed each of the programs involved in his recruitment.
Kansas: "Kansas is staying in touch here and there."
Oregon: "It's Oregon, they have a great facility, and it is beautiful over there. Coach Mike Mennenga has been recruiting me; he believed in me in the summer and has been recruiting me hard ever since. They told me, I am the type of player they go after hard, and they win with there."
Iowa State: "They're telling me they want me to be great, and why not be great in my home state? I know what it is over there with the facilities and the campus. It's been all love, and I am building a relationship with the new staff over there. It's going to go a long way."
G-League: "I can't say I haven't thought about the G-League. It gets brought up here and there. I can't take that opportunity away, obviously. I've not had conversations with them yet, but that is the level I want to get. I'd never turn those conversations away."
What's Biliew looking for in a program?
"When I go on these visits, I will look at how I fit into the campus lifestyle," Biliew said to Shaw. "I am also going to look at how I will progress in each environment. Both on and off the floor, I want to take in as much as I can during my time there. Ultimately I want to be a pro, so I want to go somewhere that will develop me. But I also want to go to a school where I will grow off the court. My relationship with the staff will play a factor too. I have to trust someone who will hold me accountable to put in the work. I am trusting my future and my dreams with them, so we all have to be on the same page."
Scouting Report
"Omaha Biliew is a physical presence. Naturally, he has a lengthy and strong frame filled with explosive pop. Biliew can be an active rebounder, both in and out of his area. Defensively, he can guard up and down a lineup. He can move his feet on the perimeter, and his length and strength allow him to switch up against forwards. Offensively is where his upside lies. Biliew does have touch, and he can put the ball on the floor for a dribble or two. He needs to carve out his identity and tighten up the overall skill set on that end. There is a lot of production in the tank, and Biliew has been a known commodity since middle school." – On3's Jamie Shaw, National recruiting analyst