5-star Ron Holland names five finalists, includes G-League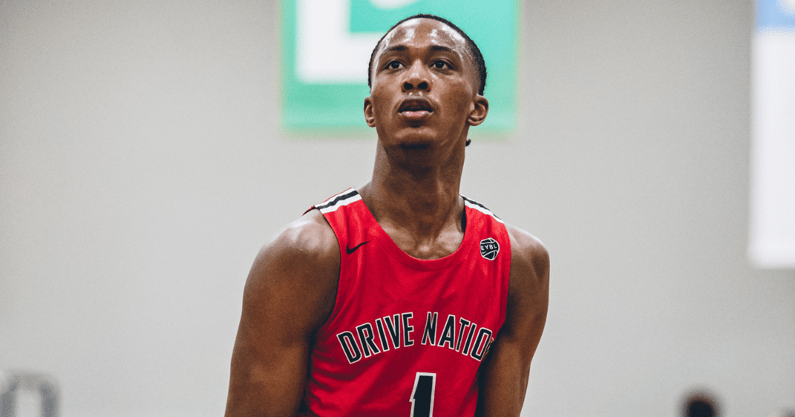 Class of 2023 five-star Ron Holland has decided to narrow his list down once again. Moving forward, Holland tells On3 he will consider the following five options — Arkansas, Kentucky, UCLA, Texas, and the G-League Ignite.
The 6-foot-8 power forward out of Duncanville (Texas) High will no longer consider Auburn, Memphis, and Houston. Holland also received offers from Kansas, Oklahoma State, Oregon, SMU, TCU, Texas Tech, and others.
Holland is ranked as the No. 5 overall prospect in the 2023 class, according to the On3 Consensus, a complete and equally weighted industry-generated average that utilizes all four major recruiting media companies. He's also ranked as the No. 3 power forward, and the No. 1 recruit in the state of Texas.
Holland breaks down finalists
"I've cut my list down to five," Holland said to On3. "The five are Kentucky, Texas, Arkansas, UCLA, and the G-League."
Kentucky: "I just left a visit from the University of Kentucky, coach Calipari and them. Great program, with a resume of getting guys to the league and he lets his dudes rock out so that's why I like them and why I'm strongly considering them."
Quote from previous interview: "I have a great relationship with one of their players, Damion Collins. They just know what they are doing with their guys. They have a lot of NBA talent over there…I've always liked Kentucky growing up. It was one of the schools I really looked out for. Their level of communication, they text me before games, tell me what I'm getting better at and ask me what I'm working on, which I like because he wants to know how I am as a person."
*Side note: Holland received an offer from Kentucky whilst on his official visit.
Arkansas: "I recently visited Arkansas with coach Musselman. They have a former teammate of mine, Anthony Black and a couple of other Dallas dudes They're about to have a good season and I feel like it's a great spot to be as well."
Quote from previous interview: "Arkansas has one of the best coaching staffs. What I like about them is how they play, and how hard they coach. Coach Musselman has an NBA background. I like that…Muss does a great job recruiting. He has one of my teammates, Anthony Black. He told me they like him and it's a really good program to go to. Anthony is trying to get me to come there. I know Muss told me that when I get there, they're going to help me reach my goal. I'm guessing they're going to let me rock out and push me to be the best me. That's what I need."
UCLA: "Not too long ago, I visited UCLA as well. Coach Cronin has a resume of putting dudes in the league and they let their dudes rock out up there."
Quote from previous interview: "Offense is a bonus for them. They care about defense heavily, but they also get out in transition. I like the fact that offense is just a bonus for them. They put in the work. I feel like UCLA fits my playstyle well…"They don't only care about basketball and I really like that. For all the recruiters out there, I feel like if you're really trying to get them, you should talk to them about how their family is doing and stuff like that. Showing them that you care about them and the family. Because it's not just you that commits, the family is committed too."
Texas: "I plan on visiting Texas sometime in August."
Quote from previous interview: "The vibe is crazy, I know that. I know I can build my brand there because I'm from Texas. Coach Beard tells me that. He wants me to get better everyday. Even when I don't feel like doing anything. He tells me everyday to get better.
G-League: "My parents are still talking to the G-League as well. So we're definitely considering that option."
Holland Scouting Summary
It is the motor for Holland; that is what you notice first. He has good positional size, but it is how hard he plays – on both ends – that gets people talking. Holland has performed at the highest levels, with Team USA, on Nike's EYBL circuit, and at Duncanville High. Coming into his junior season, the question mark was the skill set; he has shown some improvement. While the jump shot is still below average, he can use the dribble to get downhill, and he's developed confidence in his pull-up jumper. Holland is great in transition; he plays above the rim and has the upside to be an excellent defender – both on and off the ball. Production and winning that is what he has done for a while. – Jamie Shaw, On3's National Recruiting Anaylst