5-star safety Tony Mitchell goes in-depth on his final 4 schools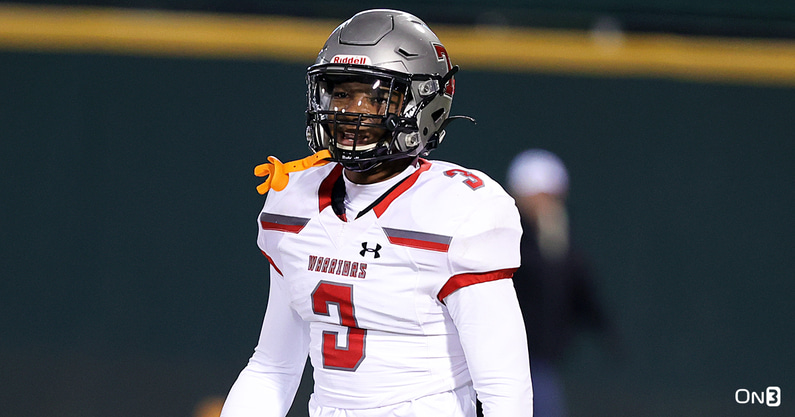 Narrowing his list down to four schools was not easy for Alabaster (Ala.) Thompson five-star safety Tony Mitchell. But he has done it.
Mitchell will be making his decision, likely coming in December, between Alabama, Auburn, Georgia and Texas A&M.
"All four of these places are somewhere I see myself playing, contributing to the team, developing as a player and man, and (where I have) the best relationships with coaches and people on staff," Mitchell told On3.
The No. 20 overall recruit in the 2023 On3 Consensus, Mitchell said it was difficult to narrow down his options because of the great treatment he received from the schools recruiting him.
One school he is personally surprised made the list is Auburn. But he gave all the credit to former Tiger safety and current secondary coach Zac Etheridge for why Auburn is still in the race.
"Me and him just have a good relationship," Mitchell said. "I trust him as a coach. He really knows what he's talking about as far as the game. He got years under his belt so someone I feel like could develop me and make me get to that next level."
The other in-state school of Alabama also made his cut for the same reasons many other recruits consider Alabama. They are great at what they do and Mitchell is well away of that.
"Great communication with the staff," Mitchell said. "It's Alabama. They're gonna win national champions. They're gonna develop players, first rounders."
The Bulldogs are in the mix because of their ability to develop talent, Mitchell said, especially on the defensive side of the ball.
He said his relationship with the schools has been good ever since they offered him years ago, and it has continued with Georgia defensive backs coach Fran Brown.
"I think Coach Fran's a good dude," Mitchell said. "He's gonna keep it 100 with you."
For the Aggies, Mitchell said he is impressed by the success they had in the 2022 recruiting class.
"I say that's major because I want to go to the school that's gonna win," Mitchell said of their No. 1 recruiting class in the 2022 cycle. "With all that so coming in, coaches do a great job of developing kids. I see Texas A&M competing for national championship."
He is also a fan of College Station, Texas.
Mitchell is listed as safety in the On3 database but he is being recruiting at both safety and corner. Auburn, Alabama and Texas A&M all will start him off as a cornerback.
Georgia plans on using him a safety or STAR.
He said he would be fine playing either position but would prefer to be a safety.
"I'm don't got a problem with it," Mitchell said, "but with my skillset I feel like I'll be more valuable as a star or safety because I could do more."
Relationships are important. I wouldn't say it's like the most important thing but I still want to have a good relationship with a coach who I possibly could be playing for