#AdviceForU: Not Every NIL Journey Will Look The Same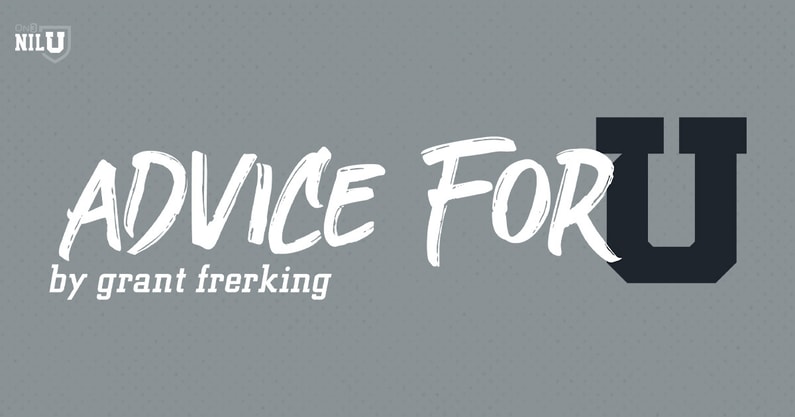 Sitting 142 days into the new world of NIL, we have seen so many uniquely different uses of this new era. That is the beauty of it. No, not every student-athlete is going to have the same journey as the next. You can determine what your NIL journey will look like.
On one hand, you have the premier athletes who have made headlines over the last few months with national brands offering deals worth six and seven figures, but this isn't the makeup of what the deals up to this point have looked like. There will always be a small group of athletes that make a killing strictly based on who they are and what they produce or are expected to produce. While those deals are great and those athletes deserve to make those earnings, that isn't what NIL was designed for.
NIL is made for athletes, no matter the sport, conference, or location, to be able to use their platform to work with brands and companies at the local and regional level. Owners and patrons of these businesses are usually huge supporters of the team you play for. Having the ability for them to be able to use your name and image alongside something they have poured their time and money into is something that means more to them than you would ever know. Partnerships of this nature are what make this new era so exciting. These deals are not only benefiting athletes but local businesses as well.
The art of the deal will look different in every case. The compensation received for promoting and working with these companies won't always come in the form of cash and don't expect it to. It may include the ability to receive free or discounted meals and products. Some deals might be focused on repping brand merchandise in exchange for a gift certificate. These are all great examples of opportunities that weren't offered to student-athletes just five months ago.
In order to take advantage of these opportunities, it takes a plan. Create a plan that incorporates brands that you are passionate about and have supported for a long time. Layout a vision of how you see a potential deal playing out and how you plan to add value to their business. Take an offensive stance and knock down every door and contact those businesses until you get a response. This will leverage you to have the most success in these incredible times. Your time is limited, so take advantage of capitalizing off your name, image, and likeness while being a high-level athlete. Go out and get after it!