After big July, Top-125 Courtney Anderson has three visits in mind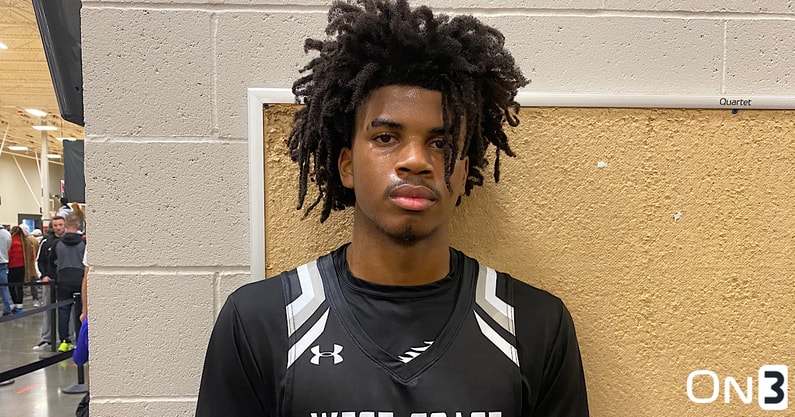 Courtney Anderson is the No. 119 player in On3's 2023 rankings. The 6-foot-5 shooting guard averaged 12.0-points (of his team's 60 per game) and shot 36.8-percent from three during the UAA Finals this Summer.
"I'd describe my game as a three-level scorer and a high-level defender," Anderson told On3. "I have a good feel for the game. I wanted to show this Summer that I'm a two-way player and that I can score and defend with the best of them. I'd say I played well this Summer."
Anderson's play this Summer intrigued college coaches with the West Coast Elite – NorCal guard. On3 caught up with Courtney Anderson recently to talk about which schools are prioritizing him.
"I have taken officials to Nevada and Montana my junior year," Anderson said.
Anderson talks past visits
Nevada: "They were one of my first offers, so they got an early visit. My favorite part was learning about the history of the coaching staff and the great players they have coached. I fit well being a big guard that can score."
Montana: "I did a camp there, and they wanted me to come back for a visit to see the real atmosphere of the school. My favorite part of the visit was being at the football games and enjoying the college atmosphere. I also fit well with their system, and the head coach talks about he has coached players like me in other places."
Anderson talks future visits
I haven't set any senior visits yet, but I will take some," Anderson said. "Colorado for sure, and I'll probably go to Santa Clara and Arizona State."
Colorado: "They picked up their recruitment. They like that I am a 6-foot-5 versatile guard that can play and guard multiple positions on the court. The main coach is either the head coach Boyle or assistant coach Rohn. It is a good school and program."
Santa Clara: "I talk to the coaches frequently. They like I'm a big guard and have coached/ developed guards like me. They are local and in a nice area, and it's easy to visit.
Arizona State: "Great program and culture; I talk to an assistant coach frequently. They should get a visit because it's another Pac 12 school close to home, and they have done well with players like me."
Anderson's take
"I should be narrowing things down soon," Anderson said. "I want to commit before November.
"I'm going to be looking for a program where I have a good relationship with the coaching staff. I want to feel comfortable with and around them. In the school, they got to have good school spirit and a fun environment.
"Location isn't that big of a deal to me. I want to play in a style that is fast and high-scoring."
On3's take
Courtney Anderson has a basketball player's frame. Long arms and a projectable frame. He has a smooth offensive game with a crafty handle that gets him to his spots. At 6-4/6-5, can score the ball at each level with a smooth shooting stroke and confidence. He will need to add weight, and he should gain some more explosion with that. There is the upside there to be a solid defender.