Alabama lands a commitment from elite Louisiana QB Eli Holstein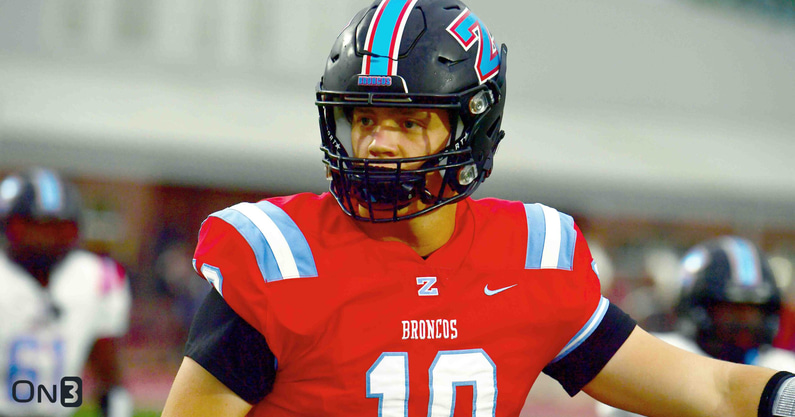 The spring has come to an end, which opened the door up for Eli Holstein to finally put a bow on his recruitment.
Holstein, the nation's No. 7-ranked quarterback on On3, gave a commitment to Alabama on Tuesday. LSU and Oregon finished behind the Crimson Tide, who were resolute to ink one of the elite signal-callers from Louisiana in the 2023 cycle.
A top-100 player overall on the On3 Consensus, Holstein visited Tuscaloosa thrice in a six-week stretch this spring, including for A-Day. The four-star state championship-winning quarterback from Zachary (La.) made his decision now for a reason.
"I definitely wanted to get it done before official visits," Holstein detailed to On3. "Having a quarterback committed plays a big part in the recruiting process and getting other guys to come in and be a part of the class. Me committing before all the official visits could help get some momentum in June."
Holstein intends to visit Alabama every weekend in the month of June, including the 10-12 for his official visit.
"I'm very excited and excited to be over with it," he said of his recruitment. "Now, I know where I'm going and it feels like home and I'm excited for my future and what I can do at Alabama."
Official visit locked in … for a reason
Nick Saban visited Zachary in January while Holstein was committed to SEC West rival Texas A&M. Since then, Alabama's head coach along with offensive coordinator Bill O'Brien and Louisiana area recruiter Pete Golding have been in heavy pursuit of the On300 passer.
Holstein frequented Tuscaloosa throughout the spring continuing to foster those relationships and get familiar with the sights and sounds of the college town.
"These visits were about my relationship with Bill O'Brien," Holstein told On3 earlier this month following a three-touchdown performance in the spring game.
"It was a lot more talking, looking around Tuscaloosa and the campus. Before it was a business trip — to camp, to get the offer, see the facilities. Recently, we've looked around the city of Tuscaloosa to see if I could live there and if I could enjoy it and college life in Tuscaloosa."
it certainly checked Holstein's boxes. He has a similar plan in place ahead for the summer. His focus is on building up the Tide's 2023 class before shifting his focus back to repeating as Class 5A champions again next fall.
"Being down at Alabama every weekend recruiting," Holstein said of his June plans. "It's not far of a drive and I'll be there recruiting some of the best of the best to come. I'm getting this recruiting class together and hopefully, others will start following my lead."
Holstein shines in spring finale
On3 National Recruiting Analyst Sam Spiegelman was on hand for Holstein's spring game at Zachary (La.) earlier this month and raved about the newest Crimson Tide commitment, offering the comparison to former Stanford first-rounder Andrew Luck.
"After a stellar junior campaign, Holstein capped the strong with even more momentum," he wrote. "The 6-foot-4, 225-pounder was magnificent airing it out during the Zachary (La.) spring game in front of Alabama offensive coordinator Bill O'Brien … Holstein was sharp attacking downfield and made a handful of plays with his legs either extending a play or taking off in the open field. Always aggressive attacking downfield, Holstein was even more efficient this outing and turned heads in the process. He's giving me Andrew Luck vibes after this spring."
Holstein is the No. 69 overall player in the country on the On3 Consensus, a complete and equally weighted industry-generated average that utilizes all four major recruiting media companies.