All-American Bowl Superlatives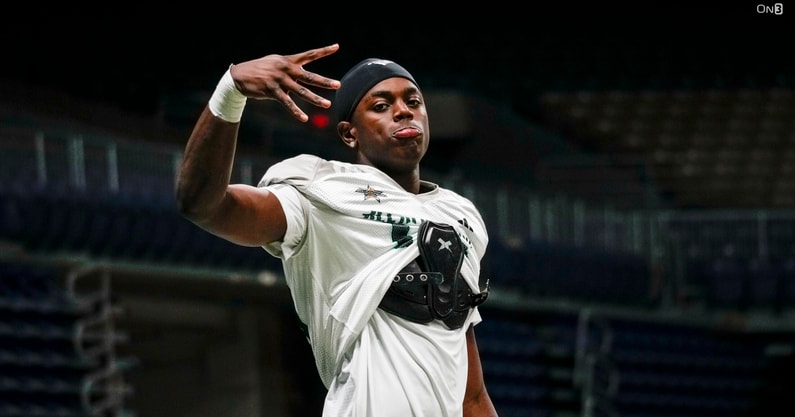 SAN ANTONIO, Texas — All-American Bowl week came to an exciting finish on Saturday as dozens of the nation's top prospects competed in the nationally-televised contest inside the Alamodome. The game was the culmination of a week of action which included four practices before the always entertaining game.
On3 was on hand all week to take in the action. Here are some superlatives from the week.
All-American Bowl: Overall Top Performers | Updates From The 2023 All-American Bowl | All-American Bowl Roster
Best pass-protector: Monroe Freeling (Georgia)
Monroe Freeling certainly looked the part at offensive tackle at 6-foot-7 and 295 pounds, light on his feet with outstanding flexibility and noticeable physical strength. The Georgia signee out of South Carolina passed the test in 1-on-1s and has the right combination of length, frame, bend and power to project to left tackle in the SEC and beyond. Freeling had a strong showing in San Antonio and has continued to take necessary steps in his positional development over the years at a premium position. On3 is a little higher on Freeling than the rest of the industry.
Most disruptive in the trenches: Jordan Hall (Georgia)
Sticking with the Georgia theme, Jordan Hall was the most consistently disruptive player in the trenches from start to finish in San Antonio. The 6-foot-3, 320-pounder out of Jacksonville worked on the interior of the East defensive line and moved opposing linemen off the ball at will. Hall was a force to be accounted for with quickness off the line and a rugged physicality to win inside consistently. He made it look easy throughout the week.
Quickest first step: Tomarrion Parker (Clemson)
Clemson has consistently signed some of the best defensive linemen in the country and Tomarrion Parker seems poised to help further that tradition. The 6-foot-4.5, 245-pounder out of Alabama displayed arguably the quickest first-step quickness in the All-American Bowl and flashed it off during practices all week as well as in Saturday's game. Parker made a handful of huge plays behind the line of scrimmage in game action and applied pressure off the edge throughout the week. He blends power and speed from a true four-man defensive end spot.
Best closer: Keon Keeley (Alabama)
Keon Keeley was a convincing top performer during 1-on-1s in practices and then had a dominant fourth quarter in Saturday's All-American Bowl. The 6-foot-5, 240-pound Alabama signee has an explosive first step and worked right tackles to the inside and around the edge, and flashed dominant closing speed throughout the week. Keeley finished with a sack, several tackles and even more pressure in game action and has a strong case as the top non-quarterback in this 2023 cycle.
Statement of the week: Tyler White (Texas A&M)
Anybody in San Antonio left well aware of who Tyler White is and why he was invited to this game. The in-state punter from Southlake (Texas) Carroll is a future Sunday punter. White was consistently awing those in attendance at the All-American Bowl practices with enormous hang time on his punts as well as how strong his left leg is booting the ball. In game action, White had five punts for 191 yards (38.2 YPP) with two inside the opposing 20. Southlake Carroll's offense rarely came off the field, which limited White's impact. He'll be an asset for the Aggies right away.
Smoothest operator: Jalen Brown (LSU)
Throughout live evaluations over the past year, On300 WR Jalen Brown has turned heads with a certain smoothness and ease about how he operates in the passing game. The LSU signee from South Florida is effortless in and out of his breaks, can accelerate instantly and can get open in a hurry. Brown also showed off the strong hands and sizable catch radius in San Antonio during 1-on-1s and again in during Saturday's game with a 12-yard touchdown reception. There are elements of former Alabama WR DeVonta Smith in Brown's game right now.
Ready to make an impact as a freshman: Caleb Downs (Alabama)
Five-star safety Caleb Downs authored one of the All-American Bowl's biggest plays on Saturday when he picked off Louisville-bound QB Pierce Clarkson as he was rushed outside of the pocket to his right. That was an exclamation point on a strong week in the Alamo by Downs, an impressive-looking 6-foot-1, 195 pounds, who shined in 1-on-1 coverage at cornerback and at safety in practice during the week against some of the nation's top receivers. Downs also collected four tackles in the game. He has Day 1 ability to carve out a role at Alabama. He and five-star Oklahoma signee Peyton Bowen highlight a truly deep and special crop of safeties in 2023.
Best ballhawk: Jordan Shaw (Indiana)
Indiana signee Jordan Shaw was a consistent top performer on the West secondary and came away with multiple interceptions throughout the week in both 1-on-1 drills as well as team and live periods of practice. The three-star cornerback from California notched 2.5 tackles in Saturday's game action to cap what was certainly an inspiring week in the Lone Star State competing against some of the nation's premier wide receivers.
Best in coverage: Kayin Lee (Auburn), Calvin Simpson-Hunt (Ohio State)
Auburn signee Kayin Lee was a week-long top performer and one of the premiere cover cornerbacks on hand in San Antonio. The Peach State native is instinctive and explosive closing on the ball. Lee showcased his ability to instantly break on the football with great closing speed on deeper pass attempts downfield, too.
Ohio State signee Calvin Simpson-Hunt was equally as dynamic in coverage on the back end. The local cornerback out of Waxahachie (Texas) High School blanketed elite receivers with ease and was superb timing his breakups and using his hands in coverage. Simpson-Hunt possesses World-Class speed and is attacking the football in the air. He's going to only get better getting to cover Brandon Inniss and Carnell Tate in practice daily.
Biggest riser: Whit Weeks (LSU)
Whit Weeks had a compelling case as the top cover linebacker in the All-American Bowl over the course of the week. The LSU signee out of Georgia recorded multiple pass breakups in 1-on-1 and 7-on-7 action, then piled up an East squad-leading 5.5 tackles with a TFL and fumble recovery in the game. Weeks was not only steadily good in coverage, but shined fitting run gaps and locating the ball. He covered sideline to sideline easily with a strong showing from start to finish.
Most to gain: Rueben Owens (Texas A&M)
Rueben Owens was a week-long top performer at running back, which also included some outstanding work in 1-on-1s as a receiver. The Texas A&M signee provided a big-play jolt out of the backfield during the All-American Bowl practices throughout the week as well as in the Alamodome as a kickoff returner. Owens was electric rushing to the perimeter and dynamic with the rock in his hands. He has great hand-eye coordination to make contested catches and speed to separate downfield. He's a Swiss Army Knife that projects as the centerpiece of Jimbo Fisher's offense in due time.
Ready to roll: Justice Haynes (Alabama)
Consensus five-star RB Justice Haynes and the aforementioned Owens have strong cases as the top backs in the nation. Haynes continued to hammer home that he's a true three-down back capable of toting the ball between the tackles and make plays in the passing game out of the backfield. The Peach State blue-chipper heading to Alabama consistently churned out positive gains for the East and runs with exceptional burst and escaped tackles in space with even better cut-back ability. Haynes led the All-American Bowl with 107 yards rushing on 10 carries.
Highest-upside off the EDGE: Yhonzae Pierre (Alabama)
Yhonzae Pierre was prolific flying off the edge in West practices throughout the week, especially when it shifted into live periods. The in-state Alabama signee out of Eufala (Ala.) was active at the line of scrimmage with multiple passes batted down in practice as well as an interception in Tuesday's afternoon session. The 6-foot-3, 225-pound Pierre moves well and actively jumps off the line. He's been a sack machine during his prep career due in part to his length, motor and electrifying speed and it showed time and time again in San Antonio.
Highest-floor WR: Brandon Inniss (Ohio State)
On300 WR Brandon Inniss bounced back from a slow Day 1 with a strong showing working out of the slot Wednesday and into Saturday's Bowl. The Ohio State signee turned three receptions into 48 yards, including a 9-yard touchdown catch beating the defensive back out of his breaks and then successfully tracking in the pass in the back of the end zone. Inniss turned the page when he began aggressively attacking the football. Inniss is sharp on routes underneath and is competitive battling for balls downfield. He boasts one of the highest floors in the country heading into Brian Hartline's wide receiver room.
Highest-upside WR: Cordale Russell (TCU)
Cordale Russell put forth a statement performance in San Antonio over the course of the week as the West's No. 1 receiver and a big-play threat every time out. The TCU signee from Mesquite (Texas) North Mesquite was a calculated route-runner that gained separation downfield consistently and impressed with his ups, his athleticism and his catch radius on the back end. Russell is an already massive target in the passing game at 6-foot-3 and 208 pounds, and his basketball background is absolutely evident out-jumping and out-maneuvering defenders at a high clip. He's teeming with first-round potential.
Mismatch in the red zone: Jamari Johnson (Louisville)
Jamari Johnson's athletic background was on full display as the big-framed tight end showcased toughness as well as finesse as a bonafide red-zone monster throughout the week. The 6-foot-6, 255-pounder is a former quarterback that also has experience on the basketball court, and Johnson uses his size and hands his advantage in contested-catch situations. Johnson is a weapon in the middle of the field and a reliable option underneath and by the goal line, and so far he's continued to ascend as he gets more comfortable at tight end.
Easiest operator: Dante Moore (UCLA)
The 2023 cycle is headlined by its outstanding quarterbacks at the top and All-American Dante Moore walked away as the top performer from a strong group in San Antonio. The two-time state champion from Detroit (Mich.) Martin Luther King was a masterful 14-of-19 for 156 yards with four touchdowns and smoothly orchestrated the East offense down the field consistently in this contest. Moore was efficient through the air, decisive and was brilliant navigating outside the pocket and continuing to make smart decisions. The UCLA-bound quarterback threw touchdowns to four different receivers and capped a quietly strong week in this setting.
Biggest surprises: Payton Kirkland (Texas), Keldric Faulk (Auburn)
Consensus top-25 OT Payton Kirkland was a pleasant surprise working at left guard. The 6-foot-5, 385-pound is massive and anchored well in 1-on-1s and displayed his enormous power. Kirkland was light on his feet during live portions of practice extending to the second level and moving defenders at will. Kyle Flood loves large humans and Kirkland possesses several more promising attributes for the position.
Auburn signeee Keldric Faulk managed a tackle, TFL and recovered a fumble in game action. The Alabama native was a speedy edge-rusher as an underclassman and has blossomed into a massive-sized hybrid defensive lineman. At 6-foot-6 and 245 pounds, Faulk was impactful rushing off the edge and from inside techniques. He has outstanding size and length, bends well and is innately powerful.
Quietly impressed: Quinten Joyner (USC)
Quinten Joyner quietly went about business as the local Manor (Texas) running back and USC signee was dangerous as a pass-catcher all week. That included in game action, where Joyner totaled 57 yards, including a 29-yard catch-and-run on a screen pass during the All-American Bowl on Saturday. Joyner is a compact 5-foot-10 and 205 pounds and runs with great balance and straight-line speed. All week the future Trojan effectively found ways to extend plays.
Best program fits: Pearce Spurlin (Georgia), Malachi Coleman (Nebraska)
Georgia signee Pearce Spurlin was arguably the most consistent tight end in San Antonio as he was sharp working in the middle of the field throughout the week of action. Spurlin came away with an absurd one-handed snag during Tuesday's Day 1 practice and was even more impressive coming away with grabs while in traffic in the middle of the field. Spurlin seems poised to be next in line at Tight End U in Athens.
Nebraska ATH signee Malachi Coleman worked exclusively at receiver during the week in the Alamodome. The 6-foot-4, 210-pounder is a mismatch physically that can jump out of the gym and easily compete for contested grabs downfield and down the seams. Coleman was consistently a top performer at receiver for the West during practice. He is that long-striding playmaker that Matt Rhule produced year after year when he was in Waco.
Now on the radar: Ka'Morreun Pimpton (LSU)
TE Ka'Morreun Pimpton was a late addition to the All-American Bowl and also to Brian Kelly's 2023 class at LSU, but Pimpton is squarely on the radar as one of the more high-upside tight ends in this cycle. Pimpton passes the eye test at 6-foot-6 and 220 pounds, and came away with a week of highlight-reel receptions, including a win on a 50-50 ball during Saturday's game for a 43-yard touchdown. Pimpton's best football is ahead of him in LSU's Death Valley.
Best vertical threat: Mikal Harrison-Pilot (Houston)
On300 athlete Mikal Harrison-Pilot boasts a background at safety that translates well to his future at wide receiver. The Temple (Texas) four-star was proficient stretching the field for the West offense throughout the week at practice separating on routes downfield and offering added playmaking on unscripted plays, too. Harrison-Pilot, who pledged to Houston over TCU during the game, also caught contested catches in the middle of the field. He's also dangerous in the return game. That Texas speed is legitimate.
The rent collector: Blake Nichelson (Florida State)
Blake Nichelson put forth a valiant effort anchoring the West's defensive efforts not only during the game but for the entirety of the week in San Antonio. The Florida State linebacker signee tallied a game-leading 7.5 tackles and also had a fantastic pick floating in coverage during Thursday's live portion of practice. Nichelson covers a ton of ground from the second level of the defense with speed and instinctive play at linebacker. He seems privy to adding a spark to the Seminoles' defense.
Hardest-hitting LB: Anthony Hill Jr. (Texas)
Anthony Hill Jr. had a quiet showing in the box score, but the Consensus five-star linebacker left his mark during his time in San Antonio. The No. 1 linebacker who inked with Texas plays downhill and shined on Saturday pressuring the quarterbacks and also run fits. During competition in practice, Hill flew in coverage to the sideline and closed with authority on the receiver. The physical backer brings an old-school touch to the Longhorns' front seven.
Best coverage LB: Jelani McDonald (Texas)
With the Texas theme, there might not be a perfect complement to Hill than hybrid defender Jelani McDonald. The On3 top-100 recruit had a stellar outing during All-American Bowl week in coverage at safety, linebacker and even cornerback, where the 6-foot-2.5, 225-pounder shined in 1-on-1 coverage against receivers on the perimeter. The multi-sport standout is impressive on the hardwood and in multiple positions on defense, and the sky is the limit when he shifts his full focus to just football. The Longhorns are bringing in an absolutely star-studded group of backers this cycle and McDonald might boast the most upside.
Ready to launch: Samuel Omosigho (Oklahoma)
Samuel Omosigho capped the All-American Bowl week with 4.5 tackles in Saturday's game and a strong showing as an off-ball linebacker on the West defense. The swollen 6-foot-1.5, 220-pound Oklahoma signee from Crandall (Texas) is a former safety and receiver, moved well during drill-work and was impactful closing in on runs off the edge. Omosigho passes the eye test physically and has tools that project well to linebacker.