All-American Bowl Top Performers: Day One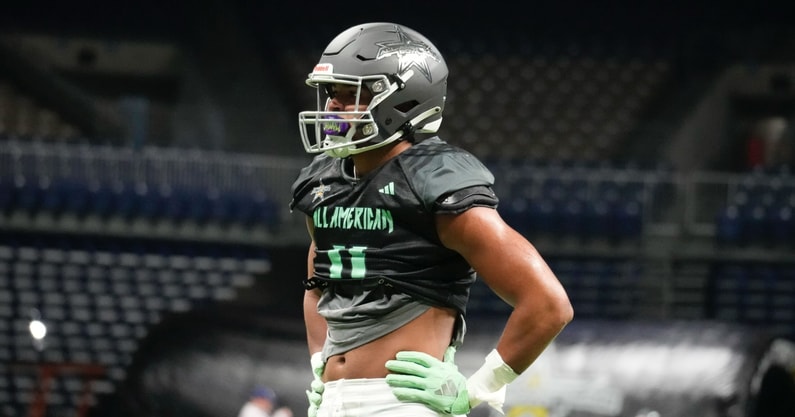 SAN ANTONIO, Texas – Tuesday marked the first day of All-American Bowl practices.
The two teams are geographically split into East and West. The game is set to be played on Saturday, January 7 at 12 P.M. in the Alamodome and televised on NBC.
FULL 2023 ALL-AMERICAN BOWL GAME ROSTER
The East team took part in a two-session practice inside the Alamodome while the West's was at Trinity University. On3 was on hand at both practices.
Here's On3's top performers for the day, headlined by an Alabama EDGE signee and an uncommitted wideout.
On3 MVP East: EDGE Keon Keeley – Alabama
Keon Keeley turned in an absolutely dominant showing at the East's practice in the Alamodome. The 5-star prospect put on a show, flashing a complete skill set off the edge. Keeley won every 1-on-1 rep he took in the morning session, showing highly impressive speed and dip followed by speed-to-power in putting Ohio State offensive line signee Luke Montgomery on the ground. The Alabama signee followed up the stellar 1-on-1 showing with a sack on the first play in the team period. Keeley looks to be on a mission this week. If his showing on Day One is any indication, he could throw his name into the mix as the nation's top prospect. Keeley ranks as the No. 3 overall prospect and No. 1 EDGE in the On300. -Charles Power
On3 MVP West: WR Malik Elzy – Uncommitted
Malik Elzy had by far the most catches for Team West in what was a 7-on-7/team heavy practice on Tuesday. He displayed fantastic ball skills and a wide catch radius throughout the day. The Chicago native also showed off some pleasantly surprising wiggle at the top of his routes. During the routes-on-air period, Elzy made a terrific toe-tapping catch in the back of the end zone that definitely turned heads. We're looking forward to seeing Elzy take 1-on-1 reps throughout the week, as we did not see many in the West's Tuesday practice. Elzy is set to commit during Saturday's game, with Illinois leading in his On3 Recruiting Prediction Machine. – Cody Bellaire
Remaining East Top Performers
2. OT Monroe Freeling – Georgia
Monroe Freeling was the top offensive lineman in what is a very strong group on paper for the East team. The 6-foot-7, 295-pounder is the tallest, most well-built offensive lineman on the East. Freeling more than looked the part on the field, as well. The Georgia signee was strong in 1-on-1's, using his quick feet and length to run defenders out of the play. We also liked the level of physicality and anchor at the point of attack that Freeling showed when facing a bull rush. He continued the strong play in the team period. Freeling was a wall on the left side, seamlessly passing off blockers and dealing with stunts from the defensive line. The Isle of Palms (S.C.) Oceanside Collegiate product ranks as the No. 27 overall prospect and No. 4 offensive tackle in the On300. – Charles Power
3. DL Jordan Hall – Georgia
If Keon Keeley was the top EDGE for the East, then Jordan Hall was the top defensive lineman. The Georgia signee showed why he's considered to have one of the best first steps in the 2023 cycle, darting into the backfield on several occasions, both in 1-on-1 and team periods. Hall has rare movement skills and quickness for a 6-foot-3, 315-pounder. He converts his speed to power and uses the considerable length and power to disengage at the point of attack. The readymade size along with the ability to disrupt as a pass rusher, makes Hall look like one of the top defensive linemen in the 2023 cycle. Hall ranks as the No. 29 overall prospect and No. 4 defensive lineman in the On300. – Charles Power
4. TE Pearce Spurlin – Georgia
Georgia Pearce Spurlin missed most of his senior year with an injury, but is full-go in San Antonio. The 6-foot-6, 240-pounder looks the part with a translatable frame, length, movement skills and catch radius. We saw Spurlin come down with some impressive grabs over the course of the day, dropping to catch low-thrown passes and elevating for jump balls. He was at his best in 1-on-1's during the afternoon session winning a competitive rep against Caleb Downs, coming down with a contested catch. He later beat West Virginia linebacker signee Josiah Trotter on a vertical route. Spurlin ranks as the No. 117 overall prospect and No. 4 tight end in the On300. – Charles Power
5. S Caleb Downs – Alabama
Caleb Downs entered the week with the reputation as one of the best high school football players in America. The five-star Alabama signee unsurprisingly looked the part on Tuesday. Though he plays safety, Downs may be one of the best pure cover men in the cycle. He won a rep against Ohio State wide receiver signee Brandon Inniss in 1-on-1's during the morning session and followed that up with a pick against Inniss during 7-on-7 in the afternoon. Downs ranks as the No. 11 overall prospect and No. 1 safety in the On300. – Charles Power
Remaining West Top Performers
2. EDGE Tomarrion Parker – Clemson
After a slower start on Tuesday morning, Tomarrion Parker turned up the heat and put on a very strong showing during the lone 1-on-1 period Tuesday afternoon. He took twice as many reps as any other defensive lineman and won every single contest. Parker's hand usage and understanding of leverage allowed him to get to the chest of every offensive linemen and get to the quarterback with ease. His get off and overall athleticism stood out in the team period as well but did not produce on the stat sheet. Parker ranks as the No. 148 overall prospect in the On300. – Cody Bellaire
3. QB Austin Novosad – Oregon
Austin Novosad and Lincoln Kienholz were neck and neck Tuesday morning, but Novosad pulled away as the West's top quarterback during the afternoon session. His ability to push the ball downfield and layer passes during the 7-on-7 and team periods was top notch. Novosad was consistently accurate throughout the day and showed a quick release with excellent zip on the football. While he needs to get more comfortable when working out of the pocket, Novosad is a sniper with the ball in his hands when his feet are set. Novosad ranks as the No. 170 overall prospect in the On300. – Cody Bellaire
4. EDGE Yhonzae Pierre -Alabama
Yhonzae Pierre flashed cosiderable talent in all periods of Tuesday afternoon's practice. In 1-on-1's, he burst off the line of scrimmage, winning with twitch and bend. During the team period, Pierre was flying to the football from the backside and forced quarterbacks to rush their throws. He'll need to get more comfortable setting the edge in the run game and will benefit from time in Alabama's strength program. With that said, Pierre had the look of a dominant as a pass rusher all afternoon. Pierre ranks as the No. 34 overall prospect and No. 6 EDGE in the On300. – Cody Bellaire
5. OT Spencer Fano – Utah
Spencer Fano lined up all over the front, taking snaps at right tackle, right guard and center during Tuesday's practice. His ability to pull and beat defenders to the point of attack during the team period was second-to-none for the West team, as he showed off his foot a speed and overall athleticism. Fano is balanced and under control in his pass set. When he got beat during the 1-on-1 period, it was due to overall power and strength at the point of attack – something he will develop over time. Fano ranks as the No. 173 overall prospect in the On300. – Cody Bellaire
Additional notes
+ Kelton Smith had the best day on the interior offensive line for the East. The 6-foot-4, 315-pounder used plus length and strong hands to stone some very talented East defensive line prospects in the 1-on-1 period. Smith missed some time as a senior, but looks to be full-go now and appears to have trimmed down some. His combination of power, length and movement skills stacks up well on the interior, particularly when playing in a phone booth. Smith ranks as the No. 115 overall prospect in the On300. – Charles Power
+ UCLA signee Dante Moore looked like the sharpest quarterback for the East on Day One. Moore showed off his patented quick release and was accurate and on-time for the most part. It wasn't a truly stellar day for any of the quarterbacks – Moore, Clemson signee Christopher Vizzina and Oregon State signee Aidan Chiles – but the Detroit native had the best showing of the bunch. Vizzina and Chiles struggled with accuracy at times. – Charles Power
+ Justice Haynes passes the eye test better than any running back on the East team. The Alabama signee has a compact, rocked up build. Physically, he looks like he could play on Saturdays, or maybe even Sundays right now. The all-star practice setting does not always allow opportunities for running backs to impress as contact is limited, but Haynes still caught our eye with his burst, solid ball skills and ability to pick his way through traffic at the line of scrimmage. – Charles Power
+ TCU wide receiver signee Cordale Russell had some excellent flashes in the routes-on-air portion of Tuesday's practice. He showed off his length and wide catch radius plucking multiple balls away from his frame. Showed a lack of attacking the football during the 7-on-7 period on Tuesday afternoon so looking forward to seeing more reps from him throughout the week. – Cody Bellaire
+ No defensive lineman on the East had more juice than five-star Tennessee signee Daevin Hobbs. The 6-foot-3, 275-pounder moved around the line, lining up at defensive end and on the interior, showing burst at each spot. Hobbs also showed impressive reactive quickness in 1-on-1's in being able to redirect and make secondary moves in 1-on-1's. Hobbs has considerable room to develop as he's yet to fully focus on defense. – Charles Power
+ Oklahoma signee Samuel Omosigho is one of the most physically impressive players participating in the event. His length combined with his athleticism for his size was shown during the team period. Omosigho made multiple stops and was constantly around the football. We'll see if he can continue to shine as we see more from him against the pass throughout the week. – Cody Bellaire
+ LSU signee Whit Weeks looked like the top linebacker for the East, by a considerable margin. The Athens, Ga. native was outstanding in coverage, tallying a pass break up in the corner of the end zone against Brandon Inniss and later coming down with an interception. Weeks' functional movement skills and feel for working in space stood out. – Charles Power
+ Ohio State signees Carnell Tate and Brandon Inniss are two of the headliners at wide receiver for the East team. Tate showed off his smooth movements and ball skills, coming down with a nice grab in 1-on-1's. He had one drop in 7-on-7 but ended the session with a touchdown in the back of the end zone. Inniss didn't win any 1-on-1 reps that we saw. He showed awareness in finding holes in the defense in 11-on-11 in the morning, leaking out for a touchdown in the red zone. – Charles Power
+ Alabama signee Kadyn Proctor is among the biggest offensive lineman off the bus for Team West. His footwork and power were on full display in the team period during Tuesday's practice. He came out even during the 1-on-1 period taking both of his lone reps against Bai Jobe. – Cody Bellaire
+ Michigan State EDGE signee Bai Jobe was disruptive during the team period picking up a sack and a tackle-for-loss in the morning session. He then flashed a good rep against Kadyn Proctor during 1-on-1's beating him to the edge and bending the corner. – Cody Bellaire
+ Miami signee Samson Okunlola had a solid day for for the East. He is running around 340 pounds at the moment and carries much of his weight in the lower body. Okunlola was up and down in 1-on-1 reps, but showed some reactive quickness. This setting is a bit of an adjustment for five-star Penn State offensive line signee Jven Williams, who played in a run-based offense at the high school level. Williams will need to continue working on his hands and overall technique, but the unique movement skills were on display, particularly when he was asked to pull to the second level. – Charles Power
+ Ohio State corner signee Calvin Simpson-Hunt is a well-put-together corner prospect. He blanketed receivers throughout Tuesday's practice. Few balls were thrown his way, there wasn't see much of him at the catch point, but Simpson-Hunt showed excellent instincts and field awareness during the team periods. – Cody Bellaire
+ Uncommitted cornerback Tyler Scott came down with two interceptions in 7-on-7 in the East's afternoon practice. Scott lacks some length, but showed nice instincts. Auburn leads in his On3 Recruiting Prediction Machine. He's set to announce on Saturday. – Charles Power