2 big Big Ten/Pac-12 games actually point to tough logistics facing Alliance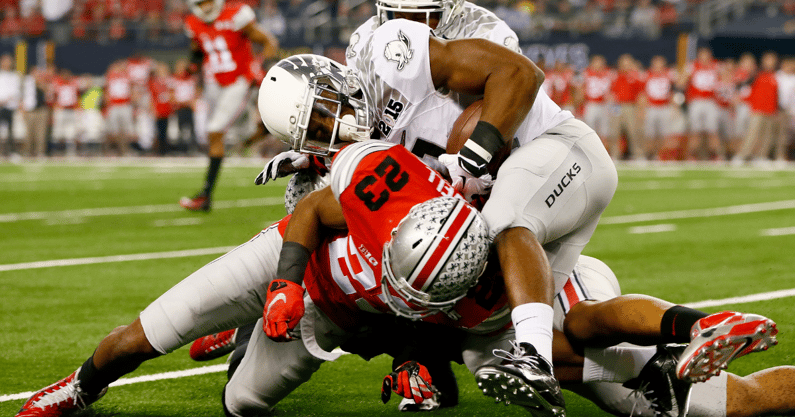 Two attractive Big Ten/Pac-12 matchups Saturday — No. 12 Oregon at No. 3 Ohio State and Washington at Michigan — will serve as a preview of the types of intersectional games the newly formed Alliance hopes to stage in the future. But there's one important caveat: It's a preview of what's on the horizon — the distant horizon.
Exploring the logistics behind the scheduling of these matchups highlights that most schools in the ACC, Big Ten and Pac-12 — the leagues in the new Alliance — already have their future non-conference schedules filled deep into this decade. And with commissioners of each of those leagues offering a unifying message that existing game contracts will remain intact, it means fans will be waiting a while before they witness the inter-conference games this Alliance strives to produce.
New Pac-12 commissioner George Kliavkoff detailed the vision this week during his latest campus visit in a news conference at Utah, where, to his credit, he was candid about the time frame. He said the plan is to have eight conference games in each of the leagues. Then, each team will have one non-conference game per season against each of the other two conferences. One of those games would be home, the other away, with switching occurring each year. 
"It takes a while to get there," Kliavkoff acknowledged. "The only thing that could really accelerate that in the near-term is if we came to an agreement with our media rights partners to go from nine conference games to eight and the Big Ten did that as well. We could start as early as next year if we had those agreements in place."
The Big Ten's $2.64 billion media rights deal with Fox and ESPN expires in 2023. The Pac-12's $3 billion rights deal with Fox and ESPN expires in the summer of 2024. Change is afoot, although skeptics remain that the Alliance is anything beyond a symbolic pushback against the SEC's expansion power play.
One prominent TV industry source who has been involved in several major media rights deals called the Alliance "a fluff thing. There is no real alliance there. That is just saying, 'SEC, you're not getting what you want without us.' That is all that is."
From another high-profile industry source: "Even if you're able to pull off the scheduling aspect, here is the thing: Once you get past the top two or three teams in each league, it's pedestrian. Nobody cares that Wake Forest is going to Washington State, or that Nebraska is going to Oregon State. They'll all give it good lip service and make some attempts; you'll see some occasional games. But those commissioners are feeling the heat and felt like they had to do something. So this is it."
In the Pac-12, Utah currently has no non-conference openings until 2025. Oregon has every non-conference opening booked until 2027. Arizona and Oregon State are booked until 2028. For Colorado, it's full until 2029. 
Ohio State was scheduled to play at Oregon last season, but when the leagues opted against playing non-conference schedules because of COVID, that game was canceled. The Buckeyes agreed to pay the Ducks a whopping $3.5 million to play in Columbus this season because of Oregon's lost gate receipts from the canceled game.
In another indication of how non-conference schedules are booked years in advance, Ohio State athletic director Gene Smith has said there was no way for Ohio State to make up the game in Eugene before 2026, which is why the Buckeyes increased the guarantee. 
The schools already have agreed to another home-and-home series in the next decade, with Oregon hosting Ohio State in 2032 and the Buckeyes hosting the 2033 matchup. Ohio State's schedule is almost totally booked until later this decade, when in subsequent years it plays heavyweights Alabama (2027 and '28) and Georgia (2030 and '31). Even juggernaut programs like Ohio State need to be mindful of scheduling too many top-tier opponents in one season.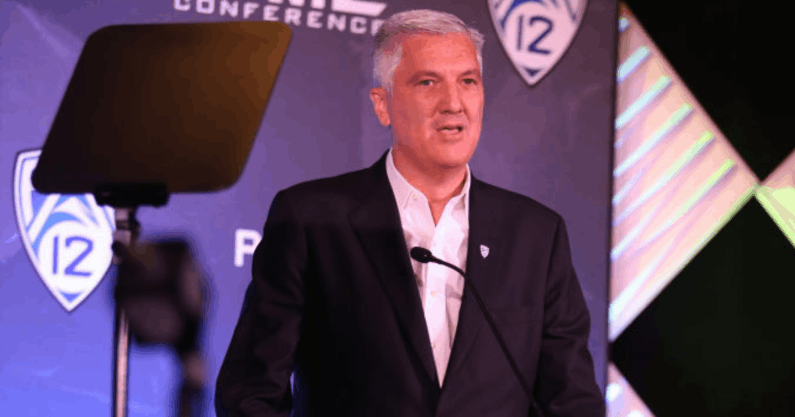 Saturday's game in Ann Arbor — Washington will receive $1 million for playing the game — was supposed to be the second in a home-and-home series between Michigan and Washington. But as with Ohio State-Oregon, last season's game was canceled. It has been rescheduled for 2028 in Seattle, the earliest both schools had an open slot to make the matchup feasible. 
"Schools are booked," the industry source said of most non-conference schedules the next five years. "The problem with the Pac-12 is name me — I'll give you like 30 minutes to think about — name me 14 games that are in the upper echelon of the college season that come out of the Pac-12.
"You can't. Not unless they're hosting some major crossover games. If you get one or two out of those, OK, although you probably need three or four. That's why they have been pushing for the Alliance more so than anyone else."
Yes, Saturday will offer a couple of alluring Pac-12-Big Ten matchups. But for fans eager to see a heavy slate of similar matchups across both conferences, as the Alliance envisions, don't hold your breath. It's going to be a while.
Quick hits
+ How much money would have been enough to entice you to step into a boxing ring with Mike Tyson in the 1980s? OK, the metaphor isn't exactly analogous to the Alabama-Mercer game Saturday. But no offense to Mercer, which beat Atlantic Christian 69-0 on September 2, the matchup with the Tide will be ugly. It will be ugly even when Mercer faces Alabama's second- and-third-stringers for perhaps three quarters of the game. Mercer is receiving $600,000 for the game. It should have negotiated for more before stepping onto the field with the Tide, which looked spectacular in routing Miami last week.
+ Bravo to the Florida Panthers, who offered NIL deals to more than 200 female athletes at FAU. This is the next step in the NHL team's "FLA Athlete" program. It previously signed Miami quarterback D'Eriq King, making him the first active college athlete to sign with a pro team. The female athletes will receive compensation, tickets to Panthers games and merchandise in exchange for promoting the NHL team on social media and at events. The deal is noteworthy on two fronts: It is the latest example of an increasing number of brands striking deals with a group of athletes rather than selecting just one marquee player. And it is a strong gesture to recognize all the female athletes who are not household names. If there is one criticism of the young NIL era, it's that it's been too top-heavy. Hopefully more brands will follow the lead of the Panthers.
+ Fox will offer all three of its Saturday college football games—Oregon-Ohio State, Texas A&M-Colorado and Stanford-USC — as well as the prime-time MLB game between the New York Yankees and New York Mets in 4K HDR. A spokesperson said this is by far the most 4K events Fox has offered in one day. The games are available in 4K through the Fox Now and Fox Sports apps. Fox Sports 4K is also available from select partners such as Xfinity, DIRECTV, Dish Network, FiOS, Fubo and YouTube TV.