AP Top 25: Updated college basketball poll revealed after action-packed second week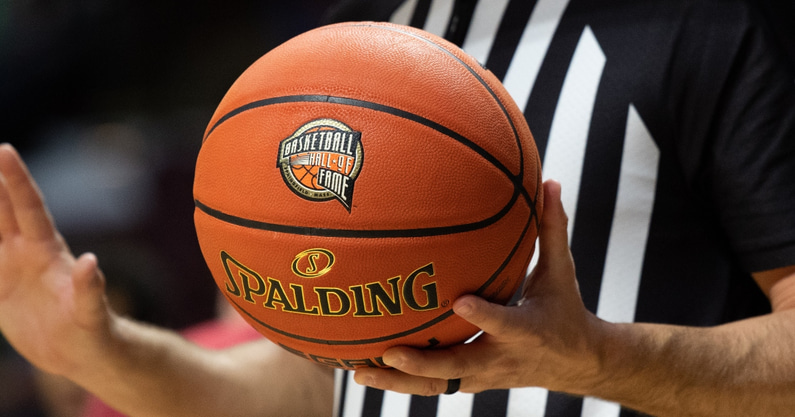 College basketball returned last week, and the second week of the season undoubtedly lived up to the hype. With different showcases and tournaments happening all over the country, there were plenty of big-time matchups over the past few days. The results from Week 2 of college basketball have completely shaken up the updated AP Top 25 Poll.
Just half of last week's top ten went undefeated during the second week of the season. Those teams were No. 1 North Carolina, No. 3 Houston, No. 6 Kansas, No. 9 Arkansas and No. 10 Creighton. Kansas picked up the biggest win out of those five teams, defeating No. 7 Duke.
No. 2 Gonzaga fought off against No. 11 Texas this week, and the Longhorns played a strong game and came away with a monster victory. That was the lone game of the week for Texas, while Gonzaga played in another pivotal early-season matchup, taking down No. 4 Kentucky. That loss was one of two for Kentucky on the week, as the Wildcats also lost to Michigan State while picking up a win over South Carolina State earlier on.
CLICK HERE to subscribe for FREE to the On3 YouTube channel
No. 5 Baylor defeated No. 8 UCLA this week, but the Bears ended up losing a game to No. 16 Virginia. The win was one of two big ones for Virginia on the week, as the Cavaliers also defeated No. 19 Illinois. Additionally, Illinois and UCLA went head-to-head, and the Fighting Illini came away with the win.
Overall, 15 AP-ranked teams went unscathed during the second week of the season. Seven ranked teams picked up one loss, while three tams suffered two losses. The chaotic results across college basketball have greatly impacted the newest edition of the AP Top 25.
Updated AP Top 25 after Week 2 of college basketball
North Carolina (4-0) (47 first-place votes)
Houston (4-0) (9)
Kansas (4-0) (1)
Texas (3-0) (5)
Virginia (4-0) (1)
Gonzaga (3-1)
Baylor (4-1)
Duke (3-1)
Arkansas (3-0)
Creighton (4-0)
Indiana (4-0)
Michigan State (3-1)
Auburn (4-0)
Arizona (3-0)
Kentucky (3-2)
Illinois (4-1)
San Diego State (3-0)
Alabama (4-0)
UCLA (3-2)
UConn (5-0)
Texas Tech (3-0)
Tennessee (2-1)
Maryland (5-0)
Purdue (3-0)
Iowa (3-0)
Five different teams received at least one first-place vote, with Texas getting five despite finishing at No. 4 in the poll. The Longhorns leaped seven spots into the top five, which is only topped by Virginia, who jumped up 11 spots.
Four new teams joined this week's rankings, being Michigan State (No. 12), Maryland (No. 23), Purdue (No. 24) and Iowa (No. 25). They take the places of TCU (previously No. 15), Michigan (previously No. 20), Dayton (previously No. 21) and Texas A&M (previously No. 24).
Despite falling out of the top 25, TCU was the top vote-getting team outside of the rankings with 82. Saint Mary's (59), Ohio State (56), Michigan (24), Xavier (22), Charleston (17), Toledo (16), Miami (10), Dayton (9), Villanova (7), Arizona State (5), Virginia Tech (5), Saint Louis (5), UNLV (5), Oregon (4), West Virginia (3), Texas A&M (2), Utah State (1), Penn State (1), and Mississippi State (1) also received votes.