Artificial intelligence-powered cameras a boon for coverage of high school sports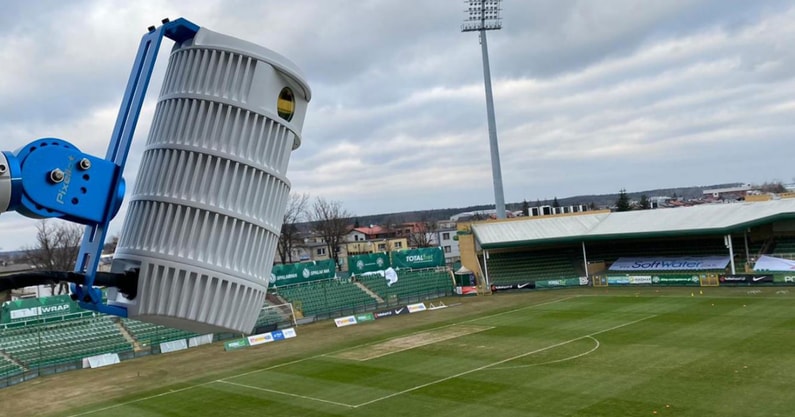 The future of streaming live high school sports events is here, and production doesn't require a human being.
Artificial intelligence-powered cameras are coming to a high school athletic venue near you — if they aren't already there. Pixellot, which offers the AI-automated technology and production capabilities, has seen adoption of its product skyrocket during the ongoing COVID-19 pandemic.
More than 7,000 high schools currently use the cameras. Over the past year, cameras were installed at more than 1,000 fields or courts each month. In 2021 alone, the technology produced 800,000 games. And on any given Friday night, it produces as many as 5,000 games.
And there is more to come.
"The vision is that every game should be produced, from T-ball up through the pros," David Shapiro, President North America at Pixellot, told On3. "That's millions and millions of games every year. We are only scratching the surface."
The days of missing seeing your teenager's high school game because you couldn't attend in person are over. Pixellot's technology offers fans the ability to watch from anywhere, and even on-demand. And it allows high schools, many of which operate on the financial margins even in normal times, to produce broadcasts and stream games without needing to devote a single staff member to the operation. 
"No staff — not even to turn it off," Shapiro said, underscoring the selling point. "Once it's installed, they can input the schedule. It knows the high school is playing on January 10 at 7 p.m., so it turns on and starts producing at 7 p.m. without anybody touching it."
Demand for AI cameras has 'exploded'
Pixellot began working with the Atlanta-based NFHS Network (National Federation of State High School Associations) about five years ago on automated production. Then the pandemic struck. And with tighter budgets and more limited staffing thresholds at high school events, the technology became, as one official termed it, "a godsend." As fast as Pixellot could manufacture the product and ship them to the NFHS, the organization would ship them equally fast to schools for installation. 
"Demand for the product completely exploded overnight," said David Rudolph, CEO of PlayOn! Sports, which created NFHS Network as a joint venture with the NFHS. "Like a lot of things in society, the pandemic permanently changed things. The one thing that changed is in most schools, there's now an expectation that games are going to be streamed. It's not a novelty."
The overwhelming majority of NFHS schools now use automated production. The vision remains ambitious: Rudolph wants to "stream every single game, in every sport, across every level."
Automated production makes that goal achievable. To scale at the level Pixellot has scaled without using artificial intelligence, Shapiro said, would require an "army of people." But with AI, no manpower is required.
Here's how the technology works: Two cameras typically are installed at a field or court. Those cameras capture a portion of the field. The video images are stitched together to create a high-quality panorama. Then the artificial intelligence does its magic, tracking every player and the ball within that panorama. It identifies where the action is, zooming in on it to create the broadcast. The viewer sees a portion of the field or court, making it look as if a human is manually operating the camera. And the AI essentially has the ability to learn, so it increasingly does a better job at, say, detecting trick plays in football to maintain the camera's focus on the center of the action. 
High schools can acquire the product from NFHS Network. Fans can pay NFHS Network — which serves sort of as ESPN+ for high schools in this respect — $10.99 per month, or $69.99 per year, to watch any high school game in the country. Through its high school support program and other initiatives, NFHS Network then shares some of that revenue with the high schools.
Schools benefit from generating more content and more revenue from a portion of the subscriptions, and they can supply their coaches with video they can use for player development and analytics. 
Streamed prep sporting events now an expectation
Before the pandemic, Texas saw the least amount of adoption because schools understandably wanted to incentivize fans to flock to stadiums for the long-entrenched Friday Night Lights tradition. But in the past 18 months amid the pandemic, Texas has been the fastest-growing state for adoption. Six states have seen at least 70 percent adoption by high schools, including some—Montana and Wyoming, among them — with nearly 100 percent adoption rates for high schools.
NFHS Network has streamed more than one million events nationwide in  27 sports since the company's inception in 2008. Out of those events, 914,290 were produced using automated production. Its broadcasts have generated more than 58 million total views. And it expects to stream more than one million events during this current school year alone. 
Opportunity for growth exists beyond high school sports as well. The technology already is implemented for some marquee youth sports events, including Little League and AAU competitions. It also can be installed to stream any number of non-revenue college sports. 
In fact, Pixellot and FloSports, a leading sports streaming service, will work together to stream The Spring Games, the world's largest college softball event. When competition begins next month, Pixellot systems will be installed on at least 10 fields. The games will be streamed exclusively on FloSoftball, the live softball streaming platform operated by FloSports. Some 410 college softball programs will participate in the competition.
While other technology companies exist in this space, Shapiro said, no one has been able to scale adoption of its product like Pixellot has. The power of artificial intelligence has made streaming live high school sports blossom from a luxury into an expectation.
"It's not a nice-to-have anymore," Shapiro said. "It's a must-have."