How CJ Stroud went from under-the-radar recruit to Ohio State's starting QB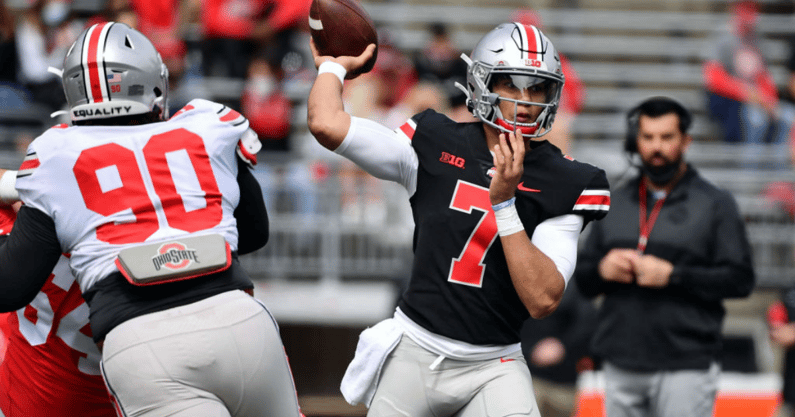 Ohio State coach Ryan Day announced Saturday that CJ Stroud would be the Buckeyes' starting quarterback. Stroud, a redshirt freshman, emerged from the nation's deepest quarterback room to land one of the most coveted starting gigs in college football.
He joins fellow southern California natives Bryce Young (Alabama) and D.J. Uiagalelei (Clemson) as former five-star prospects from the 2020 recruiting cycle who will start the season at one of college football's top programs. Each takes over for a quarterback who went in the first round of the 2021 NFL Draft.
At Ohio State, Stroud is at the controls of an offense that boasts the nation's most talented group of skill players. The Buckeyes' two-deep at wide receiver is comprised of projected first-round picks and/or former five-star prospects. The running back and tight end rooms feature top talents, as well. It's hard to find a more favorable situation for a college quarterback entering the 2021 season.
Expectations are high. As a result, we've seen Stroud's preseason Heisman odds skyrocket from 50-1 to 11-1 since the end of last season. He's currently tied with Georgia's JT Daniels (another L.A.-area product) for the fourth-best odds behind Spencer Rattler (Oklahoma), Uiagalelei and Young. This despite Stroud not yet throwing a pass in a college football game.
Still, even with the high expectations, Stroud — who starred at Rancho Cucamonga High, about 40 miles east of downtown Los Angeles — remains relatively unknown throughout college football.
Under-the-radar start for Stroud
Stroud entered the offseason before his senior year at Rancho Cucamonga High as a mid-three-star prospect with a handful of Pac-12 offers. He was coming off a solid-but-certainly-not-spectacular junior season, his first as a varsity starter. Elsewhere in the region, Uiagalelei and Young were coming off of big seasons at nationally ranked programs.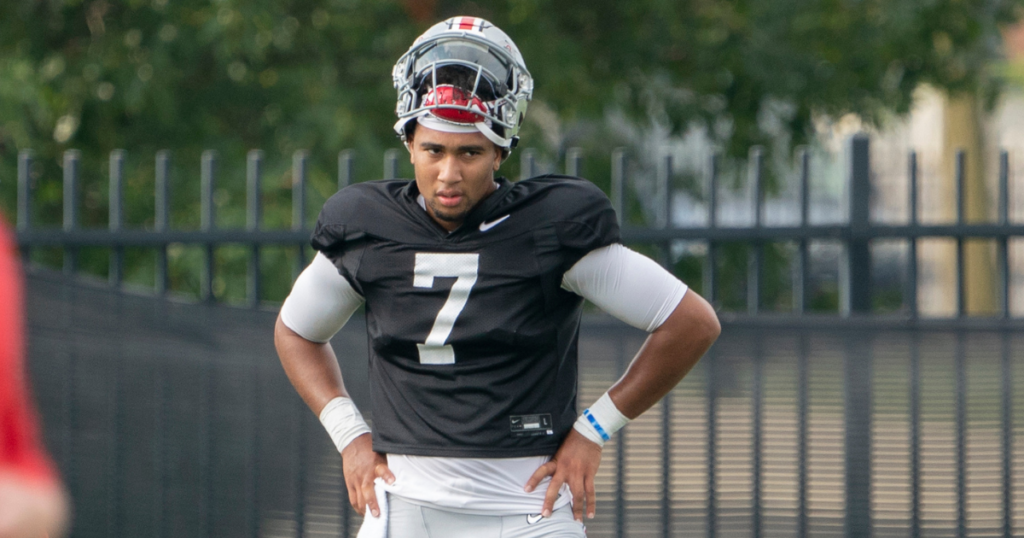 Rancho Cucamonga didn't exactly air it out in Stroud's junior season. He completed 60 percent of his passes for 2,343 yards, 19 touchdowns and six interceptions.
Stroud began to gain some traction at regional camps that offseason. I was working for 247Sports at the time, and we tabbed him as a prospect to watch during the spring. In digging more into his background, we felt he had some qualities that pointed toward him being a potential riser.
Despite being a one-year starter with generally average production, it was apparent Stroud had the arm talent and physical tools at 6-foot-2.5, 180-pounds to be a legitimate, if not high-end, Power Five prospect. He has naturally strong mechanics. We also learned he was a talented basketball player and spot-up shooter.
While the potential was intriguing, everyone wanted to see more.
Elite 11 Finals MVP
Stroud's ascent from three-star prospect to national recruit rapidly accelerated at the Elite 11 Finals. He entered the prestigious event as one of the few uncommitted quarterbacks on hand.
It quickly was clear Stroud was among the very best at the event. He was arguably the most consistent quarterback each day, and the accuracy, touch and overall feel for the passing game were evident.
Coincidentally, Stroud and Young were paired on the same 7-on-7 team. Along with wide receiver Julian Fleming (Ohio State) and tight end Michael Mayer (Notre Dame), they crushed the competition. Stroud ended up earning the first-team reps in the championship game and was named the event's MVP.
Breakout senior season
The strong offseason served as a springboard as Stroud headed into his senior year at Rancho Cucamonga. From the first game on, it was apparent Stroud's camp showings were no fluke.
The live 11-on-11 action provided a further look at Stroud's skill set, while also showing some more subtle but important skills that aren't showcased in camps. We were able to see some innate pocket movement and overall feel along with general mobility. Stroud looked like a natural when facing a pass rush and delivering from the pocket.
We were also able to see his continued progression as a passer on downfield, vertical concepts.
As a senior, Stroud completed 66 percent of his passes for 3,878 yards, 47 touchdowns and nine interceptions. He basically doubled his passing production over the previous season. Additionally, he rushed for four scores as Rancho Cucamonga averaged nearly 40 points per game. It's also worth noting Stroud wasn't throwing to Power Five receivers like many of his peers.
By the middle of his senior season, it became apparent that Stroud was one of the nation's best quarterback prospects. That fall, Stroud received offers from Ohio State, Georgia and USC in addition to Oregon, which had offered in August.
The Buckeyes and Bulldogs already had four-star quarterbacks in their classes. It didn't matter: Stroud looked that good.
All-star exclamation point
Stroud took official visits to Georgia, Oregon, Michigan and Ohio State late in the process before ultimately signing with the Buckeyes during the early signing period. With his recruitment settled, Stroud made his way to San Antonio for the All-American Bowl.
Though we didn't get to see him much in the actual game, Stroud thoroughly impressed in practices. He continued to show the arm strength, accuracy and touch that led to his rapid ascent. By this time, Stroud was oozing confidence.
The quarterback play was the strongest I've ever seen at an all-star event. Between Stroud, Young and Uiagalelei, it seemed as if the ball barely hit the ground. Stroud went throw-for-throw with his five-star counterparts.
It became evident that we weren't just looking at a national quarterback prospect, but a five-star recruit. Stroud was a clear top-three quarterback prospect in the class.
Looking ahead for Stroud
By now, it should be evident I'm bullish on Stroud's talent. But it's important to add some perspective.
As noted earlier, Stroud hasn't thrown a pass in a real college game. Being named a starter does not ensure success. Honestly, it doesn't ensure much other than taking the first snap.
We've seen some recent first-game starters at high-profile programs struggle when things sped up. Those quarterbacks also didn't have former five-star prospects Kyle McCord and Quinn Ewers standing on the sideline.
That said, I see Stroud's continued ascent as the most likely scenario. His talent and the supporting cast seem too good for him to fail.
It wouldn't be surprising to see Stroud become a household name by midseason — a little over two years removed from being a three-star prospect on the rise.