Clark Lea details his plan and process for rebuilding Vanderbilt: 'We're recruiting visionaries'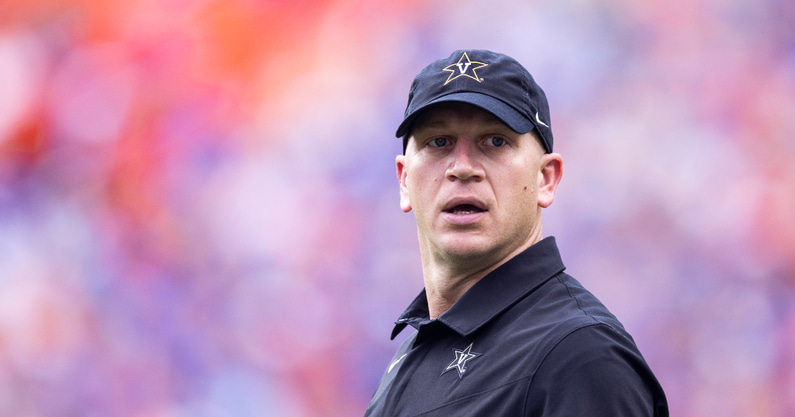 To climb a mountain like Everest, it takes vision, patience, toughness, togetherness and determination. You can't do it alone. You don't go to bed one night and wake up at the summit the next. It's an arduous and painful climb to the top. One that requires an understanding that failure is a fundamental element of the journey. 
Welcome to Clark Lea's world. Welcome to Vanderbilt football.  
The Commodores enter 2022 at the bottom of a huge peak staring straight up. Vanderbilt went 2-10 in Year 1 under Lea, who inherited one of the hardest jobs in the country. Lea faces a complete rebuild. A program stripped to the studs.
Vandy (purportedly) plays the same sport as Alabama and Georgia — two teams on its schedule this fall — but you currently have to squint to see any similarities between the programs. 
Lea hopes to change that.
Not today. Or tomorrow. But slowly, over time, the former esteemed Notre Dame defensive coordinator believes he can cook up something special in Nashville. There's no "microwave to accelerate the process," though, so a slow-cooker will have to make do. 
"There's so much more work that needs to be done to close the gap to our competition. So we're, we're very understanding and aware of that," Clark Lea told On3. 
"I'm proud of our team. I think our team has responded that our team is finding comfort in our design and our identity."
It's easy (and natural) to eye-roll buzzwords like culture, identity and vision, but for a program like Vanderbilt, they're essential to the foundation of what Lea is trying to do in Nashville. The Commodores got walloped at home by an in-state FCS school in Lea's debut in 2021, yet the team didn't quit after Week 1. They still got smashed most Saturdays, but slowly, there were signs of incremental improvement. Enduring fight. 
For now, small steps are enough for Lea. The second-year head coach is cautious celebrating progress, but he admits his team looks completely different today — entering a pivotal summer offseason — than it did a year ago when he initially took over a destitute situation.  
There's a brewing energy and momentum within the program. 
"I want to be careful not to just obviously expect there to be progress, but I think we drew a line of progress from our season to now," Lea explained. 
"But Vanderbilt football needs to be tethered to an identity more so than any other program in the country. And we're just we're going to continue to build that out. We're going to continue to make playing with total effort our priority. We're going to continue to build bonds within the locker room that ensure that our players are fighting for something bigger than themselves. And that's gonna give us the best chance to continue to close that competitive gap that exists. I'm proud of the way the team has developed. I'm excited for the new incoming freshmen that will join us this summer and, you know, in once the time comes we'll be fired up for the fall, but we got a ways to go yet."
At a place like Vanderbilt, alignment is critical. Just like climbing Everest, it takes a village. With a new administration, Clark Lea believes he has the support within the athletics program, led by AD Candice Lee. The 'Dores are promising future investments in football, including a potential football-only building.  
"We're definitely on the right track. And the sooner we get everyone in that building, totally aligned and on the same page, the more quickly we'll find our highest level," Lea said. 
The 'Dores enter 2022 with the nation's longest conference losing streak. They open the season in Week 0 at Hawaii and also have non-conference games against 2021 ACC runner-up Wake Forest and MAC champion Northern Illinois. It's a brutal slate — one that guarantees more failure before future success. 
Clark Lea is undeterred
Despite a humbling Year 1, he didn't change his process to chase potential short-term gains. Although the transfer portal has been a major tool for lots of new coaches, that's not how Lea sees Vanderbilt turning itself around. 
"There's no doubt that there are a couple of approaches to this current state of affairs, and one would be to build your team through the portal — that won't be our answer right now," Lea said. 
"Just that's not where we are as a program. Those decisions are transactional."
Instead, the Commodores loaded up on prep prospects this offseason, inking the nation's No. 32 overall class (28 signees) — one of its best recruiting classes in school history. Lea believes the freshmen — guys like AJ Swann and wideouts Jayden McGowan and Dave Walker — can become the identity of the program's rebuild. 
Right now, they can't see the summit. But they believe it's possible to get there under Lea's leadership.
"We're recruiting to vision. We're recruiting the visionaries," Lea said. 
"We want tough people to understand the work that needs to be done. Guys that are going to lock arms with this and go to work at it and want to be a part of something that flips — I think that's important. 
"And if we have success, then what we're going to find is a team that's playing together for four or five years, the team that has great chemistry, a team that has great culture and I think that's going to produce a team that people are going to want to show up and watch."